Features
The Fourth Wall Podcast: The Kick-Ass Music of Harley Quinn
The adult-themed animated series, Harley Quinn, requires a special musical touch, which composer Jefferson Friedman handles deftly.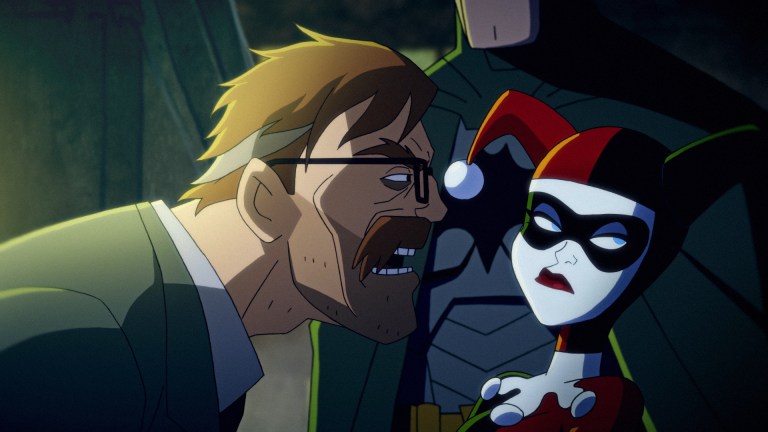 Harley Quinn on DC Universe is not your typical comics-based animated series. With its mature humor befitting the irreverent, hammer-wielding villain, the series is carving out its own niche that has elevated the status of this already beloved character. Part of the success of the adult tone of this new cartoon offering is the score, which must dance a fine line between humorous and dark, mixing the two when appropriate. Composer Jefferson Friedman, who is familiar with DC having scored the short-lived Powerless, took on the task and spoke to us about his process on the latest episode of The Fourth Wall podcast.
Although Friedman is achieving recognition for his work on Harley Quinn as well as on NBC's popular medical drama, New Amsterdam, writing music for live action and animation can have both understandable differences and surprising similarities. "I do that score with my good friend Craig Wedren, and one of my jobs is to write most of the ER scenes, and writing an ER scene is very similar to writing a fight sequence for Harley Quinn," says Friedman. "You structure your music in a very similar way even though it sounds completely different… With animation, you get a lot more room for more music just because everything is constructed from the ground up, and all of the dialogue is recorded in a booth. So you can make bigger gestures with music and not have to worry about getting in the way of dialogue in a certain way that you do with live action."
further reading: The Secret Origin of the Harley Quinn Animated Series
Friedman knew that audiences would have certain expectations of the music of Harley Quinn, based in their previous experience both with the characters in live action movies and with other DC animated properties, but he also wanted to put his own spin on it. "For a show like Harley, which is so clearly referential to Batman: The Animated Series and other more classically drawn animated shows, the music should feel like that," Friedman says. "For me it was very important that the feeling of the music matched the feeling of the art design and the character design… [but] there's violence in this show that is funny, and then there's violence in this show that is not funny and is meant sort of to propel the major plot points forward. And so you treat those things musically completely differently."
Friedman notes that some of the maturity of Harley Quinn comes from emotional beats between its characters, not just the violence and the violence. "It's adult in a violent way [but] also very adult in a mature way, and the difference in the music that I wrote came more with the adult, mature stuff like the relationships between characters. And so I actually got the opportunity to write some poignant, emotional music for these characters that the writers and the designers made very three-dimensional, so it was a joy to add to that three-dimensionality."
That being said, Friedman also had to acknowledge that the main character was still a villain at heart with the music reflecting her attitude towards violence. "It was important to me to make sure that there was always still something fun about the ultra-violence in it, you know?" he says. "I mean, you have to sort of play it ironically or against type, and that sort of makes it more palatable and also kind of more sick and more violent, but then also campy and funny at the same time."
more: Harley Quinn Episode 1 Review (Spoiler-Free)
When it comes right down to it, Friedman enjoys his job composing the music for Harley Quinn both as an artist and as a fan, not only of the comics content of the show but of the voice actors who provide him with the inspiration for the score. "With a cast like this, it's impossible not to be inspired! They're all incredible; I love every single one of these actors. They did such an amazing job," Friedman gushes. "I think it's a fantastic show. I would watch it so much if I wasn't involved in it."
Harley Quinn released its second episode today on DC Universe, and moments from that episode are referred to in the full audio of this interview on The Fourth Wall podcast — listener beware! The Fourth Wall podcast seeks to allow creative people behind the scenes to break through the illusory "fourth wall" of stage and cinema to speak directly to the audience of their work. Our interviews with authors, composers, set designers, and others give voice to a whole host of artists we wouldn't normally get to hear from. Subscribe so that you never miss an episode, or simply listen to the latest episode below!
Keep tabs with all of the news and reviews for Harley Quinn here!