Features
The Fourth Wall Podcast: David Schwartz Builds on a Musical Legacy
From Northern Exposure to The Good Place, composer David Schwartz has given us some of the most memorable music in television today.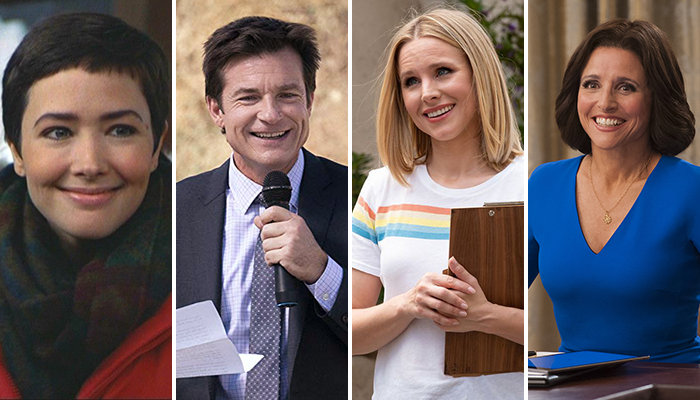 David Schwartz has produced some of the most recognizable television themes in modern times, from his very first gig as the composer for Northern Exposure with its signature creole sound to the final seasons of The Good Place and Veep. Schwartz spoke to us for The Fourth Wall podcast about the unlikely start of his career and the twists and turns along the way. We gained a bit of insight into how Schwartz puts together a unique combination of instruments for his compositions and why viewers can't help but get his themes stuck in their heads.
As a bass player and producer earlier in his career, Schwartz got pulled into the television world quite firmly when he pitched his iconic Northern Exposure opening theme to the show's producers. "It was my very first composition for television," Schwartz remembers. "Before that I had only done a tiny little film that didn't make it out, but it directly led to that… and at that moment, that's when I decided, having done that little film, 'Oh, this is what I really want to do!'… I hadn't been much a writer at all. In fact, it was rare that I wrote or co-wrote a song with someone from one of the bands I was in."
To this day, Schwartz is amazed at the success of that first main theme for Northern Exposure, which beat out an established song from David Byrne which was also on the table for the show's opening music. "I guess my tune just did the ear worm thing," says Schwartz. "I can't understand how I wrote that piece because I didn't know how to do it, and I couldn't write something quite like it now. I can probably count on two hands the amount of pieces that I wouldn't want to change later on and I feel are just right the way they are, and that was one of them. I worked so hard on it… I was shocked when they told me, 'We're using your theme.'"
further reading: Northern Exposure Revival Moving Forward with Rob Morrow
Perhaps just as recognizable is the catchy ukulele and Wurlitzer organ lick in the opener for Arrested Development, which Schwartz wasn't initially a huge fan of. "It sounded wrong to me until it was on the air three times. It was so busy to me, and I'm always looking for a way for clarity. I kept on telling [executive producer] Mitch Hurwitz… 'I'm going to take a few things out of there,' and he said, 'No, add more! Your friend Jimmy, will he whistle on it?' That line was in there; I can't remember what was playing it, but we traded that to a whistling line, and that worked out great. There's accidents in everything." 
And speaking of accidents, that signature Tahitian ukulele sound almost didn't happen since the inspiration for its inclusion in the Arrested Development theme came from a trip to Bora Bora during which Schwartz's attempts to purchase the instrument were stymied. "There was a uke trio in the bar of this hotel in Bora Bora, and there was this… big, big Polynesian man playing this thing, and it was up against his stomach, and I was fascinated," Schwartz explains. "So we waited 'til they took a break, and I asked the guy, 'Where can I get one?' And he basically said, 'Well, I'll bring you one tomorrow…' And that happened every night, and there was [always] another reason why: the fishing boat was broken; he had to go take care of his mother."
The story continues on The Fourth Wall podcast, but needless to say, the Arrested Development theme wouldn't be the same without the ukulele, which someone should have mentioned to the Television Academy. "You know when the show is nominated for Emmys, they usually play the theme?" Schwartz asks rhetorically. "For the first two years… and I don't know why I didn't correct them after the first year, they played the first cue of the show, which is sort of like a swing cue, because they didn't see there was a main title in there so they just assumed… And the third year, I said, 'No, it's this," and they [said], 'Yeah, we figured something was wrong there.' 
By the time Schwartz started writing score for The Good Place, his unique style of composition was becoming increasingly recognizable, but don't ask him if the bells or oboe of the opening title are meant to evoke thoughts of heaven or the afterlife. "I don't think I think that way at all," he says. "I'm not even thinking, 'What does this music mean?' I try to do it more; I kind of write the music, and then I look at it… I don't want to start analyzing it in any way. It just comes from what I'm feeling and putting my hands down on an instrument. And then I think that way."
more: The Good Place Season 4 Release Date, Cast, Plot, and More News
The Good Place in particular has a sound that goes beyond the theme music and pervades the series as a whole. "One goal on The Good Place — and it was one thing that they wanted, too — was a very limited palette and a set sound," says Schwartz. "They didn't say it in so many words, but they wanted it to have its own musical universe… Through the whole show, maybe there's thirty instruments that get used, and I try to stretch it. But sometimes stretching doesn't work… in The Good Place I couldn't use funky wa-wa guitar or a horn section. It just hasn't happened."
We spoke to Schwartz as he was in his studio working on some source music for the final season of The Good Place, which has significant personal importance to Schwartz at this point in his career. "The Good Place is very special to me, and the people that we get to work with, it's unusual," Schwartz muses. "I've been lucky to work with a lot of nice and inspiring people who I've become friends with, but The Good Place, coming from [executive producer] Mike Schur down, everybody tries to be a better person. Maybe we're trying to follow the way of the show. It's certainly not an easy thing to do, but it makes you think about that a lot more while you're doing it."
The Good Place returns to NBC along with Schwartz's music on September 26, 2019. The full audio of our interview is available on The Fourth Wall podcast, which seeks to allow creative people behind the scenes to break through the illusory "fourth wall" of stage and cinema to speak directly to the audience of their work. Our interviews with authors, composers, set designers, and others give voice to a whole host of artists we wouldn't normally get to hear from. Subscribe so that you never miss an episode, or simply listen to the latest episode below!
Subscribe: Apple Podcasts | Spotify | Sticher | Acast | RSS
Michael Ahr is a writer, reviewer, and podcaster here at Den of Geek; you can check out his work here or follow him on Twitter (@mikescifi). He co-hosts our Sci Fi Fidelity podcast and coordinates interviews for The Fourth Wall podcast.