News
The Flash: What's Next in the Fight Against DeVoe
We talked to The Flash cast about Season 4's Big Bad and if the gang has any hope of defeating him.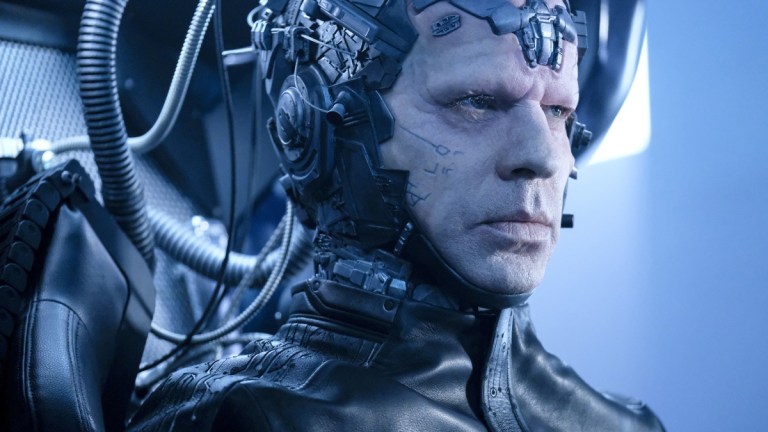 Tonight's episode of The Flash ended with Barry and Joe sauntering up to DeVoe's house to contront the supervillain point blank. While they found an unassuming DeVoe and his "wife" (aka his supervillain assistant), something tells me Barry isn't going to be fooled by The Thinker's ruse for long. 
Den of Geek was part of a group of reporters who visited The Flash set in Vancouver. Here's what the cast teased about what's to come in the story of this season's Big Bad.
"The Thinker is less about Barry and more about his vision of Central City and how he thinks he can make it better and make the world better," said Grant Gustin. "He doesn't really become obsessed with Barry and the team … He's more all knowing than any Big Bad we've had before. Every time we think we're ahead of him, we realize he's still three steps ahead."
While the three-steps-ahead bit sounds familiar, a Flash supervillain who isn't obsessed with Barry or Team Flash in any personal way is a nice change of pace from what we've seen before on this show.
While DeVoe may not be obsessed with Barry, it sounds like Barry might be obsessed with DeVoe. Gustin teased:
Barry's taking it pretty seriously right away. He starts to, before anybody else on the team, knows for sure that this is our guy and starts to become a little bit obsessed with getting him, because he doesn't want things to get out of hand again, as they always do. We start to see him unravel slightly for the first time all season, because he's been pretty put together this year.
"It pushes Barry to do some things that could possibly get him in trouble," adds Candace Patton (Iris), saying that it's "troubling" for Iris to see Barry so obsessed with DeVoe.
I think she thinks Barry's gotta take a step back or you could end up in a lot of trouble. You can't go after people like that. There's laws and things. There's going to be a little tension there. Iris is gonna be a little worked about how serious he's taking this DeVoe character.
It sounds like Team Flash will eventually get on board with Barry's perspective on DeVoe — i.e. that he's a supervillain Carlos Valdes (Cisco) teased that the journey to taking on DeVoe will definitely be a team effort and that it be less about stopping DeVoe and more about understanding Team Flash's own role in his larger plan.
"DeVoe has this overarching plan that involves all sorts of circumstantial minutia," said Valdes. He continued:
Whether the team knows it or not, they're already conducting actions that are part of DeVoe's plan and sort of falling for his trap. So it's really more a matter of Team Flash sort of discovering their place within what his plan. Just when you think that the team is getting close to figuring out what DeVoe's intentions are, it goes beyond that, exponentially.
Gustin seemed excited to see DeVoe's storyline play out this season, saying: "He's not a speedster, he's something we've never seen before," while Valdes teased: "I think viewers can expect to go on the ride of their lives."