News
The Flash Season 4: Grant Gustin Previews Barry/Iris Wedding
We talked to Grant Gustin about the big crossover event and the role Barry and Iris' wedding will play in it.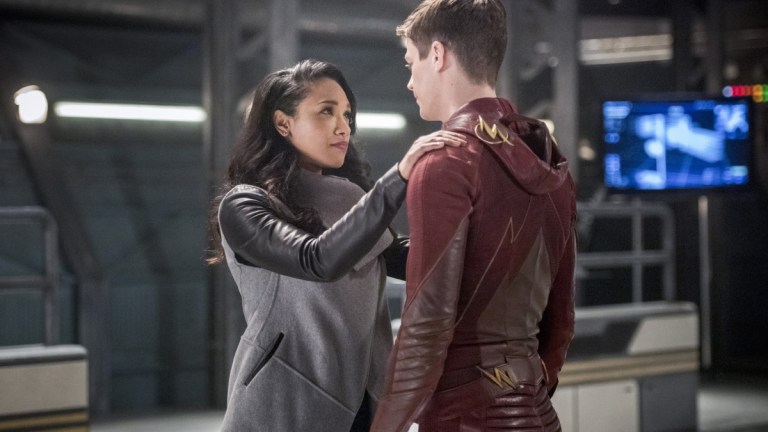 This year's DC television crossover on The CW will center around an important The Flash event: the wedding of Barry Allen and Iris West. Den of Geek was part of a group of reporters who spoke with The Flash himself earlier this week in Vancouver. Here's what he previewed about the momentus event…
"It's a comic book wedding, so it's classic," teased Gustin. "It's beautiful. But obviously, things aren't going to be perfect. Something's going to happen. But it's classical, it's classic beautiful wedding. It's cool."
According to Arrowverse set designer Tyler Bishop Harron, the set design team built a massive cathedral set for the crossover, a fact that Gustin, too, mentioned during our interview.
"It's on this set too that… they told me how much they spent to build it but I'm not going to repeat that," said Gustin. "It was in a warehouse soundstage, it wasn't a real soundstage. It was in this warehouse that they built a church. It was insane. You thought you were in a real church and it was beautiful. I'm excited for everyone to see it."
How does Gustin feel about the fact that this year's superhero crossover centers around The Flash in some way, given that everyone is brought together by the WestAllen wedding (Kara and Alex will be making the trip from National City).
"I didn't really think about it that way," said Gustin. "We've been leading up to this wedding for a long time. It's, in some ways, fitting that it's part of the crossover because it's also a little strange that we've been leading up to this wedding and it's not even on The Flash. It's technically on a different show."
But it's also how [The Flash] started, this show started on Arrow. We've consistently had these crossovers and we're bringing so many characters together for this wedding, it's kind of fitting that it happens somewhere else.
Will Barry and Iris hit any major snags on the way down the aisle? 
"We're leading up to the wedding and everything's great," said Gustin, "but there's still [things like] couples therapy and little hiccups along the way that make it fun and entertaining."
Gustin is planning a wedding in real life right now, as well, which isn't the first time life has imitated art (and vice versa), said Gustin. (Presumably, Gustin has never traveled through time, other than at the normal rate and direction.)
When asked if Iris and Barry are enjoying the "honeymoon period" of planning a wedding, Gustin joked:
First of all, if you've planned a wedding — I'm planning a wedding in real life right now — it's not really a honeymoon phase. It's so stressful. I think we'll see them hit hiccups along the way as they plan the wedding. It's all about to work out but stressful times. Is the wedding going to happen? I'm still running around being the Flash and got to do Flash things, not really helping plan the wedding at all. I'm not really helping at all in real life [either].
In general, though, it sounds like The Flash uptick in tone will continue as Season 3 progresses, something Gustin himself is happy about.
"I've talked about it some in interviews and I don't want to make it sound like last year wasn't fun, you know?," said Gustin. "When it gets that serious all the time, it weighs on you. It's been a good time this year getting back to the feel of season one and joking around and having a good time."