News
The Flash Season 3 Episode 13: Extended Trailer for Grodd Return
What's better than one evil gorilla with psionic powers? Multiple gorillas! Grodd returns to The Flash next week!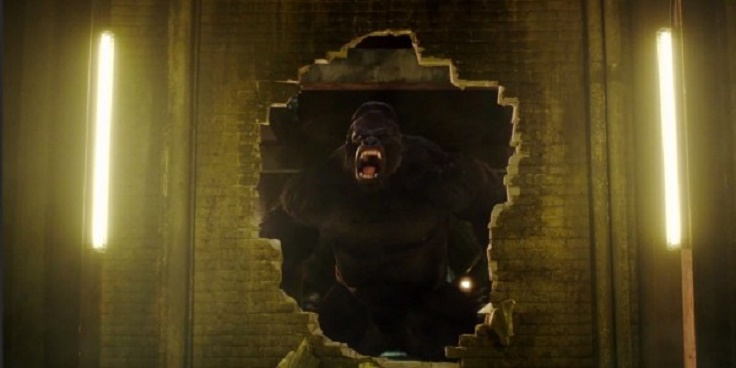 While this season of The Flash has arguably been the show's best yet, there's been a distinct lack of evil gorillas so far. That won't be a problem for long, though.
Grodd will return for not one, but two episodes later this season, and this time, he's bringing a friend. Grodd on his own is great news, but the even better news is that another important gorilla from Flash's history will make his TV debut. Keith David will voice Solovar, the benevolent leader of Gorilla City.
Grodd was exiled to Earth-2 during the show's second season, and that's where Gorilla City can be found. What's Gorilla City? Exactly what it sounds like. It's a scientific utopia populated by super-intelligent (and mostly good) gorillas. Grodd is the bad influence there, and he has likely spent the last year trying to take over. In the comics. Solovar is an ally of Barry Allen (and later Wally West), so this is a big piece of the puzzle we're getting. 
We wrote more about this kind of craziness right here if you're interested.
The fun begins in The Flash episode 13 and will conclude in episode 14. Here's the first trailer:
But there's even more evil gorilla goodness in this extended trailer…
Check out the official synopsis for "Attack on Gorilla City."
When Jesse Quick (guest star Violett Beane) informs the team that her father (Tom Cavanagh) has been abducted, Barry (Grant Gustin), Caitlin (Danielle Panabaker), Cisco (Carlos Valdes) and Julian (Tom Felton) voyage to Earth-2 on a rescue mission to save Harry from Gorilla City. As they trek through the forest, Barry and the team are immediately captured and brought to Grodd (voiced by David Sobolov). Grodd tells them he needs their help to stop Solovar (voiced by Keith David), the leader of Gorilla City, as Solovar wants to invade Earth-1. Meanwhile, back on Earth-1, Jesse and Kid Flash (Keiynan Lonsdale) hit the streets to stop a metahuman that can control gravity, with H.R. and Joe (Jesse L. Martin) guiding them from S.T.A.R. Labs.
And yes, this is a two-parter. The next episode is called "Attack on Central City" and it airs on February 27th. Here's the official synopsis:
When Grodd (voiced by David Sobolov) and his army of gorillas bring the battle to Earth-1, The Flash (Grant Gustin) and team must find a way to stop them before they destroy Central City. Gypsy (guest star Jessica Camacho) returns to join the fight. Meanwhile, Jesse Quick (guest star Violett Beane) decides she wants to stay with Wally (Keiynan Lonsdale) on Earth-1.
You'd better believe that I'll update this with more info when it's available. Especially when we get our first image of Solovar and his cool pointy red Doctor Strange-esque cape! We're going to have a talking gorilla in a cape on TV this year! See? 2017 is already better than 2016!
"Attack on Gorilla City" airs on February 21st.