News
The Flash: Danielle Panabaker Talks Flashpoint Killer Frost
We caught up with Danielle Panabaker earlier this week on the set of The Flash. Here's what we learned...
The latest episode of The Flashdelved much more into Caitlin Snow's new Flashpoint reality, as well as giving us some much-needed context concerning her family and backstory. We had a chance to catch up with Danielle Panabaker on the set of The Flashearlier this week to talk about how her increasingly difficult to control powers will affect her moving forward.
Here's what Panabaker had to tell reporters…
Caitlin will get more to do in the next few episodes…
If you're worried that Caitlin's Killer Frost storyline will be pushed to the backburner after "Monster," don't. According to Panabaker: 
Episodes 5, 6, 7 are a little bit more Caitlin-heavy than they have been earlier this year … Obviously, she is going through some physical changes, but she's figuring that out. As maybe you remember [in] Season 1 with Barry, it took him a minute to figure out his powers. 'Oh, I kept passing out because I don't eat enough.' Things like that. She's going to have to figure out different ways to cope with these changes.
On how much we will see Caitlin's mom moving forward…
Presumably, this isn't the last we've seen of Dr. Tannhauser, but Panabaker didn't have anything specific to tease about Caitlin's mom's role moving forward, saying:
I would like to see more, always more. I think we've gotten to see a lot of the Allen family history. We've seen a little bit of the Ramon family. I would love to see more of Dr. Tannhauser and Caitlin's relationship. Her premonition is definitely scary.
On whether or not Caitlin is mad at Barry for Flashpoint…
The emotional aftermath of Flashpoint within Team Flash mostly concentrated on the relationship between Cisco and Barry, but how does Caitlin feel about the fact that Barry changed the timeline and now she has superpowers? Panabaker said she has thought about this, but she doesn't think it affects Caitlin's perspective on Barry.
The way I sort of see it is this version of Caitlin Snow, this is her life. She doesn't remember Flashpoint, and she doesn't remember that other timeline. So she doesn't know anything else. So I don't really think she's mad at Barry. I think it's fascinating, and also from a scientific perspective, I think it's interesting to her. But I don't think she's mad about it. Because this all she knows.
On the relative lack of Barry/Caitlin this season…
We haven't gotten a lot of Barry/Caitlin time this season. What gives? Is Caitlin avoiding her nerdy speedster friend? Danapaker notes it's nothing that severe, saying:
Grant and I were just talking about this a couple weeks ago. Barry has not been as present in S.T.A.R. Labs as he has been in past episodes. I think that's what's great about the show. They've really allowed Caitlin and Cisco, in particular, and whatever Wells is in the picture to keep moving everything forward at S.T.A.R. Labs. Barry's a little bit more out in the street, that sort of thing.
Danabaker teased that there would be a "social outing" in next week's episode, but, sadly, Barry won't be there.
On working with Keiynan Lonsdale…
It sounds like we might be getting more Caitlin/Wally time, which is pretty sweet. Jumping off of the subject of next episode's social outing, Panabaker noted that she has been working more with Keiynan Lonsdale.
I'm really happy because I've gotten to work with Keiynan. I just said this to Keiynan this morning, 'I'm so glad we're getting to work together some more.' It's new for me this year.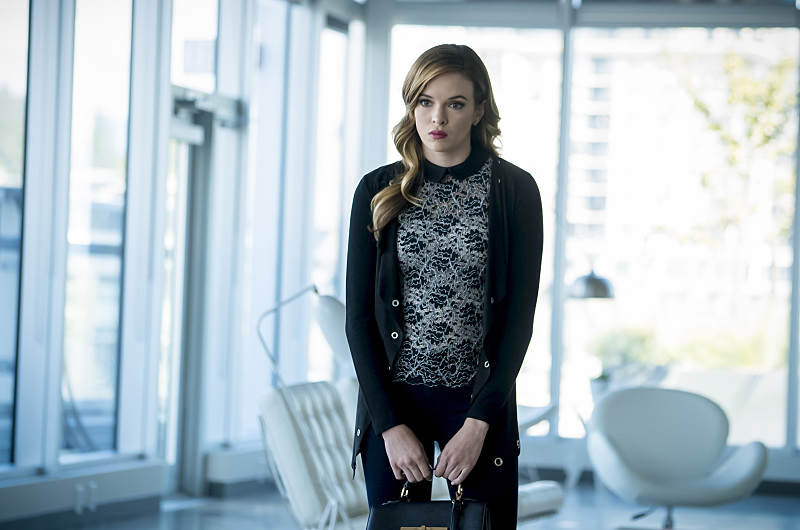 On why Caitlin is hiding her powers…
Superhero shows do love their secrets. Why has Caitlin been hiding her superpowers from Team Flash? Panabaker said…
I think she doesn't understand it. I think that conversation would be a little bit difficult, like, 'Hey guys, I don't have any answers, but here you go,' especially for Caitlin as a scientist and someone who is focused on always having the answers. She wants to get this figured out for herself before she comes to the team…
Stay tuned to Den of Geek for more insights from The Flash set.