News
The Flash and Supergirl Musical Crossover: New Promo, Poster
Everything you need to know about The Flash/Supergirl musical crossover episode!
We've got our first look at The Flash and Supergirl musical crossover episode! Check out the teaser trailer The CW released during last night's Supergirl…
We've got a new, gorgeous poster for The Flash and Supergirl musical crossover. Check it out…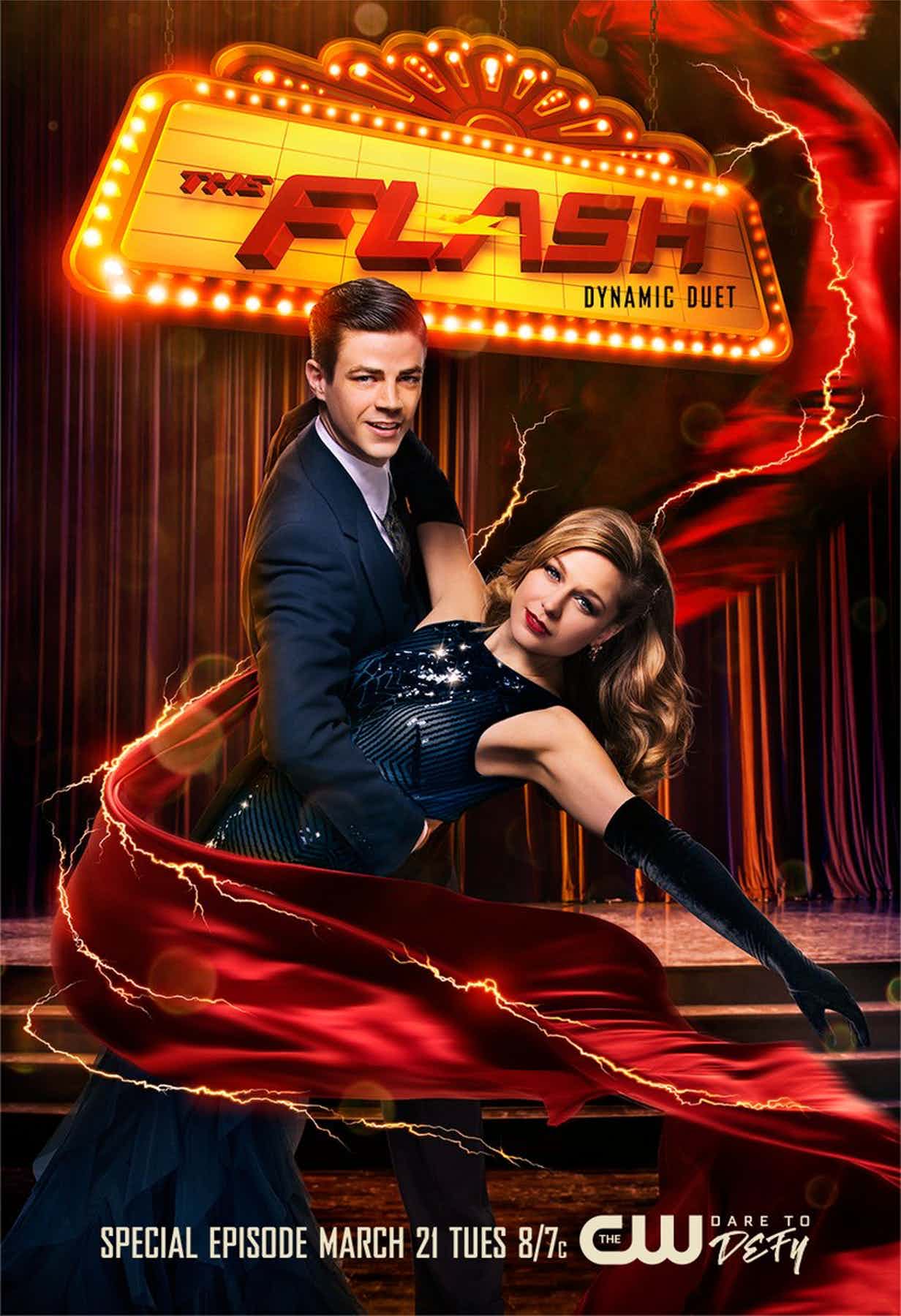 The Flash/Supergirl Crossover Musical Trailer
Here are the promos we've gotten for The Flash/Supergirlmusical crossover so far…
The Flash/Supergirl Crossover Musical Release Date
We have an official date and title for the Supergirl/The Flashcrossover (via Entertainment Weekly): March 20th and 21st. The musical will kick off at the end of Supergirl's March 20th episode before mostly taking place during The Flash's March 21st episode. The Flashepisode will be called "Duet."
The Flash/Supergirl Crossover Musical Synopsis
And here are the official synopses…
The first hour, Supergirl's "Star-Crossed," will be much less musical-centric (it sounds like The Music Meister might not come in until the end of the episode, a la The CW superhero crossover from last year), but it does feature guest star Teri Hatcher, which is something to look forward to. Here's the synopsis:
A new villain (guest star Teri Hatcher) comes to National City, putting Supergirl (Melissa Benoist) on high alert.  Meanwhile, Winn's (Jeremy Jordan) girlfriend, Lyra (guest star Tamzin Merchant), gets Winn in trouble with the law.  Maggie (guest star Floriana Lima) attempts to help Winn but old loyalties get in the way.  The Music Meister (Darren Criss) attacks Supergirl.
Things get seriously more musical in The Flashhour of the crossover, "Duet," when Mon-El and J'onn bring a comatose Kara to Central City for help. Here's the full synopsis:
Barry (Grant Gustin) and team are surprised when Mon-El (guest star Chris Wood) and Hank Henshaw (guest star David Harewood) arrive on their Earth carrying a comatose Supergirl (guest star Melissa Benoist) who was whammied by the Music Meister (guest star Darren Criss).  Unable to wake her up, they turn to Team Flash to save her.  However, the Music Meister surprises The Flash and puts him in a similar coma, one that Team Flash can't cure.  Kara and Barry wake up without their powers in an alternate reality where life is like a musical and the only way to escape is by following the script, complete with singing and dancing, to the end.  
The Flash/Supergirl Musical Crossover Villain
Darren Criss will be playing Music Meister in The Flash/Supergirlmusical crossover episode "Duet." According to Comicbook.com, The Gleealum will join former Gleeco-stars The Flash's Grant Gustin and Supergirl's Melissa Benoist, who both broke onto the TV scene on the Fox musical dramedy.
Here's your first look at Mr. Criss in character and on set, courtesy of HollywoodNorth.buzz.
Criss will play the villain of the musical crossover: The Music Meister. The Music Meister is a villain created for Batman: The Brave and the Boldwho has the power to hypnotize people into a trance. Once in a trance, Music Meister has the power to make these people do whatever he wishes. 
A self-proclaimed nerd, Criss rose to fame in A Very Potter Musicalbefore moving onto other projects like Gleeand on Broadway in How to Succeed in Business Without Really Tryingand Hedwig and the Angry Inch. It will be a lot of fun to see him reunited with Gustin and Benoist. This is great casting.
The Flash/Supergirl Crossover Musical Performances
We know who will get musical performances in the episode: Grant Gustin, Melissa Benoist, Jesse L. Martin, Carlos Valdes, and Jeremy Jordan. Legends of Tomorrowstar Victor Garber and Arrowalum John Barrowman will also stop by for musical performances. Supergirl's David Harewood and Chris Wood will also make appearances, but, sadly, will not sing.
Everyone at The CW seems to be pitching in to help with The Flash/Supergirlmusical crossover event. According to Buzzfeed, Crazy Ex-Girlfriendco-creator and star Rachel Bloom will be writing an original song for the crossover episode.
The song is titled "Superfriends," and will be a duet between Kara (Melissa Benoist) and Barry (Grant Gustin). Proof that there is still hope in this cold, dark world. Bloom said of the opportunity:
As soon as I heard that they were doing a musical crossover, I e-mailed [CW president] Mark Pedowitz who connected me to Greg [Berlanti] and Andrew [Kreisberg]. I immediately offered them my services. As soon as they picked one of my song ideas, I hopped on the phone with my old Robot Chicken boss Tom Root and … based on that brainstorm, I wrote up the song 'Superfriends.' I am so excited to contribute more to the upward trend that is musicals in television and film. Music can be one of the most amazing and efficient forms of storytelling and character development. Also, it was really fun to write a comedy song for two superheroes.
Here's an example of Rachel Bloom writing songs about friendship…
Another musical detail? Benj Pasek and Justin Paul, the songwriting team behind La La Land's"City of Stars," as well as the Broadway musical Dear Evan Hansen,will be penning a song for The Flash/Supergirlmusical called "Runnin' Home to You." It will be performed by Gustin — presumably to Candice Patton's Iris? Here's an example of what Pasek and Paul can do…
We also know, via Entertainment Weekly, that the episode will feature several covers, including "Moon River" (sung by Benoist) and Jackie DeShannon's "Put a Little Love in Your Heart" (performed by Jeremy Jordan, Carlos Valdes, and John Barrowman). The latter includes a dance number, choreographed by Glee's Zachary Woodlee.
The EW article mentions that West Side Story, Singing in the Rain, and Guys and Dolls are all among the episode's inspirations, which means we might be getting some classic songs from those movie musicals.
The Flash/Supergirl Musical Crossover Director
Though there were initially whispers that Joss Whedon might direct the musical crossover, alas, those rumors never came to be. "Star-Crossed" is directed by John Medlen, while "Duet" is directed by Dermott Downs.
The Flash/Supergirl Musical Crossover Cast
In honor of all of this wonderful news, please enjoy these videos of various members of the extremely talented Supergirland The Flashcasts singing. Soon, we will have even more…
This also seems like a good time that various members of The Flashcast — Jesse L. Martin, Carlos Valdes, and Rick Cosnett — did a gospel version of "Ballad of Serenity" from Whedon's short-lived FireflyTV show as a thank you for Whedon's "outstanding" contribution to their Kickstarter campaign for "The Letter Carrier."