News
The Final Deletion Was Great For TNA
Matt Hardy and Jeff Hardy not only struck creative brilliance, they generated a lot of buzz for TNA with The Final Deletion ...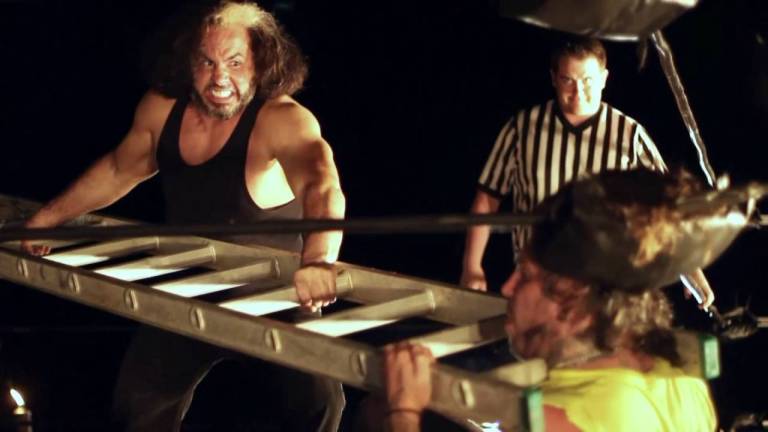 Wow. What did I just see? Matt Hardy beat Jeff Hardy in The Final Deletion, a movie (essentially) where Matt Hardy now controls the Hardy name. There was fire, fireworks, a pond, ladders and Jeff Hardy attempting a Swanton Bomb out of a tree.
It was fantastic.
Okay, so you can't do things like The Final Deletion very often. You just can't. But once in a while, on a night like tonight, it worked and it worked very well.
That doesn't even mean the match. Think what you want about the match itself — I thought it was brilliant — but at the end of the day, The Final Deletion was supposed to bring eyeballs – lots of them – to TNA. We'll see what the viewership numbers look like, but social media was buzzing all day about The Final Deletion, so it's a safe assumption that this match will result in a big audience for Impact and Pop.
The thoughts after the match, at least on my Twitter timeline was that people either loved the match or they hated it. There wasn't much in between. But, I thought it worked. People watched. A lot of people who were complaining about how much they disliked the match were ignoring the fact that they were watching Impact for the first time in quite a while.
If this match "pops" a rating, pun intended, it's on the rest of the roster and the rest of the show to keep people coming back. Overall, this was a good show with several hooks that TNA will be hoping keeps a good number of its newer viewers coming back next week for Destination X.
Lashley vs. Eddie Edwards is a new match, and Mike Bennett threatening to "ruin" the show next week is also a good teaser.
As for some thoughts on The Final Deletion itself … the production value was excellent. The lighting, the camera shots, the music, it all fit very well. It was a festival of stunts and absolutely campy, but that's what they were going for.
You can't do something like this every week or even every six months, but once in a while, and especially this being the first one, is going to attract viewers to TNA and that's ultimately what TNA needs right now. #TheFinalDeletion was legitimately trending, worldwide, on Twitter. That's a great sign for TNA.
See for yourself:
1. Eddie Edwards won an Ultimate X match to become the new X Division Champion
This match had you on the edge of your seat. It was a spotfest, as most Ultimate X matches are, but the dives here were really impressive and a little terrifying. That said, there were enough wrestlers on the receiving end that they all appeared to be very safe. Still, the visual of Mandrews dive in particular was awesome.
2. James Storm beat KOTM Champion Eli Drake via DQ
Good match that likely is a prequel to something more down the line. Drake is becoming a really solid heel but he's the type, like ECIII, that I think can transition into a babyface well down the road.
3. Jade beat Marti Bell in a street fight
Different hardcore match with the ladies involved. Jade's package piledriver on Marti looked good and impactful. This match didn't do anything for Marti, though, and I'm not sure it was a long enough feud to have it mean much for Jade, either.
4. The BroMans & Raquel beat Decay
The BroMans need to do something in order to make me take them seriously as a team within that division. Creative needs to give them something seriously to do over an extended period of time. Maybe the idea is to build up Raquel to the point where Decay does something to her and Jessie & Robbie look to avenge her. They just need to give them a serious storyline.
5. Matt Hardy beat Jeff Hardy in The Final Deletion in Matt's backyard