Features
The Expanse Introduces Terry Chen as Prax
A beloved character from Corey's The Expanse novels appears in tonight's episode, embodied by an equally loved genre actor.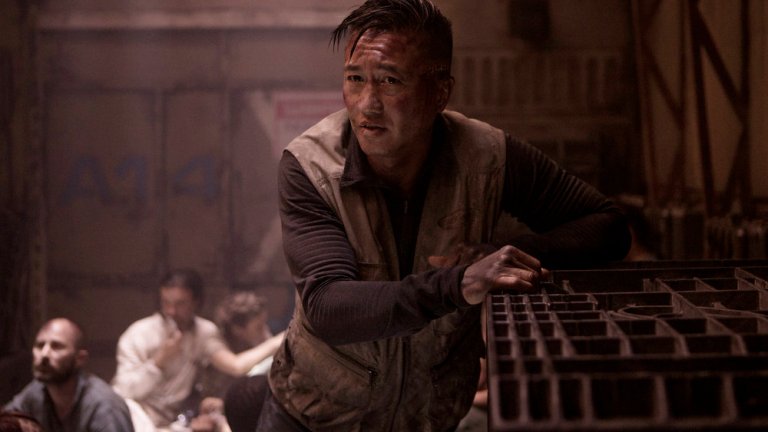 For readers of The Expanse novels, waiting for a favorite character to appear on the Syfy show can be excruciating, but with the casting of Terry Chen as Praxidike Meng, botanist from Ganymede, the series has established its ability to match or exceed reader expectations. On the heels of the near-perfect Bobbie Draper casting (Frankie Adams is killing it!), the adaptation reinforces its reputation for faithfulness.
As for Chen himself, he admits that he hasn't yet read up on his character; he's still in the middle of the first book, Leviathan Wakes. But he has caught up on the Syfy show. "I was unfamiliar with The Expanse novels and first season prior to working on the show," he told Den of Geek. "I love the genre, so to find something so special was a happy surprise. I binge-watched season one in a couple days."
Without giving too much away about the character of Prax, the Belter scientist is a big part of the second book, Caliban's War, which the series has just begun exploring in its story arc. Those who may know Chen from his other work (Van Helsing, The 100, Continuum, House of Cards) know that he is equal to the task of portraying the emotional journey for this concerned father of a missing child in the wake of the disaster on Ganymede.
"The emotional nature of Prax's journey is appealing to me because it's raw. He's someone who's lost everything yet he survived," says Chen. "So there's incredible conflict and guilt that feed into a reservoir of emotion that he's trying to navigate. I love his vulnerability and how that transforms as we follow his journey."
Chen has enjoyed joining the cast and crew of The Expanse, which has writers and actors who are big on attention to detail. "The work ethic from top to bottom, cast and crew, is something like I've never experienced before," Chen admits. "There's such passion and care from everyone which directly transfers on screen that I became a fan the moment I watched the first episode."
Be sure to catch Chen in his debut appearance on tonight's episode of The Expanse, which puts Holden and company on the path to investigating what happened on Ganymede and also includes explosive fallout for Fred Johnson on Tycho after losing the Protogen scientist to Anderson Dawes. The fun begins at 10pm ET on Syfy.