Features
The Enduring Legacy of Freaks and Geeks
The show that helped launch the careers of major Hollywood talent like is still as insightful, smart, and entertaining as you remember it!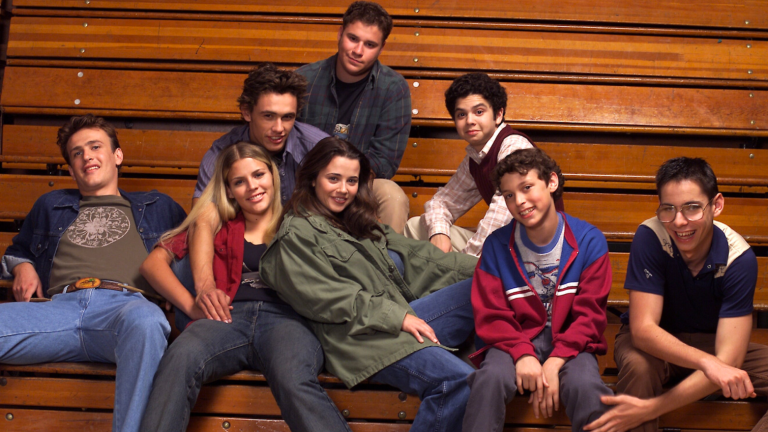 You know something is important when Wikipedia says so. Still, it's surprising to find that every Freaks and Geeks actor's personal wiki states that they are well known for their role in the short-lived series. Never mind that Oscar nomination for 127 Hours or your unforgettable roles as a pot-dealer in Pineapple Express, or yourself in This is The End, James Franco – the internet has spoken. You are Daniel Desario, the mercurial king of the freaks.
Maybe the fans of Freaks and Geeks troll the world's largest encyclopedia to recapture some of the glory days. After all, Freaks and Geeks was the first major role for most of the cast and the ardent fan base of the show did its best to keep the McKinley High School spirit alive and well. More likely, these actors and their now well-established Hollywood footprints are tied to the show because it was a dangerously realistic attempt to de-glamorize high school when other popular shows at the time, such as Beverly Hills 90210 and Dawson's Creek, did their best to make high school seem like the most serious thing ever.
Freaks and Geeks captured how in the moment, high school is a bubble where everything inside is magnified, scrutinized, and stamped as a life altering event. What made the show great was it had this way of taking those serious moments and popping the bubble, boldly declaring that even the serious problems can be portrayed in a non-threatening, laughable light. Even with the show's authenticity and casting talent, audiences transferred to the overdramatized high schools of late-90s television and left series creator Paul Feig's group of freaks as the outcasts in a ratings-first business.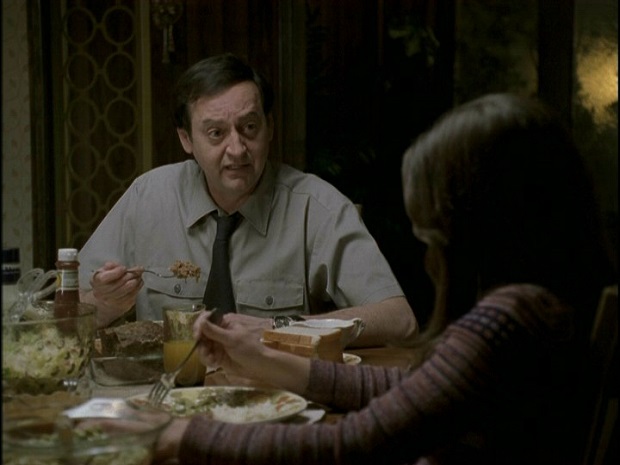 "Look, if I was such a prude you wouldn't exist" – Harold Weir
Before Feig and executive producer Judd Apatow went on to become two of the most revered writing and directing talents in Hollywood, they channeled the memories of their high school days, the good, the bad and the ugly, into a school that television wasn't quite ready for. In order for their vision to come together, they wrote generic character scenes so that everyone who tried out for a part as a "freak" would read the same lines. 
Watching Freaks and Geeks today is a multiplatform experience where you're racing back to see what each actor has done since the show, pulling up IMBD profiles and YouTube clips while streaming the show on a device of your liking. It gives you the chance to stumble on the cast audition of a young Samm Levine, who gifts the casting director with his William Shatner impression, something that would eventually make its way into the show on multiple occasions. 
Feig and Apatow love to tell the story of how Jason Segel walked into the audition and didn't just play Nick, but he became the happy-go-lucky wanna-be-drummer with a kit rivaling that of the great Neil Peart. Segel won over the crew by making a scene not originally slated to be in the pilot so memorable as philosophical Nick that it was added into the final script. From there, Freaks and Geeks became a coming-of-age production, where its creators played into the strengths of an exceptional collection of talent that grew before their eyes with each episode.
A few years back, Segel told Den of Geek that viewing the writing process of Freaks and Geeks was influential in establishing his own screenwriting career: "We learned from Judd Apatow that every time we cast some somebody, big or small we do a complete rewrite of script, just with their character in mind."
"Now that we know who the specific actor is, and we have a face in our mind, it becomes much easier to make a full-rounded character," Segel said.
further reading: The Best Comedy TV Shows on Amazon Prime
Feig and Apatow did well to keep Segel and Levine inseparable from their characters. The geek crew consisted of John Francis Daley as Sam Weir, Martin Starr as Bill Haverchuck, and Levine's Neal, a man in a boy's body and the group's vocal leader. They are the have-nots of McKinley High, who typically serve as a comedic backdrop for the deeper issues within the show's main group, the freaks.
The backbone of Freaks and Geeks is Lindsay Weir, played by another Hollywood success, Linda Cardellini. Her story acts as the basis for the collision between the geeks, nerds, freaks and teachers. Lindsay, who is never able to comfortably find her place, overshadows her brother Sam especially early on, but her good girl turned bad act starts to lose steam as the other characters stepped into the limelight. And it's not that Cardellini couldn't hold her own. The show needed Lindsay as much as it needed her freak counterparts, Daniel, Nick, Ken (Seth Rogen), and Kim (Busy Philipps). But when the thrill of the goody, advanced mathlete moving to the stoners' table wears off, Feig and Apatow looked around the lunchroom and saw that there was a greater story to be told and there was too much talent on set not to tell it.
"I don't really like jokes. I don't think they're funny." – Bill Haverchuck
Hollywood is rarely a place where studios go out of their way to replicate reality. One of the more endearing characteristics of Freaks and Geeks was the show's insistence that the characters actually be played by high school-aged kids. Daley, who was 14 when production began, looked fresh out of middle school. Even Cardellini, who was 23 at the time, could pass for 16.
With this being the first major role for most of the actors, age and inexperience do play into how the series is viewed. Puberty hit Seth Rogan like a train during the pilot episode, for example. His deep, monotonous voice makes him sound like his balls dropped a few inches too low. It feels like a momentous task for him to utter his lines, let alone put something meaningful behind them. Yet as the season went on, Feig and Apatow had the chance to develop Ken into a key player. It took a new girlfriend, a hatred of disco, and an unfortunate sexual revelation to birth the Seth Rogan we know today.
Martin Starr's Bill was this lanky, forever awkward ancillary character in the first few episodes before he becomes, and I can't think of a more appropriate word, a star. And the legend of Jason Segal only grew as put this quirky personality into Nick that makes you feel as though he can be anyone's best friend, something he conveys in all his roles. 
The development of these characters allowed for the show to expand its storylines beyond Daniel, Lindsay, and the perpetually lively Kim. As the season went on, you start to see the beauty of a show that extends beyond the lonely facets of the high school halls.
Too often kids take teachers for granted, not realizing they have a life outside of school. In the Judd Apatow penned "Carded and Discarded," the freaks buy fake IDs to see a local band play at a bar. Little did they know that the lead singer was their guidance counselor Mr. Rosso. In "The Diary," Harold and Jean Weir peak into Lindsay's diary to find some unflattering remarks about her parents love life. It leads to a much-needed sexual romp, and an embarrassing moment of a lifetime for Lindsay and Sam. Freaks and Geeks had this way of commentating on social life without preaching. In only 18 episodes, the show established multi-dimensional characters, even the lesser ones, better than most shows could do in five seasons.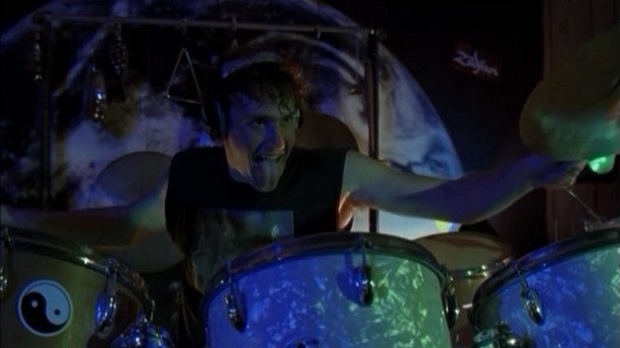 "They found a dime bag in my locker then they kicked me off the team… then I lost interest." – Nick Andropolis
The show ended similarly to how it started. Lindsay ditches her college program to follow around the Grateful Dead, reclaiming her army jacket and reasserting the rebellious nature that birthed our interest in Freak and Geeks in the first place. 
"I almost popped the tape out, because I thought I knew where they were going—and all of a sudden the bus goes by and the freaks are there in that van going to the Grateful Dead concert," then NBC network president Scott Sass told Vanity Fair. "And I thought, "That's not how this thing should end."
In many ways it was symbolic ending to a show that left us too soon. Feig and Apatow weren't going to compromise anything. Though it's well documented that NBC gave Feig and Apatow all the creative leeway they deserved, the bottom line was NBC had a different vision for its programming. "I only found out later that when Scott Sassa saw the cut of the finale and he saw them get in the van he realized we would never do the things that would make the show commercial" Apatow said.
Only strong ratings could circumvent a divide in artistic vision. The network frequently spaced out the airing of episodes over the course of the season, which made it difficult for viewers to find the show. When fringe viewers tuned out, only a devoted cult following stayed. Even so, Freaks and Geeks, now so clearly a show ahead of its time, was the odd man out.
After the final bell at McKinley High rang for summer vacation, the cast branched out. Segel signed on to tell the story of How I Met Your Mother, another show that battled lackluster ratings for an improbable nine seasons. Cardellini landed a role on ER and Mad Men. James Franco became James Franco and Martin Starr continues to be the adult manifestation of Bill Haverchuck.
And then there's Rogen and Apatow, eternally tied together by their string of cult and mainstream hits during the 2000s and beyond. "Judd was the one who really kept on working with everybody," Feig said. "He brought them along to their next level. I'm like the mom who sits at home and watches the kids become successful and takes great joy in their accomplishments."
You can see a complete list of new Netflix releases here
Freaks and Geeks left Apatow battle tested. Even before Apatow became the godfather of big screen comedies, he used Rogen and Starr in Undeclared, a short-lived series set on a college campus. That reject attitude forged by the cult success but ultimately underappreciated Freaks and Geeks and Undeclared manifested itself in The 40-Year Old Virgin, Superbad, Knocked Up, and Pineapple Express, just to name a few.
The legacy of Freaks and Geeks is still growing with the scores of fans who are only now discovering one of TV's most captivating high schools. Though it has been two decades years since Lindsay defiantly pushed the boundaries of high school cliques, the memory of Freaks and Geeks is still carried by the cast and crew that continues to shine on sets across the city of angels and demons.
"Whenever I see an opportunity to use any of the people from Freaks and Geeks, I do it," Apatow said. "It's a way of refusing to accept that the show was canceled. In my head, I can look at Knocked Up as just an episode of Seth's character getting a girl pregnant. All of the movies relate in my mind in that way, as the continuous adventures of those characters."
Chris Longo is the deputy editor and print edition editor of Den of Geek. Read more of his work here. You can follow him on Twitter @east_coastbias.