News
The death of Drive
A potentially great TV show: top cast, terrific opening episode. No wonder Drive was cancelled...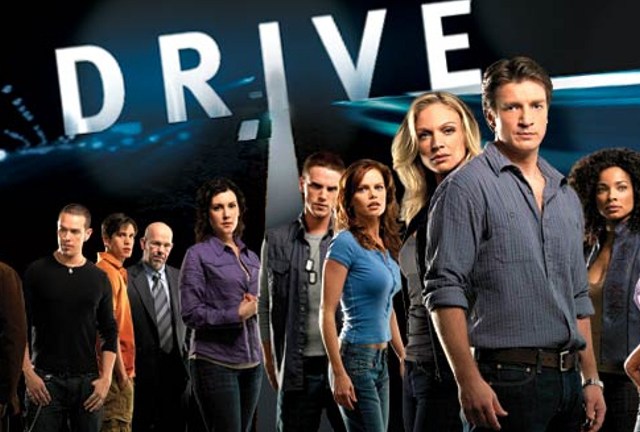 This week, in the US (13/7 to be exact) , the clueless muppets that make up the Fox scheduling team will be showing the last two episodes of Tim Minear's drama, Drive. That's some four months after they killed the series stone dead after a disappointing rating performance for the opening double header.
It stars none other than the man-who-kills-shows himself, Nathan Fillon. He takes his place in some kind of illegal cross country road race against a rag-tag cast of other misfits, grifters, money grabbers and loners.
Now, Drive's opening was a blast, and the four episodes that I have seen held up the standard… But it wasn't good enough for Fox, who – despite signing Minear to an allegedly massive development deal post-Buffy – continue to kill his concepts willy-nilly; the allegedly wonderful Wonderfalls, being the case point).
Cue tons of internet chatter about the US Nielsen ratings system, the way they're collected and the toothless yokels who agree to have the boxes in exchange for vouchers, plus the reasons for dumbing down of American drama; oh, and the usual stuff about the way in which anything and anyone associated with Joss Whedon is treated.
Don't get me wrong, I don't think that Drive was going to be a masterpiece. Its ensemble style was obviously an attempt to copy the Lost/Heroes paradigm. But ultimately I think Fillon is great, love the dialogue style of the Buffy camp and the way they, y'know, write characters in three dimensions. There's little doubt it was and would've been fun.
Ultimately though, I think it was too rich for the Fox pallette – having no 'set' is an expensive business, as are car chases, stuntmen and ensemble cast that you're really going to need every week. Sorry Tim, back to the drawing board, mate.
For the rest of us, an afternoon watching these episodes and wondering what may have been will be a nice bit of fun. Get 'em while they're 'hot'.