News
The Dangerous Book For Boys Canceled at Amazon
Amazon has canceled the Bryan Cranston-produced The Dangerous Book for Boys just months after its first season debuted.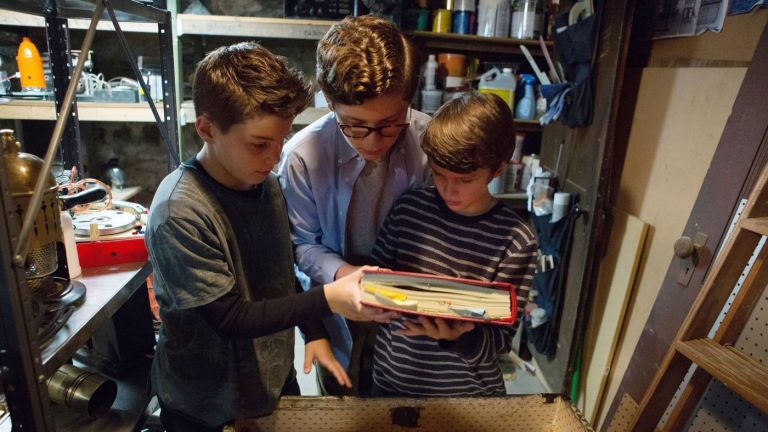 Back to the phone lines, everyone. We've got to find Erinn Hayes a job again. 
Amazon has canceled family dramedy The Dangerous Book For Boys after one season, according to Deadline.
The Dangerous Book For Boys was based on a book of the same name by Conn and Hal Iggulden. The book didn't include a narrative of any sort but was more of a series of essential instructions and information for boys such as fishing tips, wilderness survival help, and histories of important battles. 
The Amazon series took the Fantastic Beasts and Where to Find Them film route and built up a story based on the book. The series followed the McKenna family as they dealt with the death of their beloved inventor dad, Patrick (Chris Diamantopoulos). Following Patrick's death, his three sons discover "The Dangerous Book For Boys" that their father left behind and youngest son, Wyatt, retreats into fantasies based on the book where he's able to interact with his father. 
The cancellation doesn't come as a surprise even if it's only four months after the first season debuted. Amazon Studios went through a significant change in leadership and has been churning out new series at a quick pace to replace series from the previous regime. New studio head Jennifer Salke told Deadline back in June that "It's looking very tough for the cost of the show. It's really difficult, coming from the genre where it exists and the kind of audience it's drawing. The math doesn't quite work."
Read the latest Den of Geek Special Edition Magazine Here!
The series was brought to television by creators Bryan Cranston (Breaking Bad, duh) and Greg Mottola (Superbad). Cranston originally tried to sell the series to NBC (which Deadline points out was run by Salke at the time) and when they passed he brought it to Amazon. Despite the show's cancellation, Cranston's relationship with Amazon lives on as he continues to produce Sneaky Pete (now going into its third season) and also appeared in the streamer's Philip K. Dick sci-fi anthology series Electric Dreams. 
Cranston and Mottola will be fine but the real tragedy here is that excellent comedic actress Erinn Hayes will be looking for work once more. You may remember her as the wife unceremoniously killed off on Kevin Can Wait once Leah Remini became available. Someone please greenlight a Dangerous Book For Girls.