News
The Boys Amazon TV Series Trailer, Release Date, and Cast News
Garth Ennis's ultraviolent comic book series, The Boys, is getting an Amazon TV series, starring Karl Urban.
Amazon's small screen streaming lineup is set to add a live-action adaptation of Garth Ennis's notoriously dark and violent comic book, The Boys. The television project, which has been in development on and off for several years, has nearly finished filming in Toronto under the care of Supernatural and Timeless visionary Eric Kripke.
The Boys has an eight-episode order from Amazon, with Kripke serving as showrunner/executive producer, adapting the 2006-2012 comic book series created by Garth Ennis and Darick Robertson. The series will launch with directors who are experienced in adapting Ennis material in Seth Rogen and Evan Goldberg, who are credited as co-creators (with Sam Catlin,) of AMC's Preacher series. The project will be under the purview of Sony Pictures TV Studios, which is co-producing with Amazon, along with Original Films.
The Boys TV Series Trailer
The Boys has released a final, wantonly-destructive (gleefully-uncensored) trailer in the home stretch to its premiere.
Here's a previous (uncensored) trailer, showcasing more shocking superhero-related deaths, a Spice Girls-centric pep talk and the funny foibles of its ragtag team.
Complementing the proper trailers, (which you can scroll down to watch), Amazon released official parody commercials, showcasing the mythology's state, in which super-powered crimefighters have become vapid celebrities, which naturally leads to the kind of ego-driven corruption that incites the creation of The Boys. Check out the clips just below.
Here's a previous (also uncensored) teaser trailer, which showcases the unbridled hubris of this universe's super-powered "heroes," which effectively explains the homicidal motivation of Karl Urban's Billy Butcher to put together the titular team.
The first trailer for The Boys arrived back in January. Take a look below!
At New York Comic Con, Amazon offered up a little look at The Boys. It's not a full trailer but rather an advertisement for Vought, that really establishes the fun, dystopian mood of the piece. Give it a watch below!
The Boys TV Series Release Date
The Boys premieres on Amazon Prime Video on Friday, July 26.
The Boys TV Series Cast
The Boys made a surprise addition to its cast back at New York Comic Con. Simon Pegg (of the Star Trek, Mission: Impossible series, and more) crashed the show's panel to announce that he is joining the series. Pegg will play the father of Hughie (Jack Quaid), a role that gives a nod to Pegg being the original inspiration for the comics version of the Hughie character for artist, Darick Robertson.
Related: Star Trek 4 Reportedly Canceled
"Around the time Shaun of the Dead came out, I heard from Darick and I found out that my face was being used in this comic book, and I was extremely flattered and thrilled," said Pegg in the New York Comic Con panel for The Boys. "It was always going to become something visual because it's such an amazing story, and it really lends itself to an adaptation. And so I'm so happy that when this happened and then I got a call about maybe being in the show and we discussed how, it just seemed so perfect to be Jack's father."
Pegg joins a cast already headlined by Star Trek mate Karl Urban. Urban will be playing the role of Billy Butcher, the irate ringleader of the Boys team, whose surname was created to describe what he does to those who prey on the powerless, conventional criminals and otherwise. Billy is nursing a brutal secret agenda to change a world filled with corruption, where even its costumed superheroes need to be checked, recruiting a deadly array of highly-skilled people, dangling the proverbial carrot of vengeance.
Urban, who has been a prominent part of iconic film franchises such as The Lord of the Rings as Eomer, Star Trek as Dr. Leonard McCoy and the Riddick films as Vaako, recently made his Marvel Cinematic Universe debut in Thor: Ragnarok as classic comic book villain Skurge, a.k.a. the Executioner. Of course, in the eyes of many, he was also the definitive version of "the law" as the star of 2012 cult-worshiped comic book adaptation, Dredd. In 2014, he took a TV detour to star, opposite Michael Ealy, on Fox's one-and-done sci-fi buddy cop series, Almost Human. He's also set to appear in horror film Snowblind and actioner Entry Level.
Jennifer Esposito will play the crucial role of Susan Rayner, an ambitious, ever career-conscious CIA agent who – in the comics – shares a dark past in the Army with Billy Butcher (Karl Urban) over atrocities in Afghanistan and continues to maintain a bizarre love/hate relationship with him in her current position. Esposito's Rayner will appear in five of the eight episodes.
Esposito, an NYC-born actress, is coming off a single-season run on NCIS, and runs on Blindspot and The Affair, as well as the John Travolta/Katheryn Winnick movie, Speed Kills. She's fielded numerous TV runs on shows like Taxi Brooklyn, Blue Bloods, Samantha Who? and Rescue Me, having first gained notable attention for her 1997-1999 run on Spin City.
They are joined in the cast by:
Jack Quaid (Rampage, The Hunger Games films) as Hughie.
Erin Moriarty (Jessica Jones, True Detective) as Starlight.
Antony Starr (American Gothic) as Homelander, the leader of "The Seven."
Dominique McElligott (The Last Tycoon) as Queen Maeve.
Chace Crawford (Gossip Girl) as The Deep.
Jessie T. Usher (Survivor's Remorse) as A-Train.
Nathan Mitchell (iZombie) as Black Noir.
The Boys TV Series Story
The story of The Boys depicts a bleak world filled with power-imbued superheroes who have become reckless, selfish and hedonistic, leaving citizens in danger. Thus, an angry, ultra-violent Englishman named Billy Butcher puts together his own team of ex-military personnel with black ops experience to watch the proverbial watchmen, calling themselves, you guessed it, the Boys.
Thus, in an extreme version of the Marvel Civil War scenario, the Boys run roughshod on corrupt costumers in a brutally sadistic manner. The comic series launched in 2006 under the DC-connected Wildstorm imprint, only to be quickly cancelled, purportedly due to its anti-superhero themes. Ennis would eventually continue the series with indie publisher Dynamite Entertainment, publishing the last series in the end of 2012.
The Boys TV Series Poster
The first look at Amazon's The Boys TV series has arrived in the form of a promo poster. – And what a poster it is!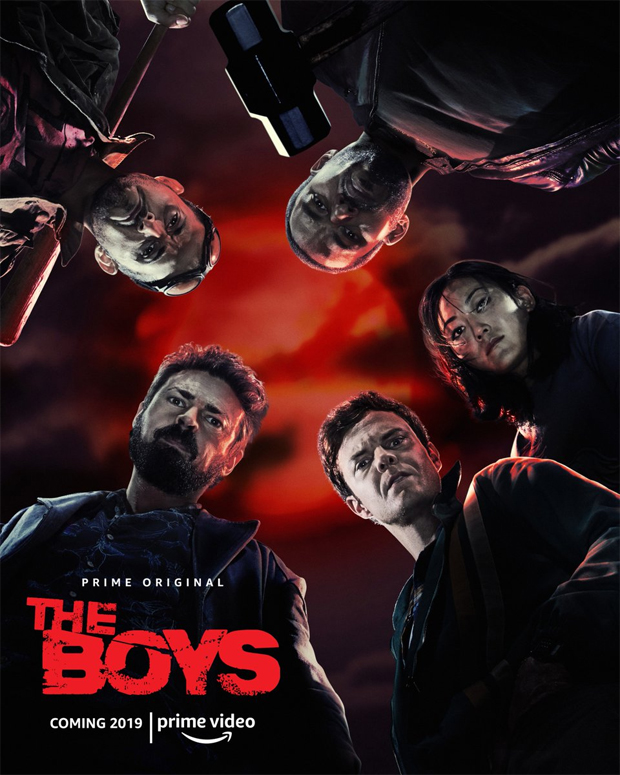 Fans of Garth Ennis's comic book series should immediately recognize the homage. Indeed, the cast of series, led by Karl Urban's Billy Butcher, faithfully recreate the famous 2007 cover of The Boys Vol. 1 collection, graced with art from Darick Robertson.
Read and download the Den of Geek SDCC 2019 Special Edition Magazine right here!
Joseph Baxter is a contributor for Den of Geek and Syfy Wire. You can find his work here. Follow him on Twitter @josbaxter. Michael Ahr is a writer, reviewer, and podcaster here at Den of Geek; you can check out his work here or follow him on Twitter (@mikescifi).