Features
The Bold Type Season 2: Immigration Policy Will Continue to Affect Kadena
We talked to Aisha Dee and Nikohl Boosheri about how Adena's work visa status will continue to affect Kadena in The Bold Type Season 2.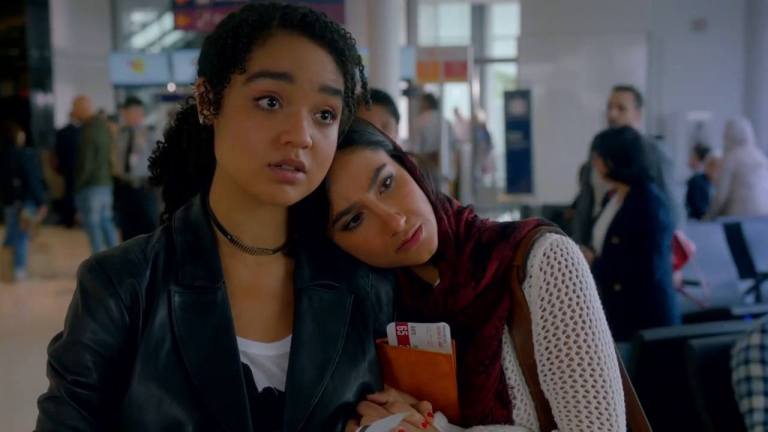 This article contains spoilers for The Bold Type Season 1.
One of the most powerful storylines in The Bold Type Season 1 was the burgeoning love story between bi-racial social media manager Kat (Aisha Dee) and Muslim lesbian artist Adena (Nikohl Boosheri). In addition to working through all of the insecurities of new love, the relationship is also made more complicated by the uncertain status of Adena's work visa status.
In Episode 9 of the first season, Adena is denied entry back into the United States because her U.S. work visa has expired, prompting Kat to buy an $11,000 airline ticket just so she can spend 14 hours with her almost-girlfriend at the airport. It's impulsive and romantic and heartbreakingly real. In an era when families are being ripped apart in their efforts to immigrate to and stay in America, we need to see more immigrant-centric stories on our screens.
In Season 2, Adena has managed to secure a three-month work visa. While this is a reprieve, it also doesn't represent a permanent solution. Talking to a group of reporters at the ATX Television Festival, Dee said the immigration storyline will continue to be "a big part" of Adena's journey in Season 2. 
Boosheri elaborated: "Yeah. Without giving anything away, that's what Adena is dealing with this season … It's suck a tricky thing. And me too, I'm Canadian, so, as someone in the United States, I'm also an immigrant." 
Boosheri commented on the difficulty of getting a work visa that depends on already having work, but also how hard it is to get work unless you are already working.
"It's just a real struggle," continued Boosheri, "and I think we see Adena—who's so ambitious, and nothing can really stop her, and she's always gone after what she wants—and she kind of stumbles a little in Season 2, and hits a few road blocks, I think, in that regard. So, I think that's cool to watch that—even she stumbles a little."
Boosheri said she could draw on her own immigration-related experiences when connecting to the Adena storyline, saying: "I think that, when you start to get attached to a place and to the people, and the relationships you make, the stakes become even higher, and I can definitely relate with that."
Boosheri was able to use her experience to give occasional feedback to the writers about how the storyline was written.
I definitely understand the American immigration system and visa system. So, sometimes, even when things were being written, I could contact someone and be like, 'It's actually like this.'I remember last season when we were talking about her passport. Where is her passport from? And I'd be like, well, she can't really have a Middle Eastern passport because she wouldn't have been able to live in Europe for the last 10 years. Borders are a strange, complicated thing.
Dee, who was born and grew up in Australia, also feels a special connection to this storyline.
"It's a really emotional, scary process," said Dee of the immigration process. "I'm a dual citizen, but none of my family members are. I was born a dual citizen—very complicated blended family situation that we're not gonna get into—but it's hard. I'm very separated from my family and have been very separated from people that I've loved in the past, so, it wasn't easy for me to also identify with the writing."
Real-world emotions around the immigration storyline became even more heightened during the course of The Bold Type's first season, which aired in the period following Trump's immigration ban. Boosheri echoed Dee's comments about the complication of feeling somewhat secure in your work visa and/or immigration status, but fearing for people you love.
"Especially last year, with the Muslim ban," said Boosheri, "I, at one point, was worried that I was gonna be on one of those lists. And, thankfully, the country I was born in was not, but the country my mom was born in is, so, she may, at some point, have trouble. Even if it doesn't happen, knock on wood, you hope that no one ever has to deal with that, but it is just a scary thing to have to worry about when one day it wasn't an issue and the next day it is."
While Adena's storyline will continue to be affected by her immigrant identity and work visa status in Season 2, there will be plenty of Kadena drama and fluff that explores other aspects of the couple's respective and collective identities. In general, Boosheri teased that we will be seeing more of Adena's world.
"We do see more of Adena's world, for sure," said Boosheri, "and I think that's connected to Kat too, because Kat is such a big part of Adena's life now. I think we open up that world and Kat gets to meet and be introduced to some of Adena's friends and colleagues, and that's very cool."
"She's very cool," laughed Dee. "She has a lot of friends and they're all really cool. They have cool hairstyles. They wear cool clothes."