Features
The Best Horror TV Shows of the Last 15 Years
Your TV is filled with things that go bump in the night. Den of Geek presents the best horror shows of the past 15 years.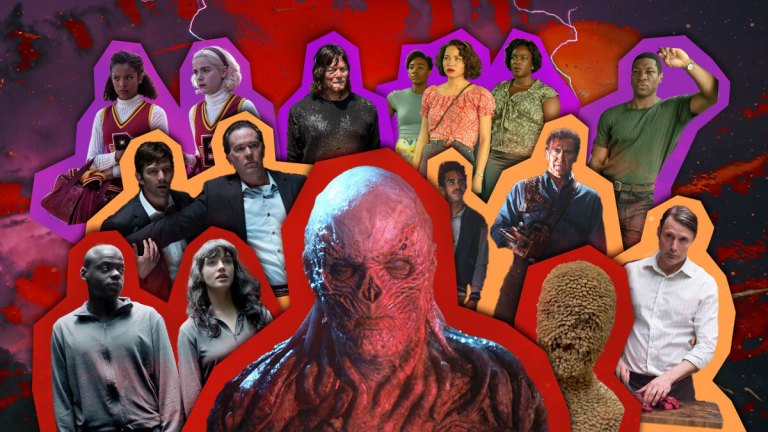 Perhaps no medium understands television's terrifying potential quite like film. That's right: countless horror movies have paid homage to the spooky possibilities of their industry's smaller screen little brother over the years. Movies like Poltergeist, Halloween III: Season of the Witch, and The Ring all recognize that a television set is a potentially powerful totem.
A TV set is a device that families have placed in their living rooms for decades, passively welcoming in all manner of signals, blithely trusting that evil somehow won't piggyback its way on them. Still, for much of television's early years, there wasn't a ton of great horror series to speak of (aside from the truly iconic like The Twilight Zone). That has all changed now.
To celebrate Den of Geek's 15th anniversary, we are once again counting down the best pop culture that the past decade and a half had to offer. This time around it's horrors turn to shine. Per usual, we are only counting shows that premiered in 2007 or later, which is why you won't see The X-Files here. But even without Mulder and Scully, we think you'll be surprised by just how terrifying the episodic landscape can be.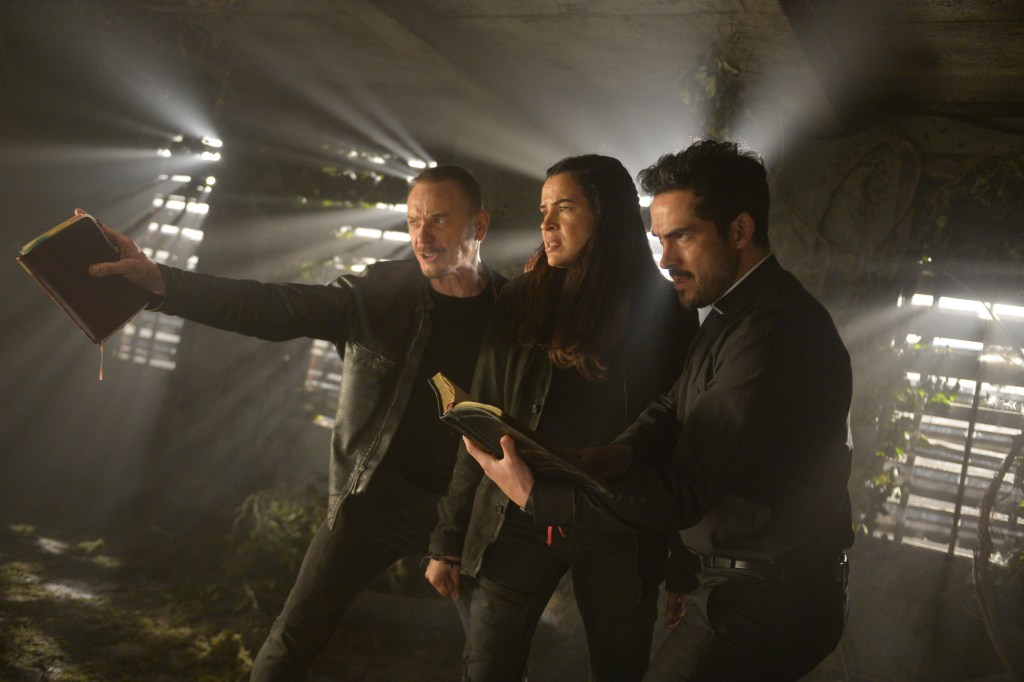 25. The Exorcist
The Exorcist was repossessed prematurely. Evicted without notice from the soul of Fox, the series was poised to move past its Holy Roman Catholic traditions into global perdition. When the series began, Geena Davis played Angela Rance, a woman trying to save her possessed daughter.
The first season dipped wax onto William Peter Blatty's 1971 novel, before breaking new ground in the satanic possession genre. Biblical visions doubled as neuroses, and psychoses are masked as supernaturally malevolent. The devil isn't the biggest evil in the series, and it takes more than reciting the 91st Psalm and humming a few bars "Ave Maria" to root it out. There is duplicity in the church. The series immersed itself in the world of the rogue priests who lost the voice but still heard the calling. – Tony Sokol
24. Les Revenants
Fast zombies vs. slow zombies? Pah, says Les Revenants, existentialist zombies are where it's at. This French supernatural drama used the concept of people coming back from the grave to explore death and grief, and did so in exquisite style. A beautiful and poignant mystery, it's set in a small mountain town whose dead suddenly return – some after years, some after decades – without any memory of where they've been. Why are they back? How did they die? And how will they live their new afterlives alongside those who loved, buried and grieved for them?
With a choice cast including an unforgettably eerie performance from Swann Nambotin as child returnee Victor, the Canal+ original had an indefinable quality that the English-language adaptation totally failed to capture. From the locations to the photography to the soundtrack by Scottish post-rock bank Mogwai, everything here works. If there's a more stylishly shot and atmospheric TV show, then we'd like to see it. – Louisa Mellor
23. Channel Zero
Since the launch of The Twilight Zone, horror anthologies have been a dime a dozen on TV. Few of them, however, are nearly as terrifying as this little-seen but much beloved creepypasta series on Syfy. Yes, Channel Zero gets all of its story ideas from the most terrifying place known to man: the internet. Showrunner Nick Antosca and the rest of the production team find the spookiest creepypastas the World Wide Web has to offer and then adapts them into satisfyingly spooky season-long arcs.
Each season of Channel Zero presents a new terrifying tale in six episodes. Starting with "Candle Cove" in season 1, the show's future seasons would tackle "No-End House," "Butcher's Block," and "The Dream Door." Featuring acute attention to detail and truly stunning monster design, each installment of Channel Zero does the near impossible and captures the sensation of being told a properly horrifying campfire story. – Alec Bojalad
22. In the Flesh
In the Flesh delivered a distinctly British twist on the zombie-horror genre by grounding its story of an undead uprising in Alan Bennett-style humour, and political satire. It's the story of Kieren Walker, a sensitive outsider in the rural Northern village of Roarton, where one night years ago, corpses rose from their graves and went on a murderous rampage. Now the surviving zombies (or sufferers of "Partially Deceased Syndrome" to use the official parlance) have been medicated and reintroduced to the community. Will Roarton accept them, or will hatred of the anti-"rotter" brigade win out?
Cruelly cut short by the BBC Three funding issues that led to the channel's (since reversed) move to online-only, In The Flesh is a beloved cult favourite. The least macho, most moving zombie story around, Dominic Mitchell's two series are funny, pithy and packed with protest at bigotry and intolerance. – LM
21. Grimm
While on-screen fairy tale adaptations have existed for almost as long as cinema itself, the early 2010s seemed to be a booming time for this genre – between ABC's Once Upon a Time premiering in 2011, and movies like Snow White and the Huntsman, Mirror Mirror, Jack the Giant Slayer, and Hansel & Gretel: Witch Hunters following suit in 2012 and 2013, the media landscape was full of different takes on classic stories. The procedural TV drama Grimm, which premiered on NBC in 2011, is one of the best adaptations to come out of this time period.
Grimm leans into the more horrifying aspects of fairy tales and folklore, adapting stories and creatures written by The Brothers Grimm without the sugar coating and sanitization we often get from Disney. The series follows Portland detective Nick Burkhardt (David Giuntoli) as he discovers his family's history as Grimm – hunters who keep the peace between the "normal" world and the supernatural creatures hiding in plain sight. Grimm can see the true form of these creatures, even when they appear human. Even though Grimm mostly sticks with a "creature of the week" format, the series' more serialized plotlines help build a unique, and at times terrifying, world where bedtime stories are not only real…they could kill you. – Brynna Arens
20. iZombie
iZombie, based on the Vertigo comic series of the same name, is set in a world where the zombie apocalypse isn't started by a rogue virus but instead a lethal combination of spiked drugs and energy drinks. After medical student Olivia "Liv" Moore (Rose McIver) is bitten at a boat party, she turns and has to give up her promising career to work in the morgue, where she has easy access to brains. In this world, the first stage of zombie infection doesn't turn her into the shambling, vicious, blood-thirsty creatures we usually see – instead she's still pretty human, aside from her white hair, pale skin, and her pretty intense cravings for brains and hot sauce.
iZombie's depiction of zombies is so unique and fun that it's easy to forget that it's technically a show about the zombie apocalypse. Because these zombies are still mostly human, they are able to see the memories of the people they eat and take on their personality traits. Liv uses this ability to help the Seattle PD solve murders, and while that may sound kind of cheesy, Rose McIver's ability to switch between a variety of personalities each episode is a testament to her abilities as an actor. She and her co-stars Rahul Kohli and Malcolm Goodwin make this "brain of the week" dynamic work effectively and truly make this series stand out. – BA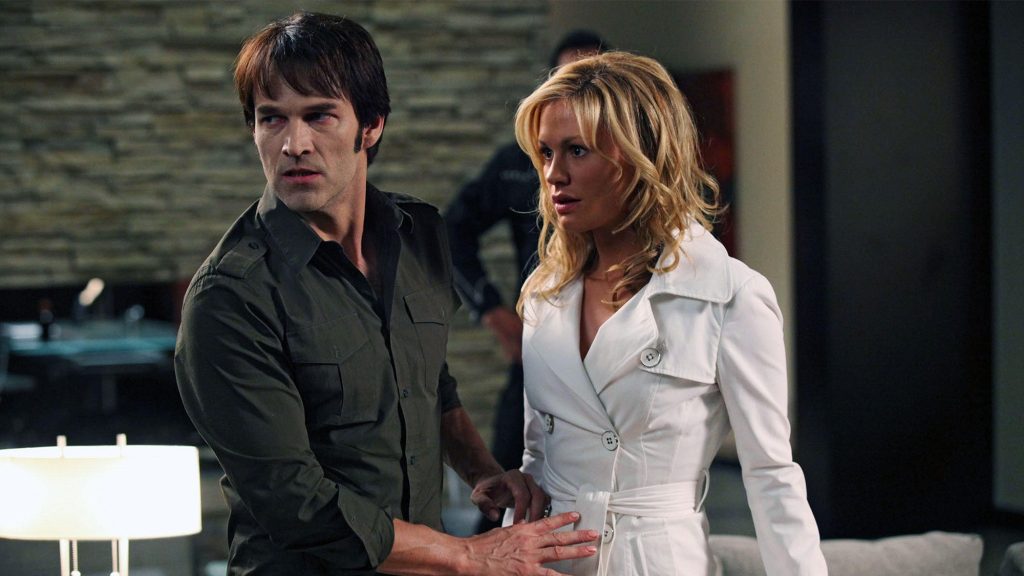 19. True Blood
"God hates fangs," warned the sign leading to the Louisiana town of Bon Temps, as Jace Everett's echo-drenched guitarist dredged the swamp for every living creature decaying in the traps of the Darwinian food chain. True Blood is named for a synthetic blood, mass-marketed as a soft drink to vampires, freeing them to come out of the casket to circulate among the living. The trade-in is that vampire blood is intoxicating to mortals, who hunt vampires to feed an ever-growing addiction. Everyone gets hooked on the blood of the telepathic waitress Sookie, played by an ever-magnetic Anna Paquin, whose hemoglobin contains a tantalizing touch of fairy DNA.
Alan Ball used Charlaine Harris' Sookie Stackhouse Southern Gothic Vampire novels as a starting point for his own mythology, using all manner of otherworldly creatures as an allegory for the growing assimilation of the globally inclusive community. Bill the Vampire (Stephen Moyer) was the perfect guy, wanting to settle down into his old life. Eric the Viking (Alexander Skarsgård), owned Fangtasia, the hottest nightspot for cold blooded killers. But it was Jessica Hamby (Deborah Ann Woll) who emerged as True Blood's enfant terrible: kicking, screaming, begging for Jesus, and crying like a newborn. – TS
18. Chilling Adventures of Sabrina
Chilling Adventures of Sabrina stirred stereotypical satanic mythology and pagan blasphemy into an alchemical brew to concoct a dark anti-Archie universe. Netflix invoked Roberto Aguirre-Sacasa and Robert Hack's "Afterlife with Archie" series from "Archie Horror" for a supernatural alternative to the town of Riverdale. In the tradition of Bewitched, witches are a separate breed than their mortal counterparts, and the town of Glendale didn't get the publicity of Salem, but in 1692, 13 witches were hanged in the forest and their descendants persist.
Kiernan Shipka plays Sabrina Spellman, a moody teen who is half-human and half-witch. She gets things right half the time, but at twice the cost. She celebrated her not-so-sweet sixteen with a Dark Baptism, signing her name into the "Book of the Beast," and went on to challenge patriarchy at both Baxter High and the School of Unseen Arts, as well as covens, teams, clubs, and talent show nights. She even double-teamed Satan in a match she won all by herself. – TS
17. The Fades
Another British horror series cut unforgivably short by BBC budget restraints (see also: In the Flesh), The Fades had scale, scares, and scope, not to mention a cast so well-chosen they became some of the biggest names in screen fantasy (Lucifer's Tom Ellis, Game of Thrones' Natalie Dormer and Joe Dempsie, Agents of SHIELD's Iain de Caestecker and Oscar-winning Get Out star Daniel Kaluuya).
It's the story of Paul, a teenager with the power to see spirits of the dead trapped on Earth. Paul learns that his apocalyptic visions aren't simply the work of his imagination; he's an "Angelic" – one of a group locked in celestial battle with the malevolent titular "Fades". Created by Jack Thorne (Skins, This is England, His Dark Materials), this six-episode series boasts proper horror, compelling and convincing characters, plus a script packed with geeky pop culture references. It should have had six seasons and a movie. – LM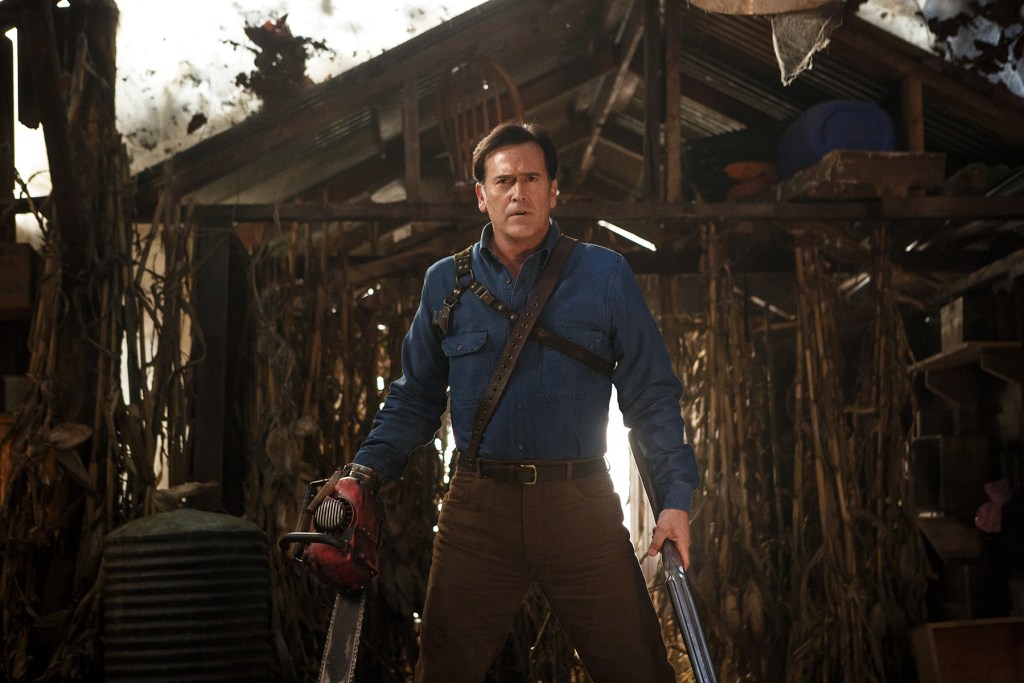 16. Ash v. Evil Dead
When Sam Raimi's landmark horror film The Evil Dead first arrived in 1981, who could have imagined that it would spawn a decades-spanning franchise? Honestly, pretty much everyone could have imagined that. Or at least they should have been able to. Evil Dead rules! After a sequel in 1987, another in 1992, and a remake in 2013, Ash v. The Evil Dead become the latest (and to this date final) iteration of this most excellent horror concept.
Bruce Campbell reprises his role as Ash Williams for this 2016 Starz series. It's been 30 years since the events of Army of Darkness and Ash is a bit worse for wear. Instead of slaying zombies, the action hero now works as a stock boy at a local grocery store and ends most days at the bottom of a bottle. But that all changes when the other side of "Ash v." returns and the Evil Dead walk the earth once again. – AB
15. Yellowjackets
Yellowjackets has teen drama, creepy cults, hints of cannibalism, and a compelling mystery, both in the past and the present, that will keep you hooked on the spooky series. In 1996, a plane crash leaves the Yellowjackets soccer team stranded in the Canadian wilderness. Twenty-five years later, the survivors still struggle with the trauma of what they went through, and the lengths they went to survive. Taking us between 1996 and the present day, Yellowjackets expertly balances psychological horror with the supernatural – it's not clear yet if there really is a sinister force with them in the wilderness or if the weird happenings are just a combination of coincidence and trauma.
The casting of the young girls and their adult counterparts is phenomenal, with their performances and personalities blending almost seamlessly between the timelines. Even though this method of storytelling means that we know early on whether some of the girls survive, it honestly doesn't take away from the stakes of their time in the wild. Every flashback is still full of tension and suspense as we learn more about what the Yellowjackets were up against. – BA
14. Castlevania
Castlevania is a tricky one to talk about. Based on Konami's video game series of the same name, the project was eventually ushered out of development hell and onto Netflix in 2017 with notable writer Warren Ellis installed as creator and showrunner, but by the summer of 2020 a wave of sexual misconduct allegations against Ellis would see the streaming service and its expanding Castlevania universe cut ties with him. The extremely adult animated dark fantasy action series is, however, objectively terrific.
Following sarcastic monster hunter Trevor Belmont as he seeks to rid the world of a nihilistic Dracula and his loyal forces forever, the show's story gets more complex and its visuals more wild as each season passes, with a sprawling cast that includes some unforgettable additions, like Peter Stormare's viking vampire Godbrand and Bill Nighy's inscrutable Saint Germain. Indeed, Castlevania remains delicious in the moment, but for many it will continue to have an unpleasant aftertaste. – Kirsten Howard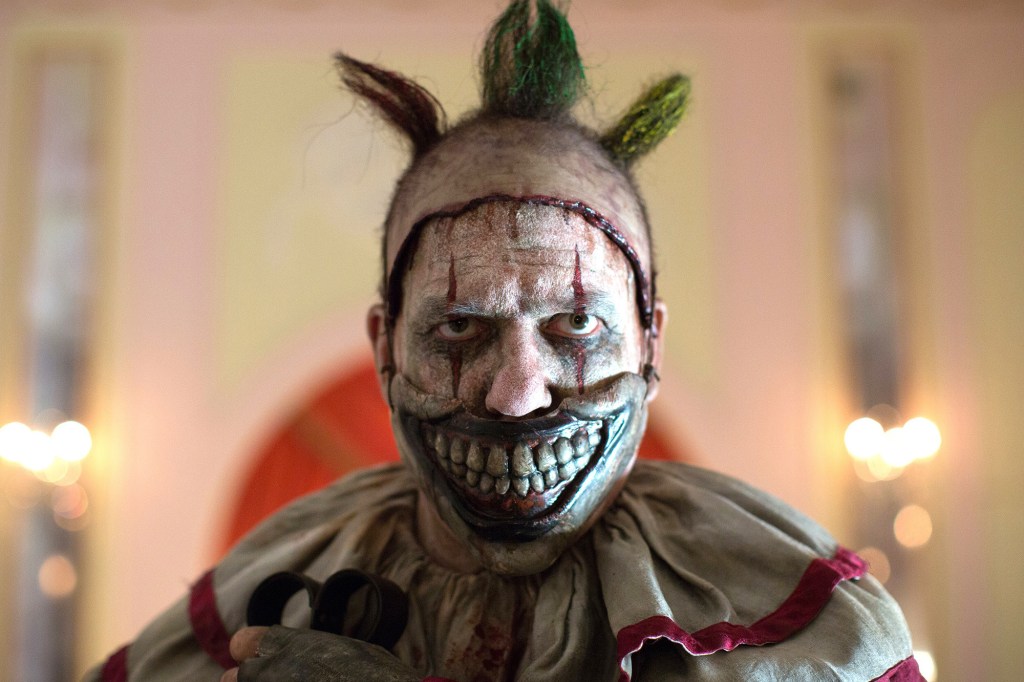 13. American Horror Story
American Horror Story never seems to be afraid of going "too far." While not every season of this anthology series has been a hit amongst fans, its shock factor is part of what makes the show so entertaining. Whether the story is centered around a haunted house, a coven of witches that includes Stevie Nicks, or is an homage to summer camp slasher movies, American Horror Story manages to bring something new every season while maintaining its unique, and often twisted, perspective.
One of the best things about this series is that, despite its decade-long run, a casual viewer can jump in at the beginning of almost any season and watch the horror stories that they are interested in without committing to the rest. Although American Horror Story definitely isn't for the squeamish or gore-averse, the series has something for almost every level of horror-fan. – BA
12. Lovecraft Country
Part anthology series, part overarching horror-fantasy hero's journey, Lovecraft Country is perhaps the most ambitious horror series on this list and certainly one that should have run much longer than one season. Created by Misha Green, and executive produced by Jordan Peele and JJ Abrams, this highly cinematic, sprawling show set in the depths of Jim Crow America in the 1950s follows Atticus "Tic" Freeman (Jonathan Majors) as he returns from war to discover he's the heir to a magical birthright. Tic and his family and friends become entangled with a racist secret society that attempts to keep Tic from unlocking his full magical potential.
Combining the horrors of real-life racism with fictional scares like haunted houses, body-swapping nightmares, and even terrifying historical folklore, Lovecraft Country plays with many subgenres and basically excels at them all. There's truly something for everyone here; if one episode doesn't tickle your fancy, the odds are the next will blow your hair back in an entirely different fashion. – Nick Harley
11. The Walking Dead
At 11 seasons in (and some spinoffs to go) it's inarguable that The Walking Dead has gotten a bit long in the tooth. Maintaining true horror over more than 170 episodes should be impossible to achieve. And yet, AMC's flagship zombie series is frequently more scary than it has any right to be.
Naturally, it all starts with the zombies. The shambling undead flesh-devourers are brought to life in spectacularly vivid detail by a makeup effects team led by producer/director Greg Nicotero. Every episode of this show is guaranteed to have at least one stomach-churning depiction of a zombie. Beyond the walkers, however, The Walking Dead takes it responsibility to scare and unsettle viewers seriously. Even in the ill-received latter seasons, this show makes time for standout horror episodes like "On the Inside." – AB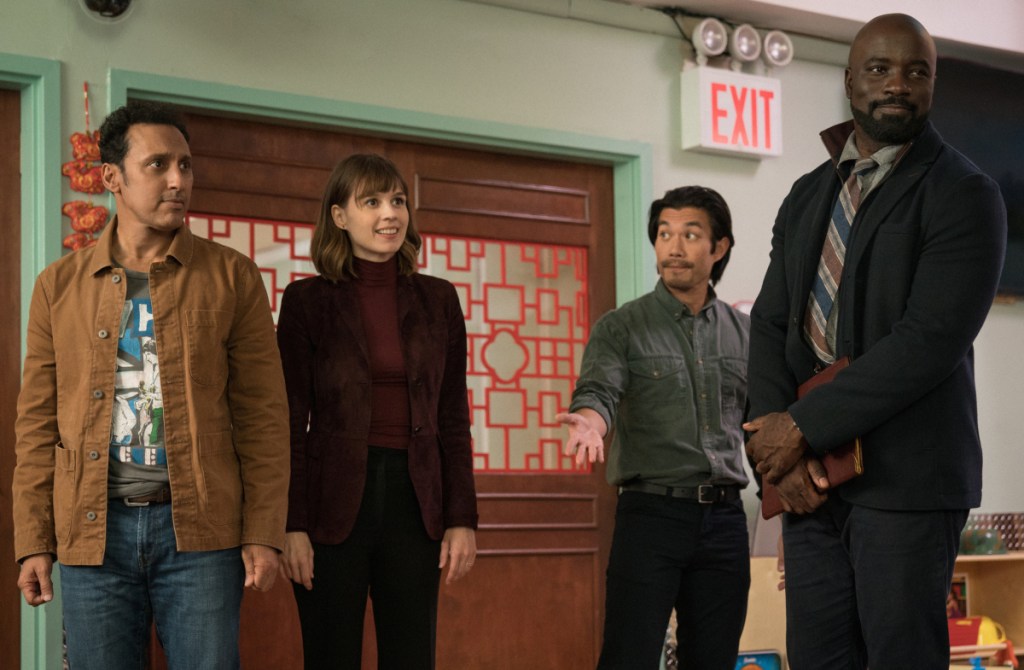 10. Evil
Ever since The X-Files signed off in 2002 (and then again in 2016 and 2018), the network TV procedural horror crown has just been sitting there, ready for the taking. In 2019 Robert and Michelle King, The Good Wife/The Good Fight creators who know a thing or two about network TV procedurals, decided to go ahead and grab it. Granted, Evil lasted for one season on CBS before being bumped to the more creatively-freeing streaming waters of Paramount+. But regardless of where Evil premieres its episodes, it's one of the best horror shows the medium has to offer.
Evil follows a trio of paranormal investigators who look into miracles on behalf of the Catholic Church: Priest-in-training David Acosta (Mike Colter) is the believer, tech expert Ben Shakir (Aasif Mandvi) is the skeptic, and forensic psychologist Dr. Kristen Bouchard (Katja Herbers) lies somewhere in the middle. Each week, Evil presents a new case-of-the-week that could be legitimately supernatural or could have a perfectly reasonable explanation. It's up to the team (and viewers) to figure it out. Evil is truly terrifying at times and masterfully balances its weekly storytelling format with a larger arc that examines whether evil is demonic in nature or lies in the dark heart of mankind. – AB
9. Penny Dreadful
A wickedly fun, macabre, and riotous horrorshow, Penny Dreadful was a monster mashup of famous public domain characters and 19th-century tales of terror. Think House of Frankenstein by way of League of Extraordinary Gentlemen. Pulpy, gory, and greatly inspired by Bram Stoker's Dracula, Penny Dreadful was anchored by the captivating Vanessa Ives, portrayed by Eva Green.
Ives was the magnetic heart of the series, and her story, about a woman torn between her faith in God and the pursuit of the Devil, anchors the story through tons of lore and occult goodness. A period piece with teeth, Penny Dreadful was unfortunately too weird to live, but its passionate fans will keep it from ever dying. – NH
8. Hannibal
Hannibal seemed like a fairly unappealing prospect before it arrived on NBC in 2013. After all, hadn't we had quite enough of Hannibal Lecter by then? The role had already been recast twice in the movie rollout of Thomas Harris' acclaimed novels, and simply no one was going to be as good as our beloved Anthony Hopkins, were they? And that weird-lookin' Danish fella from Casino Royale as our favorite psychological game-playin' cannibal? Pfft, whatever.
Well, it turns out that not only was Mads Mikkelsen incredible in the role, but everyone else working on the thriller series was firing on all cylinders, too. Pushing Daisies creator Bryan Fuller had lined up a murderer's row of talent to mold Will Graham (Hugh Dancy) and Hannibal's relationship into a twisted romance for the ages. The show also featured some of the most disturbing visuals ever committed to the small screen. While Hannibal may have been canceled after three seasons due to low viewership, the fandom lives on. – KH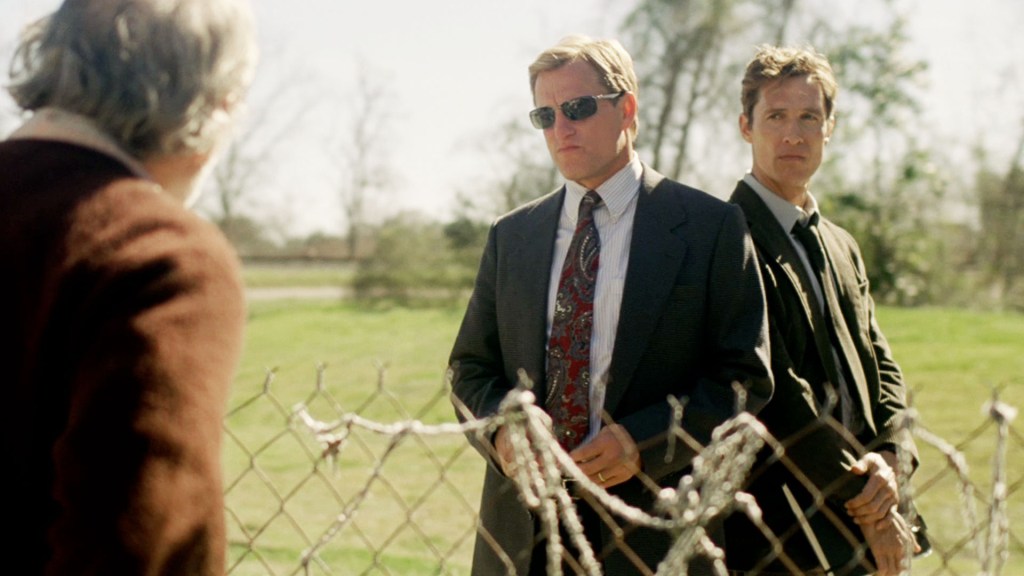 7. True Detective
The first season of True Detective is in the upper echelon of the satanic detective genre, even if the devil turned out to be a man. Director Cary Fukunaga and writer Nic Pizzolatto took viewers on a ride-along tour of a precinct in Dante's Inferno. Homicide detectives Rust Cohle (Matthew McConaughey) and Martin Harte (Woody Harrelson) are called in to tell a new team of cops about an old case they thought was closed. Cohle is maddening in his introverted nihilism.
He finds so many ways to snort substances it looks like a competitive sport, but sometimes it feels like he's mainlining the secret truths of the universe, so much so he actually becomes a prime suspect in the satanic serial murder case. Harte has secrets of his own, which informed the basis for the continuing series. Anyone with a badge can be a good cop or an incompetent shit-heel, but their inner demons are their best weapon against the evils on the street. Conspiracies persist to this day based on the clues of each of the consecutive seasons, including theories on the show's own diminishing results. It came through in the end, and in the least expected way. Exactly as the show promised. – TS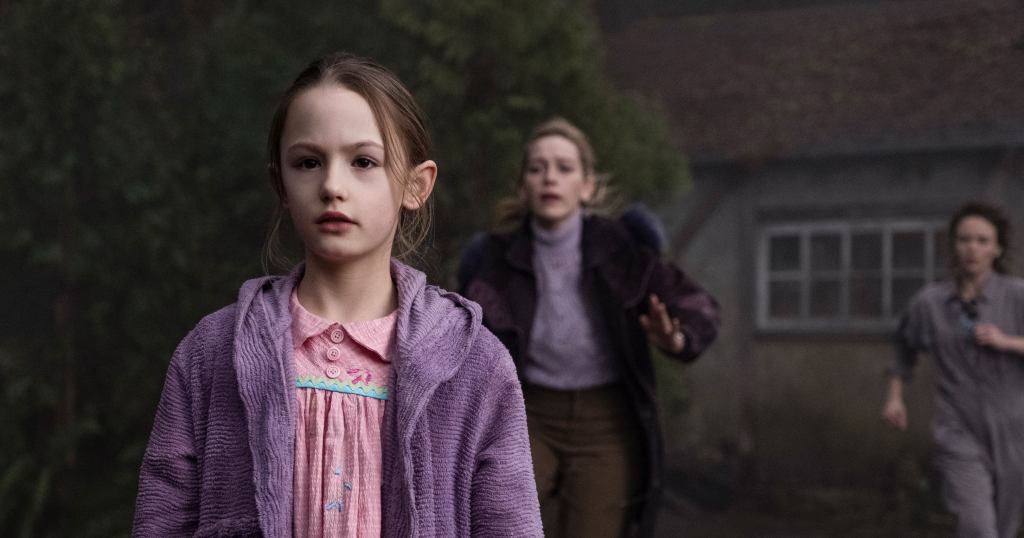 6. The Haunting of Bly Manor
There are few shows out there that are able to combine horror and romance without losing something from each genre, and Mike Flanagan's sophomore Netflix series The Haunting of Bly Manor is one of them. The Haunting of Bly Manor doesn't wimp out on scares nor does the relationship between Dani (Victoria Pedretti) and Jamie (Amelia Eve) feel cheesy or forced – instead the ghost stories and love story are intertwined into a single compelling narrative.
Set at the titular Bly Manor in the 1980s, the series begins with the hiring of Dani as the governess for the Wingrave children. Because young British children in a giant house are rarely not creepy, things get weird pretty fast as the children seem to be aware of the spirits that also call Bly Manor home. This series feels haunting, not just because of the ghosts, but rather in how much the characters – both living and dead – and their stories stick with you. While The Haunting of Bly Manor is not necessarily the most nightmare-inducing story ever told, it features a unique level of emotional devastation that can make even the most hardened horror-buff shed a tear. – BA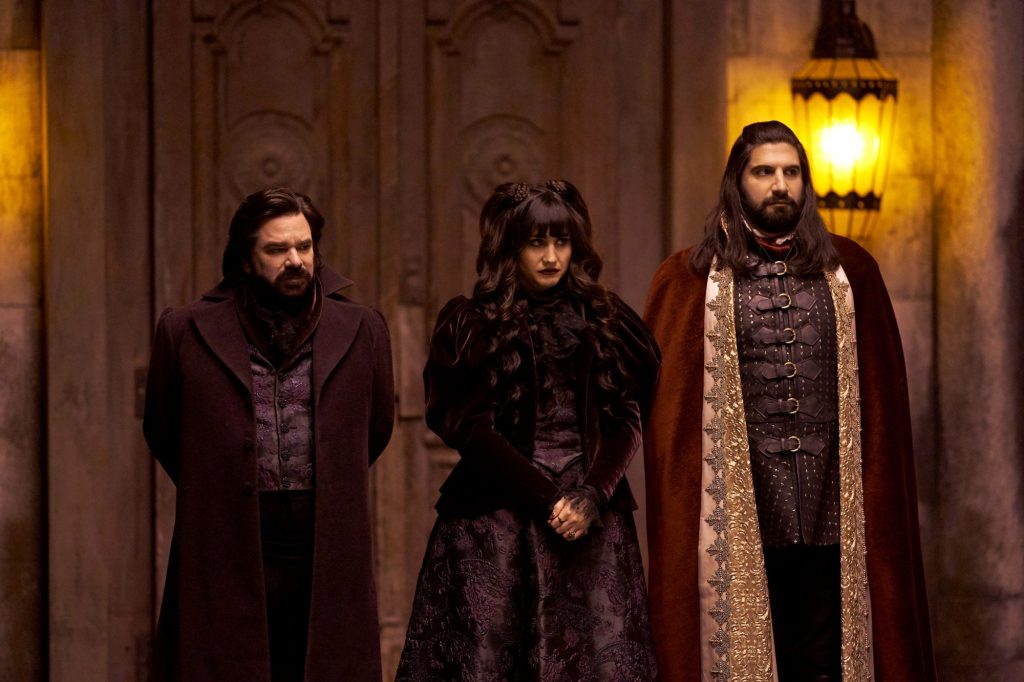 5. What We Do in the Shadows
Over four seasons, Staten Island's most infamous vampires survived swinging guillotines at Nouveau Théâtre des Vampires, true death judgements of the Vampiric Council, dodgeball matches with werewolves, confusions of daylight savings, and the perils of introducing a child character into a successful sitcom. All without running out of blood to spill or legends to deflate. Based on the movie by Jemaine Clement and Taika Waititi, FX's What We Do in the Shadows' is this decade's Addams Family, with a rogue's gallery of classic comedy influences.
Nandor the Relentless (Kayvan Novak), Nadja of Antipaxos (Natasia Demetriou), Laszlo Cravensworth (Matt Berry), energy vampire Colin Robinson (Mark Proksch), and their familiar-turned-bodyguard-turned-babysitting best man Guillermo (Harvey Guillén) are as beloved as The Munsters, frightful as the Fangtasia regulars on True Blood, and clueless as the spies on Get Smart. Nothing is sacred and no cliché is spared. Even the great vampires of cinema masquerading as actors, like Tilda Swinton, Paul Rubens, and the Half-Vampire Wesley Snipes, give blood on a regular basis. – TS
4. The Haunting of Hill House
The Haunting of Hill House is the project that took Mike Flanagan from indie horror auteur to Netflix spooky season juggernaut. This 10-episode series borrows its name (and little else) from Shirley Jackson's classic 1959 horror novel. Set in the modern day, it follows the Crain family as they all struggle to deal with the trauma from growing up in a very haunted house.
The most impressive thing about Hill House is that it takes already scary concepts (like a cavernous haunted Victorian mansion, a flowery funeral home, or a dingy back alley) and dials the horror up to 11. Yes, haunted houses are usually scary, but under Flanagan's direction, this one is really scary. The Haunting of Hill House is the rare episodic endeavor that is able to sustain spooky vibes through 10 hours as well as any 90-minute horror flick. – AB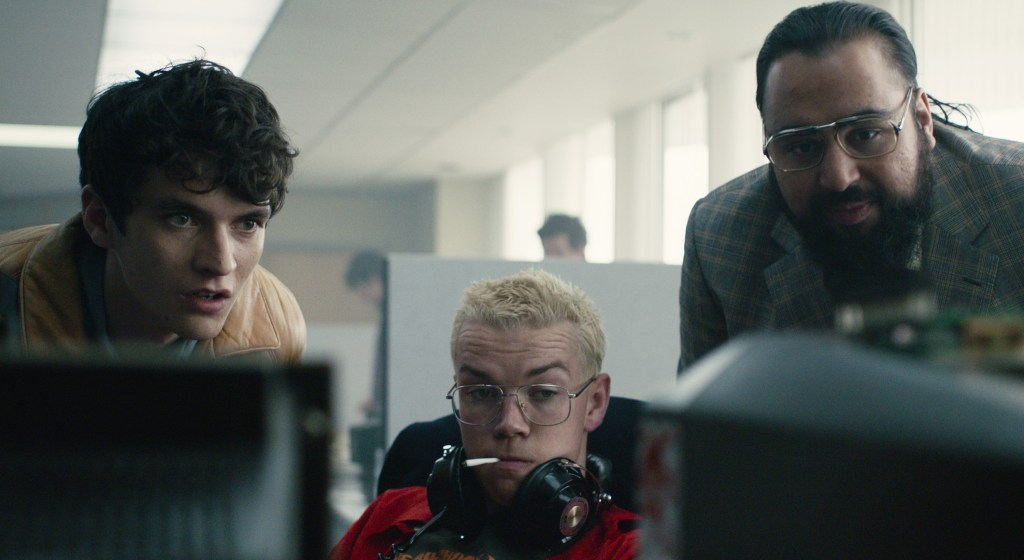 3. Black Mirror
The Twilight Zone for the internet age, Black Mirror is a science-fiction anthology series from creators Charlie Brooker and Annabel Jones that explores the ways in which modern tech has, or potentially will, alter the human experience beyond recognition. While the show has expanded to include stories that provide hope or ostensibly play as romances or comedies, the series' roots are in pitch-black dystopian horror.
"What if we could access our memories at any time?" "What if we could have a final conversation with a loved one?" or even "What if video games were a bit more immersive?" are just jumping-off points that lead to devastating, soul-crushing conclusions that highlight the nasty, easily corruptible black hearts of humankind. Black Mirror presents a world where tech ethics have been thrown out the window in favor of saying "be careful what you wish for." If that sounds bleak, well buddy, most of Black Mirror is. – NH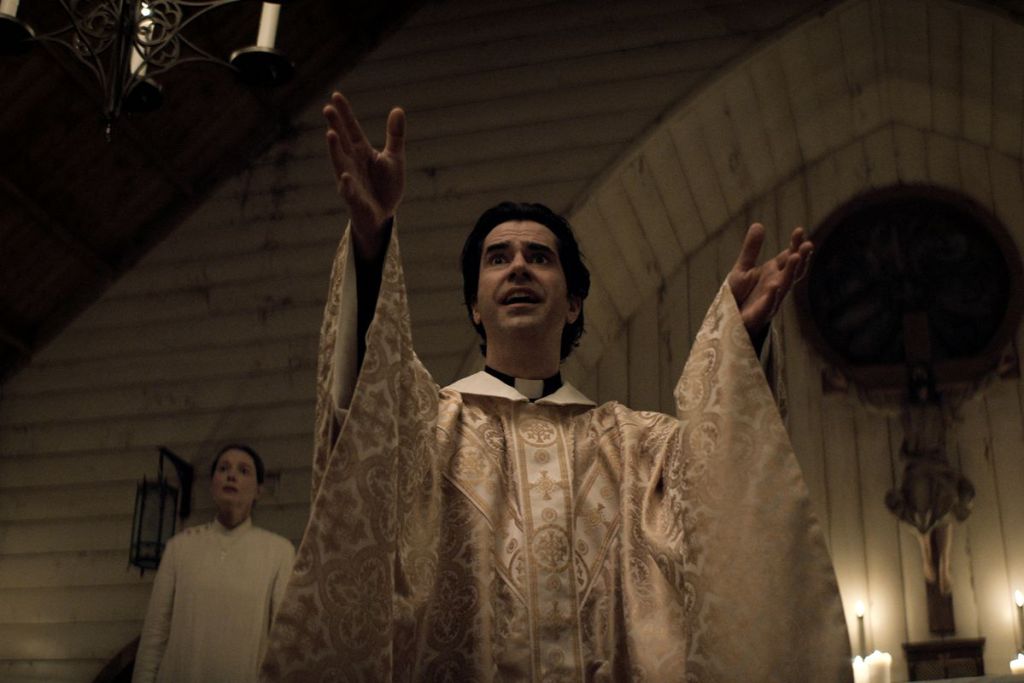 2. Midnight Mass
READERS' CHOICE
The Duffer Brothers may have Netflix's cash cow, but Mike Flanagan is their in-house horror guru. The filmmaker is responsible for three of the streaming service's finest horror series. Arguably his best is Midnight Mass, a beautiful, novelistic exploration of faith, grief, and forgiveness. It's a weighty, ambitious story that nearly buckles under all of the themes and ideologies it wants to tackle and dissect, but it ultimately succeeds due to unforgettable characters, delicate performances, and powerful scripts dripping with compassion.
Taking place on the fictional, thinly populated island, Midnight Mass follows a mysterious young priest who arrives to temporarily run a Catholic church in absence of the elderly monsignor. However, the townsfolk of Crockett Island are the real story, each dealing with deeply human, uniquely horrific personal issues that give Midnight Mass its heart and sprawl. These side characters and plots divert attention from what is actually a fairly standard creature feature, but Flangan imbues each thread with everything he's got; you can almost imagine him bleeding from the pen as he writes monologue after monologue about existential crises and the meaning of religion. While it's not his scariest work, it's certainly his most thought-provoking. – NH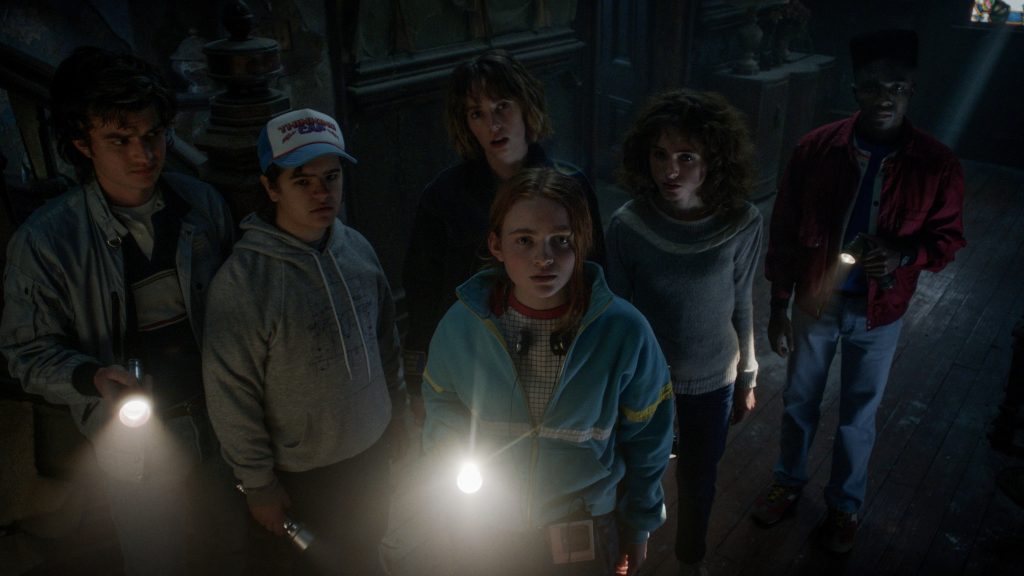 1. Stranger Things
It really isn't that strange as to why Stranger Things has caught on with viewers en masse and become Netflix's flagship series. Stranger Things creators The Duffer Brothers have delicately crafted a horror mixtape, borrowing liberally from maestros of the genre such as Stephen King, Wes Craven, and John Carpenter and have cross-pollinated their story with Steven Spielberg's Amblin sensibility and James Cameron's widescreen scope. Add in more than a healthy dash of '80s ephemera, Cold War-era paranoia, and Dungeons & Dragons lore and you've got a wildly entertaining stew going!
Set in the fictional town of Hawkins, Indiana, Stranger Things centers on supernatural occurrences impacting a group of pre-teens and teenagers after shady government scientists inadvertently open a portal to an alternate dimension known as "The Upside Down." Each installment plays like slight variations on the overall crowd-pleasing '80s horror template, with seasons evoking films such as Aliens and A Nightmare on Elm Street, along with a host of other touchstones.
What keeps the whole endeavor from feeling like a cheap homage or nostalgia overload are the well-developed characters, who change, grow (quite literally, for the younger cast members) and pair off in interesting combinations that keep the story fresh, yet emotionally grounded. Even when the story stretches to its limits, the characters and their relationships keep you coming back. The mixture of coming-of-age tropes and scarier elements create a great balance that allows the light and dark moments to play for maximum efficiency. Also, the charming cast, led by Winona Ryder, David Harbour and Millie Bobby Brown, elevate the material. Stranger Things isn't the scariest or most original horror series out there, but it's a damn fine blockbuster attraction that has the heart to spare. – NH
Other horror TV shows receiving votes (in descending order): Dark, Scream Queens, Being Human (U.K.), Archive 81, The Mist, Teen Wolf, Inside No. 9, Salem, Brand New Cherry Flavor, Constantine, Bates Motel, Swam Thing, Black Summer, The Terror, Paranormal, Blood Drive, The Vampire Diaries, Preacher, All of Us Are Dead, Val Helsing, Dead Set, Psychoville, Wayward Pines, Scream, Servant