Features
The best Christmas TV specials
As yuletide approaches, we provide a run-down of some of the finest Christmas TV specials, from classic cartoons to festive comedies…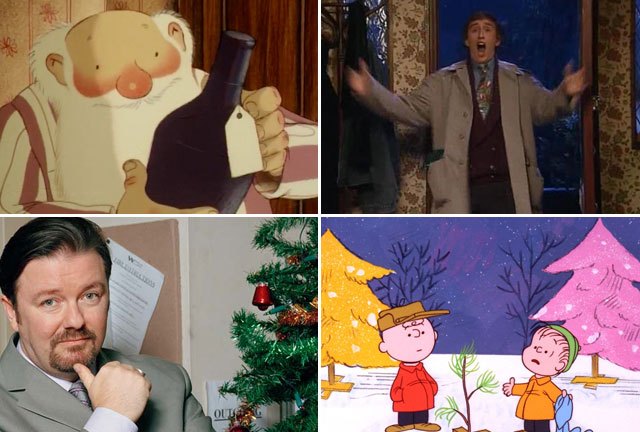 When I was younger, the arrival of the Christmas Radio Times was a massive deal. It marked the pending arrival of that most joyous of occurrences, the Christmas TV schedule. Whole afternoons and evenings would be planned out around catching those rare nuggets that, back then, were only ever on the box during the festive season. This was, of course, before the invention of Sky+ and On Demand, back when you had to make do with four or five channels, a VCR and a three-hour blank tape (or six if you were fancy and went long play).
Over the years, watching hours upon hours of classic television has become just as much of a Christmas tradition as binge drinking before lunchtime or overdosing on After Eights. At Christmas, though, even more so than usual, the TV channels opt to dip back into their extensive back catalogues and treat us to a few festive favourites from yesteryear. In particular, they like to roll out that most joyous invention, the Christmas special.
These specials range from short animated cartoons to a great British staple, the sitcom Christmas episode. These festive specials have become essential viewing during the holidays, and we'd wager that, in the coming weeks, all of us will watch at least a couple of the 11 we've compiled below. With the abundance of channels now available, and with home DVD collections ever expanding, there's really no excuse for missing your own favourites this year.
So, with a paper hat on head and a mince pie in hand, here's my run down of the very best Christmas TV specials.
The Office Christmas Specials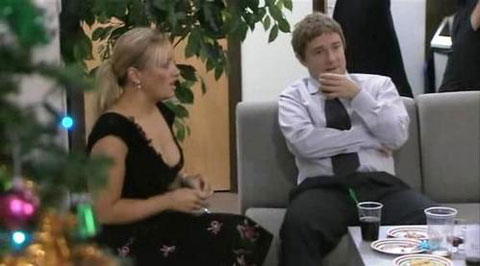 Given its well-deserved status as one of the all-time great UK comedy series, there was a great deal of expectation surrounding The Office's two part festive finale. Luckily, Gervais and Merchant truly delivered, with a memorable double bill with moments of genuine heart-string tugging drama thrown in for good measure.
While the first episode focuses mainly on David's failed attempts to maintain his status as a Z-List celebrity, the second sees him resort to Internet dating in order to make sure he has a date for the office Christmas party. Despite his irritable nature, you genuinely want Brent to find happiness with a woman that can stomach him, and of course, for him to finally tell Finchy (a bloody good rep) where he can go. That said, the real story we were all interested in was the will they/won't they romance between best friends Dawn and Tim.
Since we last saw them, Dawn and fiancée Lee have been living out in the States, where Dawn appears resigned to an unhappy future. Once back among the office gang, however, it's not long before the old sparks fly between her and Tim. Despite the glaringly obvious chemistry between them, you still somehow don't quite believe they will end up together. Sure enough, after their usual flirting at the office Christmas party, Dawn walks out on Tim yet again, frogmarched out of the party early by Lee. It appears as if the fairytale feel good Christmas ending just wasn't meant to be.
For Office fans, what followed next was every bit as dramatic and powerful as the very best Hollywood drama. Cut back to the party, and a lonely Tim chats with David and Gareth. Then, with the Flying Pickets' Only You playing in the background, a teary-eyed Dawn appears in the distance. She walks back through the party, unbeknownst to Tim, until he finally turns around and sees her. Then, at long last, the kiss the whole country was crying out for finally happened. Cue genuine cheers of joy in front rooms across the country. It's the perfect end to one of the finest sitcom finales of all time.
Knowing Me Knowing Yule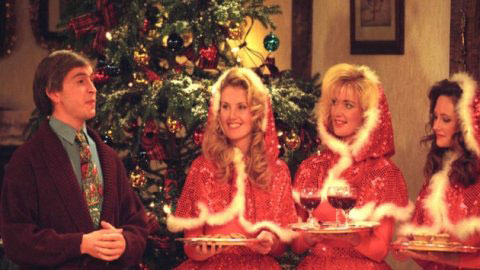 "A-ha!" Car-crash comedy doesn't come much better than Norwich's favourite son, Alan Partridge. This festive outing sees Alan hosting a Christmas special of his BBC chat show in an accurate mock-up of his own home. Joining him around the Christmas tree is a motley crew of guests including bawdy cook Fanny Thomas in the kitchen, a group of devout Christian bell ringers and Chief Commissioning Editor of BBC Television, Tony Hayers.
As well as witnessing the increasingly disastrous interviews with his in-house guests, we also get a glimpse of Alan out and about in his beloved Norwich. Jogging through the Cathedral's cloisters ("300k. 300k or we take it to Sky") taking presents to kids in hospital ("Second hand, but it's in quiet good condition"), and getting special treatment by his local Tandy store on account of him being a celebrity.
Partridge isn't everybody's cup of tea, but for fans of the show, this festive special is up there with the very best. Alan becomes increasingly desperate as the show goes on, as he pleads with Tony for a second series, while everything around him goes predictably wrong. By the time he's punched a disabled guest with a turkey and then done the same to Mr Hayers, you almost feel sorry for him.
I'll leave the last word to the man himself, though, who wisely points out that, "I think if you ask the British public whether they'd prefer 40 kidney dialysis machines or an Alan Partridge Christmas special, the answer would be pretty unanimous."
A Charlie Brown Christmas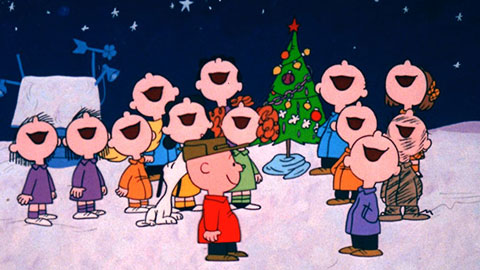 A stalwart of American festive viewing dating right back to 1965, A Charlie Brown Christmas was the very first animated special based on Charles M Schultz's hugely popular comic strip, Peanuts. Much like How The Grinch Stole Christmas, it's been shown on American TV every year since its debut. The two cartoons also share a common theme, as they both tackle that always thorny festive issue, the over-commercialisation of Christmas.
Where A Charlie Brown Christmas perhaps differs slightly from Dr Seuss' story, however, is in its emphasis of the Christian heritage of Christmas, and laments its loss amid the crass commercialism that has instead come to represent the holiday season.
The story sees a despondent Charlie Brown complaining to pal Linus that he is struggling to look forward to Christmas this year, as the rest of their town only seem interested in the material aspects of the holidays. Later, following Lucy's psychiatric advice, Charlie Brown volunteers to direct the school nativity play in a bid to involve himself in the celebrations.
As his friends begin to favour modern song and dance numbers over the simple Christian message, Charlie becomes increasingly exasperated, and begins to doubt his own convictions over what Christmas is really about. Naturally though, his friends eventually all rally round and seeing the error of their ways, restoring Charlie's faith in the true meaning of Christmas.
The overtly religious theme may not appeal to everyone, but this short cartoon has such a simplistic warmth that it's hard not to fall in love with it. By its creators' own admissions, the threadbare budget meant that the animation is far from perfect and the sound is noticeably ropey in places, but this only adds to its charm.
Interestingly for a special centred on the over commercialisation of Christmas, the special's original sponsor was Coca-Cola, and later screenings of the show had to be edited to remove overt product placement at the behest of its new sponsors. Good grief.
The Snowman
Quaint, charming and yet surprisingly harrowing, Dianne Jackson's adaptation of Raymond Briggs' children's book has itself become part of Christmas culture. The popular book was turned into a short animated film for Channel 4 way back in 1982, and has been shown pretty much every year since.
The film, much like its source material, contains no dialogue, and instead relies on its distinctive visuals and evocative accompanying music to propel the story. That is, of course, except for the surreal introduction courtesy of David Bowie – not the Thin White Duke's finest acting moment by any means, though slightly less crotch-heavy than Labyrinth.
It's a very simple tale – boy makes a snowman, snowman comes alive, boy and snowman steal a motorbike, boy and snowman fly to the North Pole to attend a snowman party hosted by Father Christmas – but despite its simplicity, there's something about the film that really stays with you, and I don't just mean Walking In The Air.
The ending is a real gut-punch, and still incredibly distressing for young viewers. The young boy wakes up the next morning and rushes outside to see his snowman melted and seemingly gone forever. The cartoon then finishes, leaving the boy to mourn the loss of his friend.
Father Christmas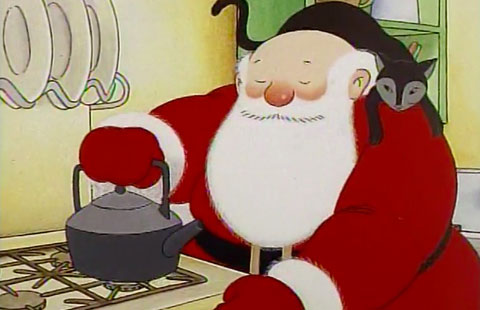 Made some nine years after The Snowman, David Unwin's jovial adaptation of Raymond Briggs' Father Christmas cartoon is often overlooked in favour of its more famous predecessor. This offering is a far more light-hearted and suitably jolly affair, mind you, and isn't quite as likely to leave you unseasonably depressed.
In Briggs' universe, Father Christmas, voiced perfectly by Mel Smith, is a grumpy old chap living in a generic terraced house in suburban England. One year, he decides to get away from the pressures of Christmas and treat himself to a holiday. So, after suping up his sleigh and packing his cat and dog off to the kennels, he sets off to take in the delights of France, Las Vegas and Scotland.
Along the way, he gets the runs on a French campsite, gets drunk in a Scottish pub, and eats his own bodyweight in Vegas. Upon returning home, though, he has a nasty surprise, as the letters from the world's children have piled up on his doormat during his absence.
It's then a race against time to get ready for the big night. It's never actually shown how or where Father Christmas acquires all the presents he then delivers to the millions of children around the world. Given the setting, however, I can only assume the local Woolworths got a lot of business that week.
It's a very British take on the Father Christmas legend, and with that trademark Briggs warmth it, really is a festive treat you can revisit year in year out.
How The Grinch Stole Christmas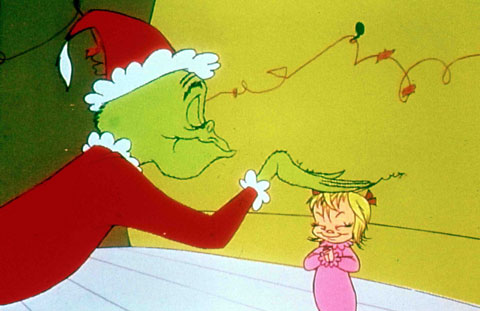 This animated TV special may have been made 1966, but it remains popular with American audiences even today. The short film was directed by legendary Warner Brothers cartoon director Chuck Jones and was based on Dr Seuss' children's book, The Grinch. The unique visuals and distinctive Seuss dialogue make this a memorable cartoon which blends a mixture of warm and cutesy Christmas imagery with the creeping meanness of the Grinch himself.
The cartoon is narrated by horror legend Boris Karloff, whose distinctive voice has itself become synonymous with the cartoon. The story sees the titular Grinch living in a cave high up in a mountain above the town of Whoville. He's a grumpy and hate filled old grouch who loathes the permanently chirpy inhabitants of Whoville.
One Christmas Eve, he looks down upon the Whos and decides to steal Christmas while they sleep. Cue he and his reluctant dog Max stuffing trees, presents and even street lights into their bags before high-tailing it back up the mountain.
The Grinch misunderstands the nature of Christmas, however, and is taken aback when the Whos don't let the loss of their festive toys and ornaments ruin their day, but instead rally together to maintain their festive spirit. At the sight of all this joy, even the Grinch's hatred of Christmas softens and his heart grows three sizes.
Don't be put off by the Jim Carey live action movie that came out a few years ago. Just pretend that never happened, and enjoy the zaniness of the classic 1966 version.
Blackadder's Christmas Carol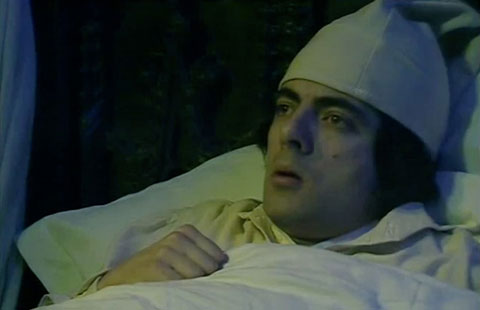 Nothing gets you in the Christmas mood like a hearty dose of Charles Dickens' A Christmas Carol. Often, though, given the serious subject matter, adaptations of the story tend to be a little light on comedy (The Muppets' and Bill Murray's versions aside, that is). Luckily, Richard Curtis and Ben Elton stepped forward and delivered their own interpretation of the story in true Blackadder style.
It's set in Victorian England, where an uncharacteristically pleasant Edmund Blackadder sees his good nature taken advantage of by a series of scrounging visitors. After wearily retiring to bed on Christmas Eve, he is visited by the Spirit of Christmas, played superbly by Robbie Coltrane, who originally intends to congratulate the saintly Blackadder on his charitable ways.
The Spirit, however, ends up showing Edmund glimpses of his ancestors and their decidedly less kindly antics. Here we get flashbacks to the cynical and scheming Blackadder we know and love from series two and three. Back in Victorian times, Blackadder starts to see the benefits of being mean, and begins to think that he should start emulating his ancestors.
The next morning, he is more like the Bladder of old: mean, greedy and abusive. He even goes so far as to give his servant Baldrick a clenched fist to the face for a present. As the man himself rightly says, "Bad guys have all the fun."
The visit of a disguised Queen Victoria (Miriam Margolyes) and Prince Albert (Jim Broadbent) is a particular highlight, and the usual Blackadder crowd of Stephen Fry, Hugh Laurie and Miranda Richardson are all pitch perfect, too.
This Blackadder special features a whole host of classic lines, but perhaps my favourite is this little exchange: "Mr. B! Where's the milk of human kindness?" "It's gone off, Baldrick. It stinks."
Men Behaving Badly: Jingle Balls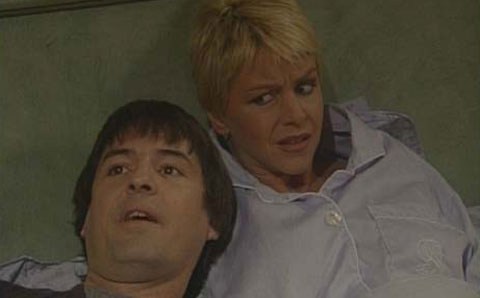 Not a special that is as universally loved as others on this list, but a personal favourite of mine nonetheless. Gary, Tony and longsuffering girlfriends Dorothy and Deborah decide to spend Christmas Day together for the first time.
The show flicks between their actual Christmas day and a fictional, perfect one set in a grand country house. The contrast between the crackling log fire, enormous tree and endless bouts of laughter in the fictional Christmas day and the drab reality of their actual one is telling.
Back in reality, the Christmas dinner goes disastrously wrong (Gary was in charge), presents are mostly a disappointment (darts and a deep fat fryer for Dorothy, a damp birdhouse for Debs) and everyone gets increasingly more cheesed off each other as the day goes on. A fairly accurate portrayal of Christmas day in many households, I'm sure.
There are plenty of highlights throughout the episode, including Gary's despairing attempts to fit the turkey in the oven, and an ill-advised mid-afternoon trip down the local to take in some much-needed festive spirit.
Jingle Balls isn't repeated anywhere near as regularly as many other sitcom specials, but I recommend giving it another viewing this festive season, if for no other reason than that you'll appreciate your own Christmas dinner a whole lot more.
Father Ted : A Christmassy Ted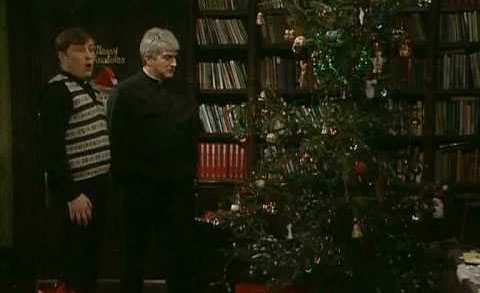 The Father Ted Christmas special is 15 years old this year, and remains a must-watch favourite. At the outset, Father Ted Crilly expresses his desire for a nice quiet Christmas on Craggy Island. Inevitably, his hopes are to be repeatedly dashed.
The episode's stand out scene is when Ted, Dougal and a group of fellow priests get lost in the largest lingerie department in Ireland. As the priests become increasingly desperate to escape unseen so as to avoid a potential scandal, Ted assumes command of the ragtag band, and eventually leads them to freedom. The memorable moment where Ted ushers his men out of the fire exit, leaving no man behind, before turning and nodding proudly at a job well done, is one that never fails to put a smile on my face.
Father Ted is one of the few comedies that can prompt full on belly laughs, and there's plenty to be had throughout the episode. Mrs Doyle's distraught reaction to being bought a tea-maker, Dougal's disastrous attempts at leading a funeral service, and his subtle hints to Ted for what he wants for Christmas all leap to mind. It truly is a feckin' brilliant Christmas special.
The Royle Family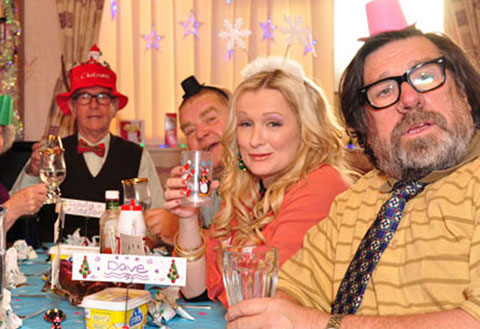 There have been several Christmas editions of Caroline Ahern and Craig Cash's sitcom, and among them, a couple of duds – the 2008 special, which relocated to Dave and Denise's house, and the 09 special, which saw Dave, Denise, Jim and Barbara on a caravan holiday in Prestatyn spring to mind. Last year's Joe's Crackers was a return to form, as the action (or lack of it) was wisely relocated back to the Royle's front room.
For me, though, the best Christmas outing was the very first one back in 1999 at the end of series two. Denise is heavily pregnant and uses her mobile phone to ring Barbara from upstairs. Jim is on typically grouchy form. "The one day we all decide to sit down and watch the telly, and look at the shite they put on!" Barb, meanwhile, is reeling from the news that her turkey wasn't quite up to scratch.
The set up of The Royle Family is tailor-made for Christmas comedy, given it's already focused on a family sat around the TV talking rubbish at one another – something we can all relate to at this time of the year. This special didn't just bring the funny, however; it also had an incredibly poignant ending to boot.
A tearful Denise goes into labour in the bathroom, and with everybody else out, it falls on Jim to comfort her. This tender moment between father and daughter was an unexpected but ultimately perfect ending to the series.
Mickey's Christmas Carol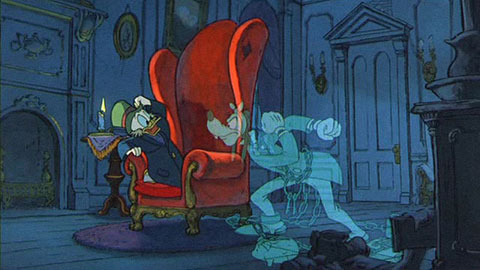 Disney's take on Dickens' classic festive tale may not be the most faithful of adaptations, but it's heartfelt family fun, and delivers a gloriously Disneyfied Dickensian Christmastime.
Scrooge McDuck stars as Ebeneezer Scrooge (it's the part he was born to play), and he's as greedy and cold as one might hope. Assorted other Disney favourites come along for the ride, too, with Donald Duck playing cousin Fred, Goofy playing Jacob Marley, and Mickey himself is put-upon employee Bob Cratchit.
As a child, however, the most memorable character for me was the cigar-chomping Pete, who turns up as the haunting Ghost of Christmas Future. After showing Scrooge what his future holds lest he mend his ways, the spectre throws back his hood, and with a ghoulish cackle, dispatches Scrooge into an empty grave which leads to hell. Hard going for a children's cartoon!
A Christmas Carol is renowned for its incredibly dark subject matter, and while Disney inevitably tones the more gruesome aspects of the story down somewhat, they still manage to capture the key essence of the story.
Released in 1983, it was the first Mickey Mouse cartoon in over 30 years, and was nominated for a best short film Oscar. It looks as luscious as one would expect from Disney, and is quite rightly one of the most popular Dickens adaptations.
It doesn't have the humour of the Muppets or the scares of some of the live action versions, but it's an enjoyable take on the ultimate Christmas tale.
Agree? Disagree? Add your own festive TV favourites in the comments.