News
The Alienist Episode 8 Review: Psychopathia Sexualis
The Alienist ends with a tragic bang this week in another impressive episode. Read our review!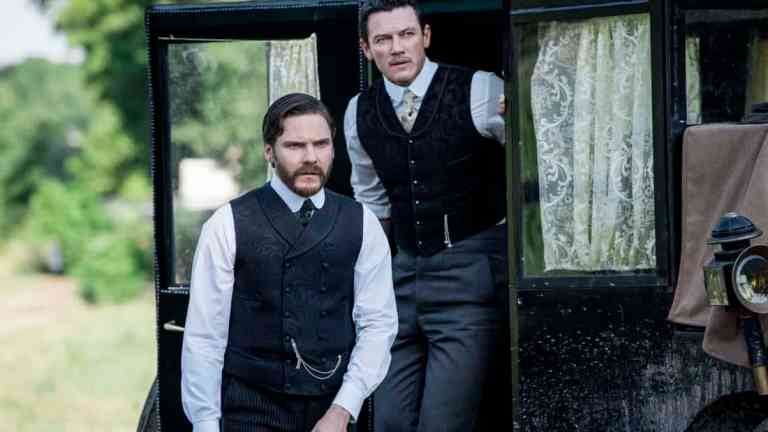 This The Alienist review contains spoilers.
The Alienist Episode 8
While The Alienist has been consistently good, probably the best show to debut during the Olympics-induced TV drought, it was definitely in need of a new spark. The chemistry between Daniel Bruhl, Dakota Fanning, and Luke Evans crackled enough to propel us to this point, and the period setting and class inequity theme helped alleviate the feeling of whodunit déjà vu, but to stick the landing and transcend being just merely interesting, The Alienist needed to kick things up a notch heading into the final two hours.  Well, my initial thought after screening "Psychopathia Sexualis" was: mission accomplished.
Having Captain Connor's malevolent presence finally boil over and create a body that personally affects Kreizler adds a layer of drama that feels visceral in a way that Kreizler vs NYC's elite class never could. After the scene aired I had some reservations about using Mary as fodder for Kreizler's character development, but in the moment, her death, while slightly predictable, elicited a response that none of the other murders on this show have even gotten close to. Knowing that the smiling, love-struck version of Dr. Kreizler that we met in this episode is in for a rude awakening next week leaves me with a slight pang of sadness. Personal stakes inherently make better drama, and now we have some.
Until the climactic ending that also saw an attempt made on John and Kreizler's lives, Kreizler in love was the highlight of Psychopathia Sexualis." Since Kreizler is the deep-thinking, intensely private and analytic man that he is, and also because he and John have been at odds a bit, Kreizler is unable to just ask his friend for romantic advice, instead choosing to dole out inappropriate questions about John's ex-fiancé. John and Kreizler arguing about whether love comes from the heart or not was lighthearted fun and so was John's assumption that Kreizler was talking about Sara and then his subsequent relief when he learned that Kreizler was referring to Mary. It's almost a shame that we'll be unable to explore this softer side of Kreizler and watch his awkward courtship.
Another interesting moment from the episode was our slight detour in Washington. John and Kreizler encounter an even stuffier bureaucratic world with blowhards and sticklers bogging down our protagonists. If anything, the roadblocks that our team runs into while away from the city prove just how far reaching the city's powerful people can extend themselves. After some effort, they learn that  Rudolph Bunzl, the man they came to inquire about, was long dead. But their separate investigations lead them to discover a similar former solider with a distinct facial tick, John Beecham, and a grisly murder that took place, supposedly at the hands of natives, that matches the M.O. of their killer. The separate stories share a detail – New Paltz, New York, the site of the murder and the birthplace of Beecham.
The rest of the episode slowly dumps out exposition and our new suspect's backstory, but it's at least creative because we're piecing the story together by watching Sara in New Paltz at the site of the murder, there against the wishes of John and Kreizler, the men in Newton, Massachusetts interviewing the deceased family's surviving son, and the Isaacsons out west interviewing Beecham's former army commander. By watching the three stories unfold, we learn that the new suspect's name is Japheth. Left on a doorstep as a baby, Japheth was raised by a cruel, uncaring mother and an overly religious father. A rough childhood created by his terrible home life and unfortunate facial tick was only alleviated by climbing the nearby mountains for fun with his mentor figure, George Beecham. Soon, that alleviation faded as well as Japheth was sexually molested by George All of this combined with a penchant for hurting animals unsurprisingly ended with George and Japheth's parents killed under mysterious circumstances. Later, serving in the military under a false identity, our killer would revel in acts of depraved violence so often it would lead to him being committed. It's quite the backstory, but also quite a dump of information that perhaps could have been trickled out throughout more than one episode.
So though the episode wasn't perfect (John and Kreizler seemed pretty unconcerned by the murder attempt, and we're not even going to address how John ended last week?) it contained enough thrills and disparate storytelling to keep me invested. Lots of questions remain for the penultimate hour; will Sara run into similar danger in New Paltz (Eliza seems shady)? How will John pursue Sara knowing that Kreizler is out of the picture? Will Mary's death cause Kreizler to finally succumb to his darker side? What kind of name is Japheth? (Kidding.) With only two hours left, and knowing that our source material has a definitive ending, we're only two weeks away from finding out.