News
The Affair Season 4 Episode 10 Trailer and Episode Guide
The Affair Season 4 is coming soon for more fun times with infidelity. Here is everything we know.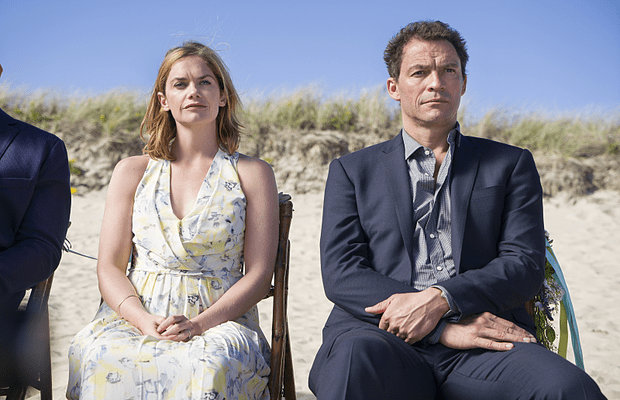 Editor's note: This article is our news hub for The Affair Season 4. It will be updated as new information is released.
It's been a long break for The Affair, something we needed after an explosive third season. Thankfully, Showtime finally confirmed a premiere date for The Affair Season 4, just as we begin to dream of hitting the beaches of Montalk this summer…. 
The Affair Season 4 Episode 10 Trailer 
The Affair Season 4 Episodes
The Affair Season 4 Episode 1: 401
air date: 6/17/18
Noah struggles to adjust to his new life after moving to Los Angeles to be closer to his kids; Helen finally discovers the source of her anxiety, only to be blind-sided by a new catastrophe.
The Affair Season 4 Episode 2: 402
air date: 6/24/18
Despite the possibility of new relationships, Noah, Alison, Helen and Cole find themselves running back to each other.
The Affair Season 4 Episode 3: 403
air date: 7/1/18
Noah's attempt to teach his students a lesson in civil duty spirals out of control; Helen can't handle Vik's decision and goes behind his back, only to find resistance everywhere she turns.
The Affair Season 4 Episode 4: 404
air date: 7/8/18
Alison and Ben dig into her past and begin confronting her fears. Cole's relationship with Alison is jeopardizing his marriage to Luisa.
The Affair Season 4 Episode 5: 405
air date: 7/15/18
Vik decides it's time he started living for himself, but he may not be ready to face the consequences; Cole meets Nan, an old friend of his father's, who sends him on a journey to exorcise the ghosts of his past.
The Affair Season 4 Episode 6: 406
air date: 7/22/18
Noah supports Anton in a decision about his future which puts Janelle in a complicated spot with her ex-husband; Alison makes a surprising discovery about her father, and another about Ben that eventually leads her back to Noah.
The Affair Season 4 Episode 7: 407
air date: 7/29/18
Helen goes to Joshua Tree in search of meaning; Noah and Anton begin an adventure with high hopes until an ominous phone call alters their course.
The Affair Season 4 Episode 8: 408
air date: 8/5/18
A hopeful epiphany leads Cole on a journey to a horrific discovery; Noah questions his role in tragic events.
The Affair Season 4 Episode 9: 409
air date: 8/12/18
Ben finally confesses the truth to Alison, but questions whether it is too late for their relationship.
The Affair Season 4 Episode 10: 410
air date: 8/19/18
Noah and Anton visit Yale where Noah encounters an old friend. An immensely difficult day forces Cole and Luisa to reexamine their relationship. Helen gets a new perspective on life.
The Affair Season 4 Release Date
The Affair returned on Sunday, June 17th at 9 p.m. 
The Affair season three pulled in nearly 1.5 million viewers per episode, on par with Showtime's now longest-running scripted series, Shameless. Another season. Another chance to lust. Another chance to practice your interpretive dance to Fiona Apple's opening theme.
The Affair Season 4 Trailer
Showtime has also offered up a little teaser based around the season four concept of "changing the narrative."
The Affair Season 4 Cast
One face we won't see in The Affair season 4 is that of Jennifer Esposito, who plays Nina, Noah's sister. She won't be appearing in the new season, the actress told Huffington Post.
We'll see plenty of new faces recur on The Affair season 4. According to Deadline, Russell Hornsby will play Carl Gatewood, "Janelle's (Sanaa Lathan) ex-husband and Noah's (West) rival for her affection. Carl was a brilliant, promising student in his own day but his experience at an elite university demoralized him and turned him against the system his ex-wife thrived within."
Playing the son of Gatewood is Christopher Meyer (The Fosters), who joins the cast to play one of Noah's high school students. According to Deadline, Meyer will play "Anton Gatewood, a defiant but brilliant high school student of Noah (West). Caught between his parents' expectations, Anton struggles to find his own sense of self amid episodes of self-sabotage and doubt."
Tim Matheson (Heart of Dixie) and Diana Meyer (Kingdom) will play a couple from Alison's past, "who have shocking information to share about who she is and where she comes from."
Allison will also have a new love interest. Ramon Rodriguez of Iron Fist fame will join the cast according to TVLine.
The Affair Season 4 Plot
As The Affair season 4 picks up, the four main characters continue to drift further apart. They're living with new partners now, and are looking to keep their toxic relationships in the past. 
For now, look back on the previous season with our episode guide: 
The Affair Season 4 Poster