News
The 100: Raven Begs For Murphy's Life in Exclusive Clip
Check out this exclusive clip from "Shifting Sands," the next episode of The 100.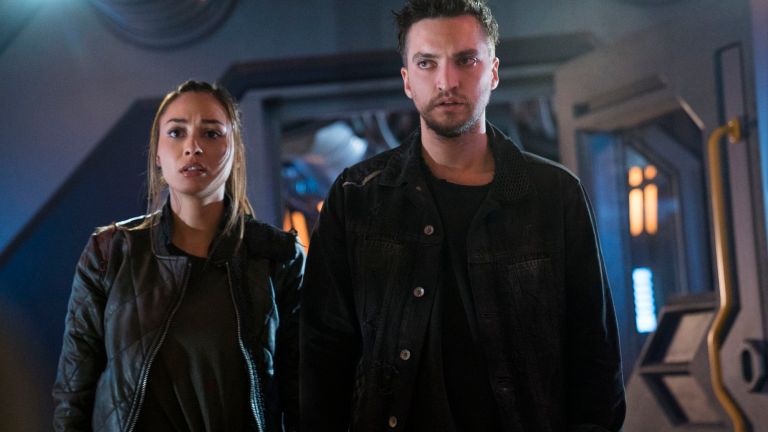 The relationship between Raven (Lindsey Morgan) and Murphy (Richard Harmon) has been one of the most fascinating to watch develop over the course of The 100. In Season 1, it was Murphy who shot Raven, causing permanent damage to her spine, chronic pain in her leg, and reduced mobility.
Since then, the two have become friends, with Murphy even opting to stay behind on the prison ship with Raven in this season's "Sleeping Giants." Raven and Murphy's subsequent machinations on the prisoner ship have not endeared them to the Eligius crew and, now that Diyoza and her cohorts have returned to their orbitting vessel, time may be up for Murphy and Raven.
In this exclusive clip from next week's episode—Season 5, Episode 5, "Shifting Sands"—Raven begs for Murphy's life as McCreary holds a knife to his throat, demanding Raven tell him how to unlock the ship's missiles. Check it out…
As you can see in the clip, Raven and Murphy find an ally in Miles Shaw, the Eligius crew member who has shown the most empathy for our main characters since Eligius first appeared on the scene. He even pulls his gun on McCreary in an attempt to keep him from murdering Murphy. That's probably going to cost him later.
Is this a temporary prioritization of heart for Miles or will he become someone Raven and Murphy can depend on? In the previous episodes, Miles seemed to form intense respect for Raven and her hacking skills. Could these two become friends… or something more?
"Shifting Sands" on Tuesday at 9 p.m. ET on The CW. For more information on The 100 Season 5, check out our news hub.