News
That Mitchell and Webb preview
Matt went along to a sneak preview (read: live recording) of the second series of That Mitchell and Webb Look. Is it any good? Only one way to find out...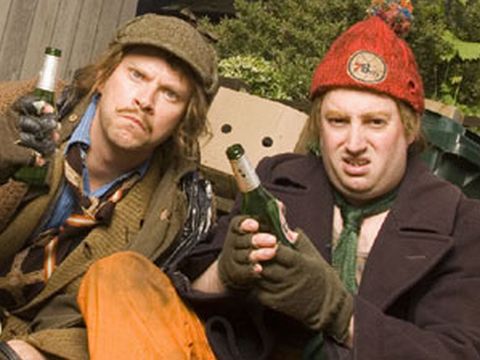 Comedy double act Mitchell and Webb are probably best known as the stars of hit TV sitcom Peep Show, which is likely to return to screens later this year with its fifth series. Before that, the duo is back with the second series of their hit sketch show That Mitchell and Webb Look. The first season of the show proved a massive hit and spawned a sell-out tour of a stage show version along with the obligatory live DVD in time for Christmas. However, whilst at its best the first series was offensively hilarious, the series was extremely inconsistent. Following up just twelve months later, and a busy twelve months at that, could there possibly have been time to fix the problems or will the rush cause further problems with quality?
The good news is that there are still are vast number of very funny sketches. A recruitment meeting involving some inappropriate suggestions will most likely be one of the most quoted sketches of the series. There's also a great scene about the dangers of running a business from home and another about someone who can't quite get the hang of innuendo whilst working in a bawdy 70's hospital. Also worth watching out for is the story of the Cheesoid. Of the recurring sketches, the funniest by far is the set that features a guy with an unusual method of convincing women to meet up with him for "a little date". It's also worth noting the sketches about one man and his horse.
The bad news is that the show is still split relatively evenly between sketches which are really funny and sketches which fall flat. Unfortunately most of the flat ones seem to be recurring. The Hellivets sketch doesn't work and is too much build-up for such a small pay-off. The fake reality show, 'Back To Life, Back To Reality' feels under-developed, as does a running gag about a TV presenter who eccentrically waves his arms. A series of sketches set in an office shared by a hostage negotiator and a man who writes stories for pornographic films somehow manages to avoid being funny.
It's a credit to the show that it completely avoids stepping into Little Britain territory, with only two sketches making brief returns from the last series. A The Da Vinci Code spoof involving one is funny if not a bit too late. It's also great to see that Sir Digby Chicken Caesar is still hilarious.
Sketch shows are difficult. Less so if you're running the same catch-phrase characters every week, where you change the setting but just feed people the same lines over and over. That Mitchell and Webb Look aims higher than this and is that much funnier for doing so.
The flaw of inconsistency on this show is easily explained when you take into account that there are over twenty different writers contributing. It seems that David Mitchell and Robert Webb have chosen to strike whilst the iron is hot, which is understandable. However, spending longer with fewer writers and putting more into each sketch would solve the problem. All in all, whilst it may not be essential viewing, it looks as though there will be plenty to enjoy about the second series of That Mitchell and Webb Look.