News
Teenage Mutant Ninja Turtles Season 2 Finale Trailer
TMNT was at SDCC and we have the official trailer screened at the panel!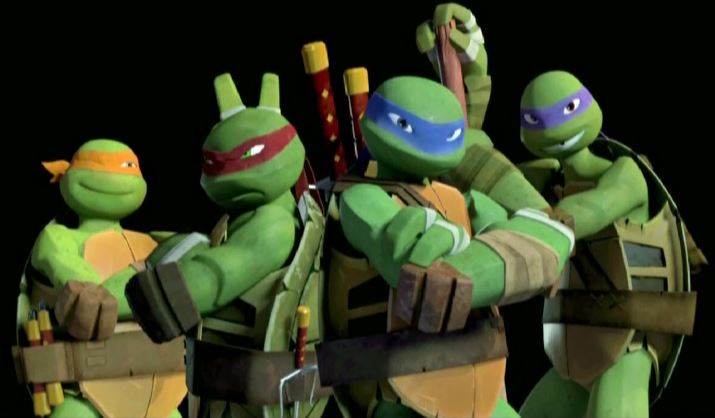 During the TMNT panel at San Diego Comic Con this weekend, Nickelodeon screened several exclusive sneak previews of the show, including this trailer for the season two finale.
Let's start with the official synopsis of the episode…
"In the finale, Leo and Donnie disagree about their plan to stop the Kraang invasion, and when Leo makes a critical mistake, he is separated from the team and Donnie must step up as a leader."
Now, watch that trailer:
Casey's final line sums up the trailer well. "Dude, this is worse than the giant Technodrome thing last year!" This finale seems to follow some similar set-ups, but larger scale. Last season featured the end of the Star Trek: The Animated Series knock-off Space Heroes. The trailer looks like they'll be tying together SRMFF (the Voltron parody) with Donnie completing his super robot turtle. There's also a giant, dimension spanning Kraang invasion with the fate of New York City on the line.
But most importantly (to me), the new Kraang big bad is voiced by Gilbert Gottfried, which means TMNT now has a trend of casting shrill stand-up comedians from the '90s as Kraang leaders. This means that I'm officially starting the petition for Louie Anderson to play Kraang. He has experience with voice work, can handle families feuding, and, if needed, he could definitely dive in to the ocean to reach the sunken Technodrome.  Keep reading Den of Geek for round the clock coverage about Louie Anderson potentially guest starring on Teenage Mutant Ninja Turtles.
In other news, Jason Biggs (the voice of Leonardo for season 1 and part of season 2) was not in attendance, although Seth Green was. Dominic Catrambone has voiced the character in multiple episodes of the back half of season 2 (as well as a video game adaptation of the show); Green will take over the role in season 3. Neither Nickelodeon nor Biggs have made any announcements about why the change happened or why Louie Anderson wasn't on the panel.
We're screening the original live-action TMNT movie in NYC later this month. Details here!
Like us on Facebook and follow us on Twitter for all news updates related to the world of geek. And Google+, if that's your thing!