News
Teen Titans Go! Movie Trailer and Release Date
Hey momma, a Teen Titans Go! movie is finally happening and it now has a trailer!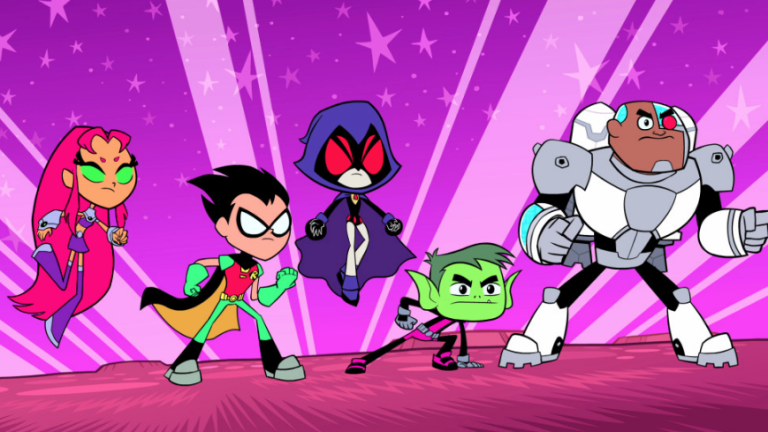 Will it be the superhero movie to end all superhero movies? The Teen Titans seem to think so. They've terrorized (and sometimes saved) Jump City for long enough, and now Beast Boy, Robin, Starfire, Raven, and Cyborg will be larger than life on the big screen in Teen Titans GO! To The Movies.
The voice cast includes Greg Cripes (Beast Boy), Tara Strong (Raven), Khary Payton (Cyborg), Scott Menville (Robin), and Hynden Walch (Starfire). According to USA Today, Will Arnett voices Robin's nemisis Slade (more than likely Deathstroke, who first appeared in The New Teen Titans comics) and Kristen Bell voices Jade Wilson, a superhero filmmaker.
Teen Titans Go! was created by Aaron Horvath and Michael Jelenic. The Cartoon Network animated series has produced over 200 episodes and is a fan-favorite show for the younger generation of superhero lovers. A huge departure from the beloved Teen Titans TV series that ran from 2003-2007, Teen Titans Go! is an off-the-wall wacky take on the characters, and often finds ways new, surreal ways to subvert the superhero genre. They'll do it again on the big screen as only they know how… dressed like Wonder Woman.
Watch the first trailers for the film here:
Teen Titans GO! To The Movies Trailer
Teen Titans GO! To The Movies Release Date
The Teen Titans hit theaters on July 27th, 2018.