News
Tales From The Crypt DVD Box Set Coming
Great news, boys and ghouls! We're finally getting a complete Tales From the Crypt DVD box set!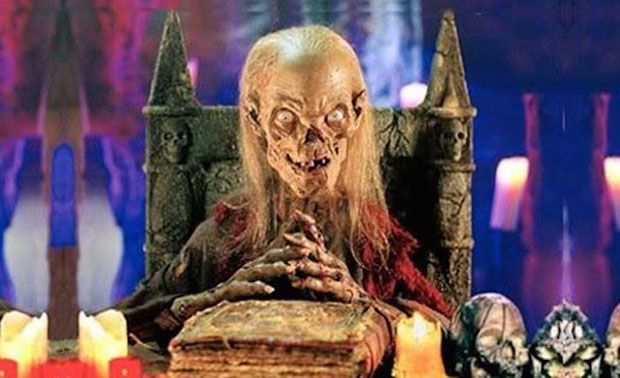 This is long overdue. Tales From the Crypt, HBO's incredible horror anthology series from the '80s and '90s is finally getting a complete DVD release. The seasons were each released individually years ago, but they've all been out of print for quite some time.
Tales From the Crypt was based on the EC Comics series from the 1950s, and episodes were faithful, if modernized adaptations of some of the most incredible horror and crime stories ever put in comics. It had an incredible A-list of talent both behind and in front of the camera, and you can count Robert Zemeckis, Richard Donner, Frank Darabont, Tobe Hooper, and many others in its list of directors.
It'd be nice to get this on Blu-ray, but I can settle for DVD since it's the only option. Hopefully they'll announce some killer special features. Either way, 93 episodes of classic horror should get you through the next few Halloween seasons, right?
Here's the official synopsis:
Your favorite deadtime stories return from the grave in the spook-tacular Tales from the Crypt: The Complete Series. Cadaverous scream legend the Crypt Keeper hosts this groundbreaking anthology of macabre masterpieces featuring vampires, mad doctors, killers, ghosts, and other terrifying makers and corpse creators. Based on the tasteless and terrifying E.C. Comics classics, the show featured top-tier film talent, including Richard Donner, Joel Silver, Robert Zemeckis and Frank Darabont – even Arnold Schwarzenegger helmed an episode! Add up-and-coming nineties actors Daniel Craig, Whoopi Goldberg, Tom Hanks, Brad Pitt, and others, then edit in resurrected Hollywood greats like Humphrey Bogart and Alfred Hitchcock, and fans of twisted, dead-on humor were glued to their screens. Now, gathered together in one creepy collection for the first time, all the frightful fun of the original uncut episodes deemed too racy for television broadcast, plus loads of eerie extras, is yours until the day you die. Laughing! 
Tales From the Crypt: The Complete Series is due on June 20th. It's currently listed on Amazon, but for some reason you can't pre-order it yet but it's also available through WB Shop. 
Now, if only HBO would work out whatever it is that's holding this up from coming to HBO Go, we'd be all set. Meanwhile, plans for a Tales From the Crypt reboot on TV appear to have stalled.