News
Taken Season 2: First Look Clips from Premiere
While NBC's television adaptation series Taken will return for Season 2, it will do so with a new supporting cast.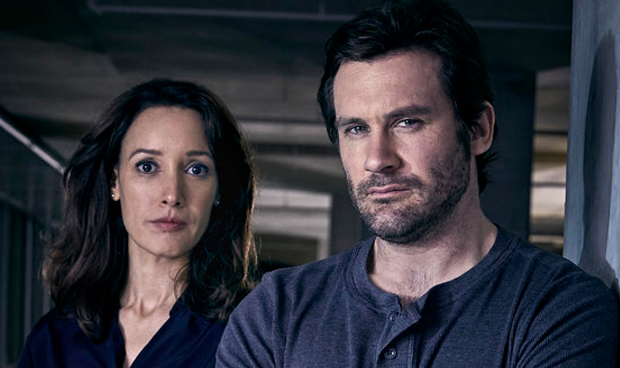 When NBC debuted Taken back in February 2017, adapting the film franchise famously focused on the "very particular set of skills" of Liam Neeson's grizzled former CIA operative Bryan Mills, its prospects seemed dubious. However, the series, like Bryan Mills himself, survived the odds, nabbing a 16-episode sophomore season. While the renewal can be attributed to performances by Clive Standen as Bryan Mills, Jennifer Beals as taskmaster Christina Hart and an overall smooth cast dynamic, Season 2 will arrive with a new supporting cast!
Taken Season 2 Trailer
With the imminent return of the series in its refurbished form, NBC has released sneak preview clips for Taken Season 2.
As some may recall, Season 1 ended with Bryan Mills shot in his bullet proof vest and arrested in Mexico after executing his sister's killer in a blood-spilling op to rescue his kidnapped girlfriend. However, as we can see, the series time jump takes us to the aftermath of the incident with Mills – still Mexico – out of prison and attempting to get himself back to home soil with the help of a coyote, one who makes the mistake of thinking Mills is just another gullible gringo.
This clip introduces us to Adam Goldberg's Kilroy, an imprisoned elite hacker whose own particular set of skills whose anti-government proclivities have never stopped him from working with the government to save his own ass. Indeed, we see him being sought by an old enemy in Christina Hart, who is offering him a work release gig to aid in the effort to finally get Bryan Mills back home.
Here's the official synopsis of the Season 2 premiere:
After defying the orders of his boss Christina Hart (Jennifer Beals) to exact revenge on the man who killed his sister, the season 2 premiere finds Bryan Mills (Clive Standen) fighting for his life inside a black site Mexican prison.  Bryan enacts a series of dangerous deals to put him on track for escape to the United States, but plans change when Mills and a young migrant girl (guest star Adriana Santos) are taken by human traffickers.  Meanwhile, Hart leverages her spycraft skills to obtain powerful new software that could locate Mills, and enlists two unlikely allies to aid in her mission to bring Mills home – Kilroy (Adam Goldberg), a grey hat hacker who she sent to prison, and Santana (Jessica Camacho), a former Army logistician who was discharged for misconduct. Also guest starring Peter Outerbridge (James Casey), Matthew Bennett (Gary Martello), David Julian Hirsh (Clayton Bass), Jose Joaquin Perez (Jose) and Nancy Ticotin (Salome). 
Taken Season 2 Cast
Months after the controversial housecleaning of its cast, Taken has unveiled the new supporting players who will join Clive Standen's Bryan Mills and Jennifer Beals's Christina Hart. You can check them out in our gallery!
Accompanied by a bevy of preview photos from TV Line, the reveal of the new players for Taken Season 2 showcases a streamlined main lineup.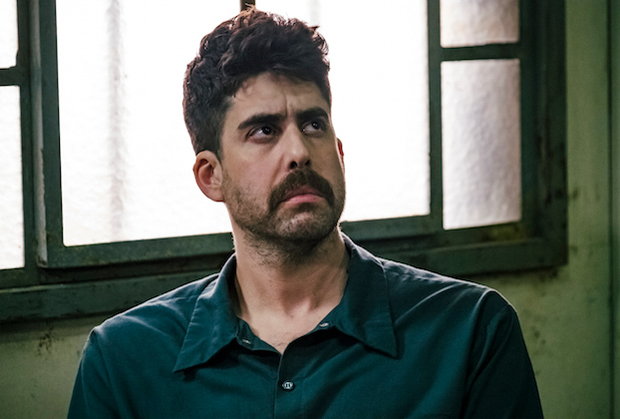 Adam Goldberg will join the cast to play Kilroy, an imprisoned grey-hat hacker (violates the law, but non-malicious,) who will apparently find himself working off redemption as part of Christina Hart's new lineup of black ops personnel.
The actor, known from roles in films such as A Beautiful Mind, Saving Private Ryan and Dazed and Confused, has fielded myriad television runs on shows, most recently on Graves, The Jim Gaffigan Show and Fargo. Fans of cult-classic comedies will also know him as the title character in 2003 blaxploitation parody The Hebrew Hammer, for which Goldberg is attempting to crowdfund a belated sequel, called The Hebrew Hammer vs. Hitler.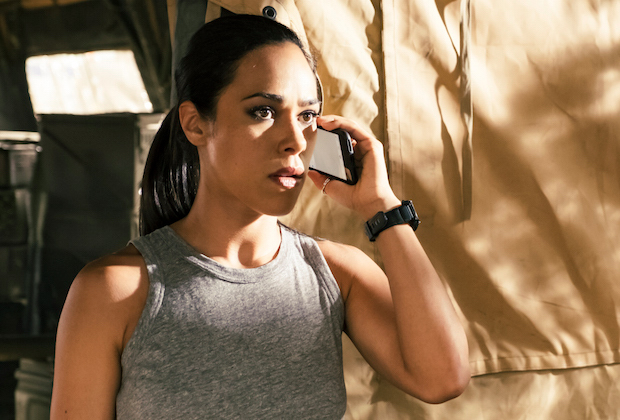 Jessica Camacho hops onboard to play Santana, a former Army quartermaster whose unruly nature got her discharged from the service. However, that attribute has apparently gained her a spot as part of Hart's elite team.
Camacho is likely best known from her current recurring run as the Multiverse-traversing bounty hunter, Gypsy, on The Flash. Besides her guest spots on several series, she's previously fielded recurring runs on Sleepy Hollow, Longmire, Nikita and Last Resort.
Taken Season 2 Release Date
Taken returns to TV with a whole new cast dynamic on NBC on Friday, January 12 at 9 p.m./8c.
Taken Season 2 Renewal
Back in August, NBC Entertainment Chairman Robert Greenblatt told TV Line the reason why the series lost 3/4 of its regular cast in what appears to be a radical retooling. As the Head Peacock explains of the move, which leaves Clive Standen and Jennifer Beals as the only remaining regulars:
"There's a better show in there. We love Clive and Jennifer, but I think we got a little disparate with [the supporting characters] and couldn't really define them enough. So we just took a look at what the essence of the show was and tried to focus in on that. I think it's going to be a really strong second season."
The immense cast overhaul of NBC's Taken Season 2 has cost six of the series regulars their jobs, reported TV Line. While series headliners Clive Standen (Bryan Mills) and Jennifer Beals (Christina Hart) will remain on the series, key Season 1 cast regulars in Gaius Charles (John), Monique Gabriela Curnen (Vlasik), Michael Irby (Scott), Jose Pablo Cantillo (Dave), James Landry Hébert (Rem) and Brooklyn Sudano (Asha), have all been handed the proverbial pink slip by the Peacock Network. – There's (still) currently no word if prominent recurring actress Jennifer Marsala, who plays supporting team member Riley, will return.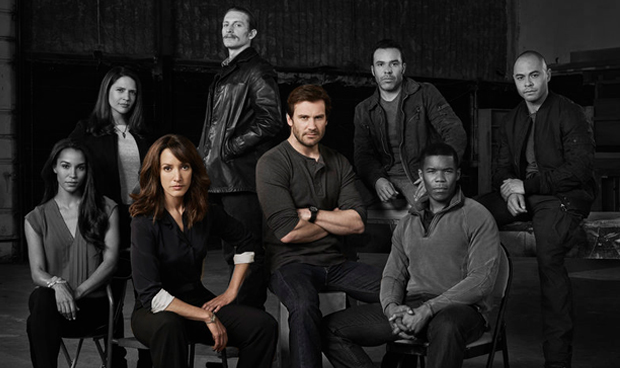 This was an abrupt and shocking development for the series, since Charles, Curnen, Irby, Cantillo and Hébert portrayed the team of skilled specialists who backed newcomer Bryan Mills throughout the ops of Season 1. While the team was initially skeptical of Mills's abilities and his unstable grieving emotional state, part of Season 1's arc showed how he formed a bond with the group and eventually earned their respect and admiration.
However, the axing of Brooklyn Sudano's role as Asha – Bryan's love interest – is especially surprising. Much of Season 1 focused on their relationship, which became increasingly affected by his black ops work, culminating in her abduction by the malevolent drug cartel boss who, in the pilot, killed Mills's sister; an ordeal that left Asha with a near-fatal slashed throat. That narrative infrastructure will be abandoned. – Though, it may be for the best, since Taken is a prequel series of sorts and, in the films, Liam Neeson's Mills had an ex-wife in Lenore (Famke Janssen), mother to his daughter Kim (Maggie Grace), whose Paris kidnapping is the film franchise's inciting incident. That movie-adherent relationship needs to be adapted.
NBC's Taken cast shakeup is hardly the first instance of behind-the-scenes rumblings. Just a few weeks earlier, the network reportedly swapped showrunners, bringing in Greg Plageman (Person of Interest) to replace Alex Cary. Moreover, even the show's status as a fall 2017 offering was altered, with NBC recently relegating Season 2 to a midseason slot (similar to Season 1), presumably yielding it an early 2018 premiere.