News
Syfy's Happy! TV Series Trailer, Release Date, Cast, and More News
The new trailer for Syfy's Happy! puts the graphic back in graphic novel adaptation.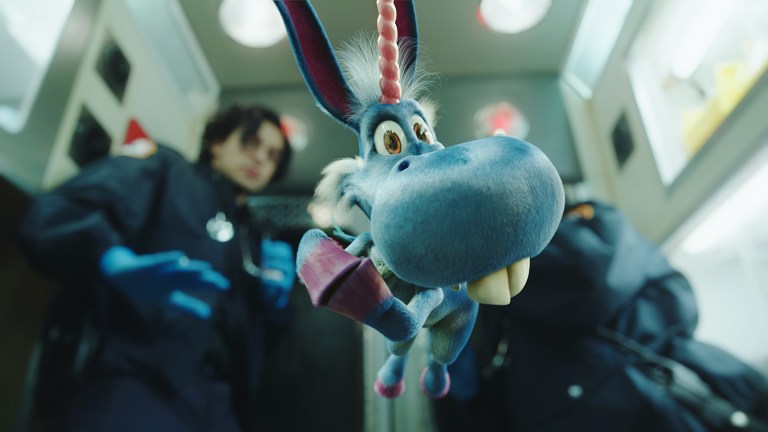 Among Syfy's slate of upcoming genre series is an adaptation of the Grant Morrison comic book miniseries, Happy!, which tells the story of an ex-cop turned hitman who receives a second chance to turn his life around when he meets a blue winged horse named Happy. Uhh…
Here's everything we know about this adaptation, including a recent premiere date change:
Happy! Release Date
Happy! will premiere on December 6, 2017 at 10pm ET on Syfy.
Happy! Trailer
The first full-length trailer for Happy! came via New York Comic-Con and shows a much more complete look at the story, including how Happy appears in the first place and the mission that he gives to Nick Sax.
An earlier trailer shows just how graphic graphic novel adaptations like Happy! can be.
The first trailer for Happy! is just as wild as the show's premise would lead you to believe it might be. 
Happy! News
During the Happy! panel at SDCC 2017, it was announced that Patton Oswalt will replace Bobby Moynihan as Happy the Horse. 
It wasn't noted why the show's producers decided to replace Moynihan following his appearance as Happy in the show's pilot, but it may be related to Moynihan's leading role in the upcoming CBS show Me, Myself and I.
According to Deadline, Joseph Reitman (Money Monster) has been cast as the villain of Syfy's Happy! The villain is described as "crazy and delusional."
Happy! Cast
Christopher Meloni, who played an intrepid and passionate detective on Law & Order: SVU, is going to play a formerly great detective gone to seed on Syfy Channel's adaptation of Grant Morrison and Darick Robertson's New York Times best-selling graphic novel Happy! 
Meloni, who also put in memorable turns on True Blood, Man of Steel, Harold and Kumar, and The Daily Show, where Meloni took on the pepper-spray cop Tony Bologna, will play Nick Sax, a detective who makes Bologna look almost palatable.
Patton Oswalt plays the blue winged horse Happy. Patrick Fischler (Lost) plays Smoothie, Ritchie Coster (Blackhat) is Mr. Blue, and Zabryna Guevara (Gotham) is Amanda Hansen.
Happy! Director & Writer
The pilot script was written by Morrison and Brian Taylor (Jonah Hex, Crank), who will also direct. Christopher Meloni will executive produce the pilot.
Happy! Story
Here's the official synopsis from Syfy:
The series follows Nick Sax (Christopher Meloni, Law & Order: SVU) – an intoxicated, corrupt ex-cop turned hit man – who is adrift in a world of casual murder, soulless sex, and betrayal. After a hit gone wrong, his inebriated life is forever changed by a tiny, relentlessly positive, imaginary blue winged horse named "Happy."