News
SYFY Appoints Genre Giants to Advisory Council
As SYFY turns 25, the network convenes a diverse gathering of artists and influencers to steer its future path.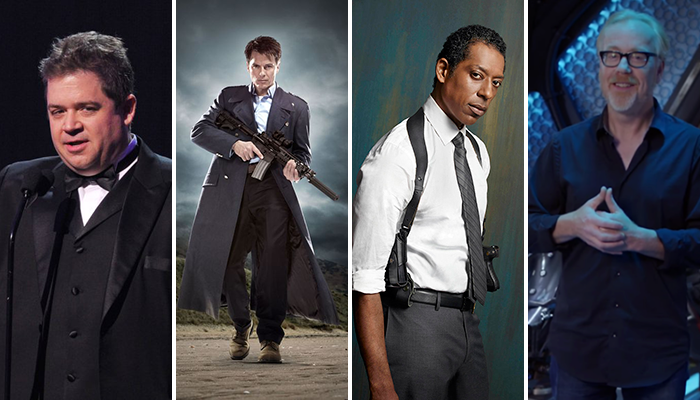 SYFY has given itself an interesting present for its 25th birthday. To help steer the future of the network, a very interesting lineup of appointees has been announced for a special advisory council tasked with ensuring that science fiction, horror, and supernatural fans get shows that reflect their eclectic backgrounds, varying interests, and obsessive personalities. In point of fact, the roster of the council reads somewhat like the roll call for a superteam of geeks.
From creators to influencers to on-screen stars and more, the members of this "league of nerds" are meant to provide guidance for the network as it turns 25 years old and to communicate its renewed commitment to science fiction and fandom at large. Current members include television producer Carlton Cuse, comics writer Grant Morrison, actor and comedian Patton Oswalt, noted filmmaker Luc Besson, DC Entertainment President and Chief Creative Officer Geoff Johns, author and editor Bonnie Burton, television host Adam Savage, actor and fan convention regular John Barrowman, film and television actor Orlando Jones, and Jamie Broadnax, founder and editor-in-chief of Black Girl Nerds.
"When I told my parents I'd joined the SYFY advisory board, they laughed," says Orlando Jones of his appointment. "When I told them who else had joined, they were impressed and wanted to know what we'd be doing. 'Hulk, smash,' I said. But seriously, I'm so proud to join this incredible group to help keep SYFY's finger on the pulse of a genre that we have so much love and respect for."
The members of the council all have different experiences that could prove valuable as an advisory board to the network. Many of them are not only experts in their field; they're also known for making the most of social media, creating content, and masterminding a unified slate of entertainment. Let's take a closer look at the names, big and small, who may be determining the future direction for SYFY and what makes them viable candidates for the team.
Carlton Cuse
Carlton Cuse is of course best known for his team-up with fellow writer and producer Damon Lindelof on the game-changing ABC show, Lost, which came at a time when social media and fan podcasts for television were just starting to gain their footing. Along with Lindelof, Cuse created the first ARG, an alternative reality game, which extended the enjoyment of Lost beyond the TV screen onto fans' computer screens. In helming successful genre shows like FX's The Strain and USA Network's Colony, Cuse continues to prove his savvy and his mettle. Ultimately, as a pioneer of transmedia and the showrunner behind one of genre fans' touchstone shows, Cuse is eminently qualified to be in a think tank like this one.
Grant Morrison
Grant Morrison made a splash with defining stints on titles like Doom Patrol and Animal Man, Morrison then created The Invisibles, his most subversive work, a sprawling, conspiratorial sci-fi thriller for Vertigo. When DC needed someone to reset the Justice League of America and remind everyone why they're the world's premiere superteam, Morrison was there to make JLA one of DC's most popular titles. Don't forget All-Star Superman, widely regarded as one of the greatest superhero stories ever told. The Scottish comics writer may serve to keep whatever ideas the council discusses on the cutting edge.
Patton Oswalt
Putting aside Patton Oswalt's breakout role on The King of Queens or his later appearances as the various Agent Koenigs on Marvel's Agents of SHIELD, his stand-up comedy often contains extended bits about pop culture and comic books. One often-cited example of his nerd cred is his guest appearance on Parks and Recreation in which he filibustered the city council by proposing a Star Wars-Marvel crossover movie in an entirely improvised speech that must be seen to be believed. Like many true geeks, Oswalt acknowledges his obsession as evidenced by his 2015 memoir title, Silver Screen Fiend: Learning About Life from an Addiction to Film. His 4 million followers may have also been an incentive for inclusion on the council.
Luc Besson
As the representative filmmaker on the list, Luc Besson brings a cinematic perspective to the television think tank, and one only need look at the visibility of his most well-known science fiction movies, The Fifth Element and Lucy (not to mention the recent Valerian and the City of a Thousand Planets), despite the mixed critical reception of those movies, to understand why he was appointed to the council. As a director in the cinéma du look movement, which emphasizes spectacle over narrative, perhaps the thought is that Besson need only bring along his sense of style, which he has in abundance, while letting others worry about the substance.
Geoff Johns
The Chief Creative Officer of DC Comics and co-chair of DC Films, Geoff Johns is known for breathing new life into established properties and will perhaps do the same for the 25-year-old network. As someone with his hand in both the successful DC television shows on the CW and the burgeoning DC Extended Universe, his comics expertise may be helpful to SYFY, which, among other projects, is bringing a Superman prequel series, Krypton, to life.
Bonnie Burton
Bonnie Burton's expertise is with Star Wars, having been a senior editor at StarWars.com and a writer at Star Wars Insider magazine, but her work as a social media strategist at the former could be instrumental in keeping the advisory council in touch with what fans want. She's also written for a laundry list of publications from Wired to Playboy, and she's made appearances on Stan Lee's World of Heroes on YouTube, Wil Wheaton's TableTop, and Felicia Day's Vaginal Fantasy Book Club. But the real note of distinction lies with her arts and crafts innovations, creating tutorials for Chewbacca puppets and AT-AT herb gardens. Perhaps that's the kind of creativity that a network airing speciality artist shows like Face Off wants.
Adam Savage
Having a special effects designer and model maker on the advisory council would be interesting enough, but Adam Savage also brings his proven science geek enthusiasm as witnessed by legions of fans of Discovery's Mythbusters, which Savage co-hosted. His model work appears in such films as Galaxy Quest, Star Wars: Episode II, and The Matrix Reloaded, and he has crafted specialty cosplay in order to wander anonymously on the floor of comic conventions. Savage is also a huge fan of SYFY's The Expanse and has hosted con panels for the show and even appeared in the season 2 finale, uttering a crucial line at a climactic moment. That alone would make him an obvious candidate for the council.
John Barrowman
John Barrowman's energy level, personality, and penchant for grand entrances at fan conventions is unparalleled. Whether you know him as the inimitable Captain Jack Harkness of Doctor Who and Torchwood or as Malcolm Merlyn on Arrow, his characters are immediately as unforgettable as he is. That's the kind of energy and indefatigable drive that SYFY likely wants for its advisory council. His many appearances on British television as a host and judge would also make him an ideal voice to include.
Orlando Jones
Anyone who followed Orlando Jones' behind-the-scenes antics on Sleepy Hollow knows that this actor has fun and enjoys genre acting. Jones also shines as the trickster god Anansi, or Mr. Nancy as he is known, on American Gods, in which he urges slaves to rise up against their Dutch slavers saying, "Angry is good. Anger gets shit done." He also has his comedic history as one of the original cast members on MADtv, which, with the latest trend towards sci-fi/comedy hybrids, may come in handy on the council as will his singular perspective as black actor in an industry striving for more diversity.
Jamie Broadnax
With the young Jamie Broadnax just joining the blogosphere as the founder of the site Black Girl Nerds in 2012, but make no mistake, fandom in the black community and among women has quickly become a force to be reckoned with. As a voice in both arenas, Broadnax could provide valuable advice with her role in the think tank. Broadnax writes for Madame Noire and The Mary Sue and is a convention regular and a podcaster to boot.
____
The advisory council is just one of several ways SYFY is celebrating its 25th anniversary. The network also introduced its "origin stories" podcast, a 15-episode series hosted by advisory council member Adam Savage, featuring in-depth discussions with the creators, implementers, and experts who have helped shaped genre television. The podcast went live on September 8 and features interviews with author Neil Gaiman, Star Trek actor and director Jonathan Frakes, screenwriter and Battlestar Galactica reboot creator Ron Moore, and noted director and Comic Book Men creator Kevin Smith, among others.