News
Sweet/Vicious: Why Female Voices Are Vital To TV
As the fate of MTV's Sweet/Vicious hangs in the balance, here's why TV in 2017 needs many more female voices calling the shots.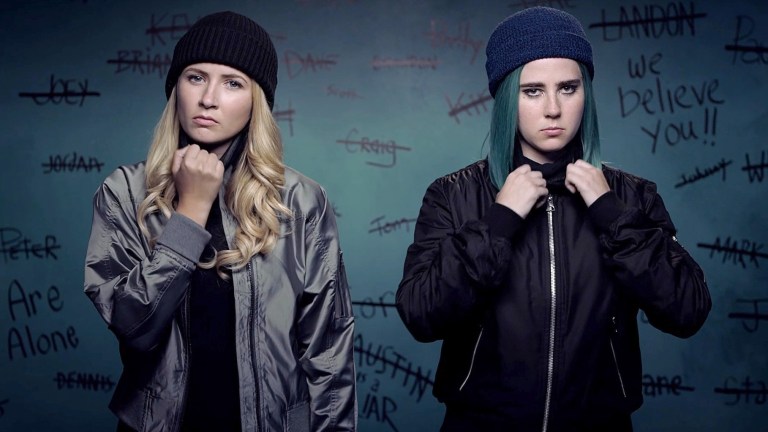 This article originally ran on Den of Geek UK.
If you haven't heard about Sweet/Vicious, the new comedy/superhero series airing on MTV, then you're seriously missing out.
Dishearteningly, despite a growing cult following based on word of mouth, there's been a distinct lack of noise around the show since it premiered. As of writing this it's 'on the bubble' and facing possible cancellation as MTV re-evaluates its scripted drama efforts, and there's no word of a UK air date. All of this has the potential to limit the number of eyeballs that fall upon the show, and that's a tragedy.
Sweet/Vicious, created by Jennifer Kaytin Robinson, is a special kind of show at once intimate in its focus and grand in its ambitions. Following just two characters closely, through them the series attempts to tackle the complicated issue of campus sexual assault, and does so with honesty and a heavy dose of humor. We reviewed the pilot episode here.
At the start of the series, students Jules (Eliza Bennett) and Ophelia (Taylor Dearden) become a vigilante team, taking down one abuser at a time – often to a soundtrack of Sleigh Bells (or at one point Wicked) – while wrestling with their own demons.
The key to its success is the team both behind and in front of the camera. There isn't a weak link in the cast, especially among the core trio of Ophelia, Jules and Kennedy (Aisha Dee), and from the first episode it's felt like Sweet/Vicious knew exactly what it wanted to be.
As is now a requirement for anyone making a television show aimed at under-20s, Robinson and the cast have been very active on social media throughout the show's run, and have understandably spearheaded the campaign to have it renewed.
The show follows 2015's Jessica Jones (with Melissa Rosenberg at the helm) in its frank depiction of the ramifications of sexual violence on its victims, and both more or less do so within the constraints of the superhero genre. Jessica Jones is a part of the Marvel universe, of course, while Sweet/Vicious is more of a Kick-Ass-style homage to comic-book heroines.
Both are shows with a specific point of view – something to say, or to scream – and, while there's need for that to be true of every series, it's an extremely rare and valuable thing to come across. It's been clear for a long time that TV has a problem with representing different voices and experiences on screen and, while things appear to be getting better, we're nowhere near a place that could be called fair. Giving other women and minorities a voice as seemingly undiluted as this is something to cherish.
Last year television critic Maureen Ryan published an in-depth article which revealed that, despite the uptick in series from creators such as Shonda Rhimes, Mindy Kaling, Julie Plec and others, almost eighty per cent of showrunners on the five main US networks are male, and ninety per cent are white.
While the three women mentioned above are creating content arguably not specific to their gender but simply demonstrative of their talent it's also important that, as with anything, women are able to tell their own stories. That's why Jessica Jones had such an impact when it landed on Netflix, and why Pretty Little Liars – which also deals with themes of patriarchal control and abuse – has remained popular with its younger demographic.
Without going into any of the real-world issues happening across the world, it's incredibly important now more than ever that art and entertainment reflect the struggles of a wider range of people. One way to get there is from the top, by opening the discussion up to people who've previously been denied a platform.
One of the best things about the first season of Sweet/Vicious was its characters, who made the subject matter feel personal while keeping it from becoming preachy. There are villains, of course, some it's extremely hard to find even a shred of sympathy for, but this is not a story about how all men are evil. Early in the season there's an episode about the abuse girls potentially face within corrupt sororities, and both Jules and Ophelia engage in relationships with seemingly stand-up guys.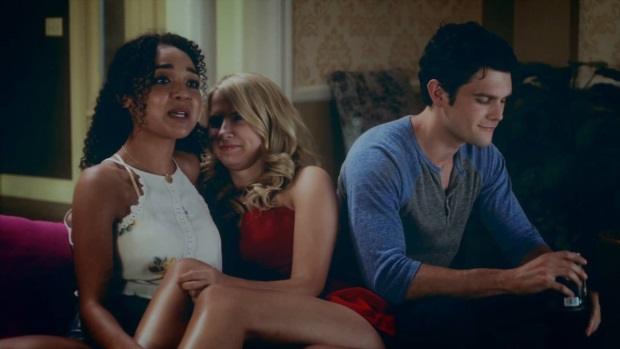 We are complicated creatures, and most of us are able to relate to characters with whom we have nothing in common. There's been a lot of talk this year about films being empathy-enablers, and television does this same thing but from inside our homes. We spend an inordinate amount of time with the people on our favorite shows, and if you're only watching characters like yourself then you're doing it wrong.
Networks aimed at female audiences, specifically The CW, Freeform and MTV, have always been easy to ignore by mainstream audiences and critics, and it's only in recent years that The CW has received any attention at all with more adult offerings like The Flash and Jane The Virgin.
Sadly, it may be the case that Sweet/Vicious' home on MTV has contributed to its quiet run, while it may never have existed had the channel's relatively new scripted department not taken a chance on it.
One day, when our TV screens are a utopia of diverse stories, we won't bat an eyelid at something like Sweet/Vicious. We won't fall over ourselves complimenting male writers for crafting complex female characters simply because their gender shouldn't allow them to (not true), and there'll be so many female writers and showrunners in the industry that it'll be the norm.
There are still problems – both Lena Dunham (Girls) and Amy Sherman-Palladino (Gilmore Girls, Bunheads) have been repeatedly, and not unfairly, attacked for their limited view of the world, but the unavoidable truth is that the more voices given a chance to speak, the less we will expect the few in the spotlight to represent everyone all at once.
Sweet/Vicious' precarious renewal status is just one small example of a larger problem, and threatens to take away one of the best new series of the past year before it really had a chance. Shows like Crazy Ex-Girlfriend have proven that ratings aren't everything, and that the freshest, most authentic voices are ones worth keeping around. If television is ever going to change, there needs to be many more chances taken, and only then will these kinds of experiences be given the airtime they deserve.