News
Sweet/Vicious Season 2: What Would Happen Next
Sweet/Vicious Season 2, should it happen, would tell more diverse survivors' stories...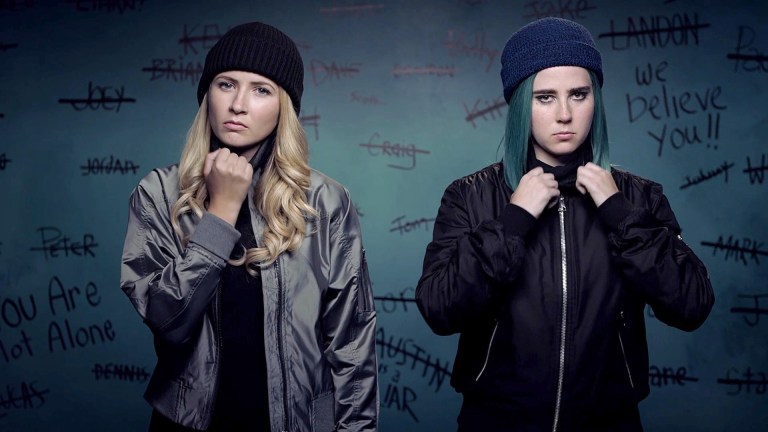 The creators and cast of Sweet/Vicious were at last weekend's ATX TV Festival to talk about their currently-canceled show. The phenomenal college dramedy about two women who become vigilantes to bring some form of justice to campus rapists was canceled by MTV a few weeks ago (most likely as part of their turn away from scripted content), but the Sweet/Vicious team has not completely given up hope on a second season.
One of the questions asked as part of the hour-long panel concerned the diversity of Sweet/Vicious Season 1. As a white, straight survivor, protagonist Jules has a very specific story that — while universal for survivors in some ways — does not get into the nuances of survivor who are also queer, a person of color, or male (a few examples in the intersectionalist pie).
Sweet/Vicious creator Jennifer Kaytin Robinson said that, should the show find new life at another network or platform, Season 2 would get into some more of these diverse stories. "Those stories were and are very important to us," said Robinson. "I've said this: We were on Jules' journey in Season 1, and we didn't have the time to explore what we wanted to in that space and in that world."
Robinson continued:
I think not only LGBTQ, but women of color in the LGBTQ community and women of color in general are affected even more than white women. We didn't really have a chance to get into that and the differences of those things because there are nuances and there are differences in being a person of color who is a survivor, LGBTQ survivor, white survivor … male survivors. We wanted to tell all of these stories and we still do … It was something that was a part of our Season 2 pitch that we put together.
In another ATX Fest panel, Robinson revealed that, in her five-year plan of the show, the series would have ended with Ophelia going down for everything "to give Jules the life that was taken away from her." 
Though its central characters are both straight white women, Sweet/Vicious has a relatively diverse cast when it comes to its supporting crew. When speaking about how the actors on the show influenced their characters, the producers said that Brandon Mychal Smith, the actor who plays Ophelia's best friend Harris (and who you might recognize as Sam Dresden from You're the Worst), was the only actor who massively affected the writing of their character.
"His frustration with Ophelia really came out of, 'Everything's been handed to you. I'm the first person in my family to go to college and I'm in law school,'" said showrunner Amanda Lasher.
Speaking more generally about the male characters, Robinson said it was "extremely important" to the writers on the show to get the male characters right so that there could be no dismissive critiques of "man-bashing" aimed at the show. "That does a huge disservice to survivors [and] it does a huge disservice to everything we were building."
Robinson added:
And, also, men are human beings and just like we, as women, always wanted to see ourselves as complex, nuanced people. As women, we're gonna write men that way, too. And it was important to us to have men in the writers room and to have their voices and make sure that this conversation was — even though it is very much from Jules' point of view — objective. And so we could have these discussions and we could talk about these things.
Robinson ended the panel by saying that they are still "incredibly hopeful" that the show could be picked up by another network. She suggested heading over to the Netflix show request page to encourage the streaming platform to pick up Sweet/Vicious. Past that, you can tweet about it (and at the networks), using the hashtag #SaveSweetVicious.