News
Sweet Tooth TV Series Coming to Hulu
Jeff Lemire's Sweet Tooth will be adapted for TV by Hulu and Robert Downey Jr.'s production company.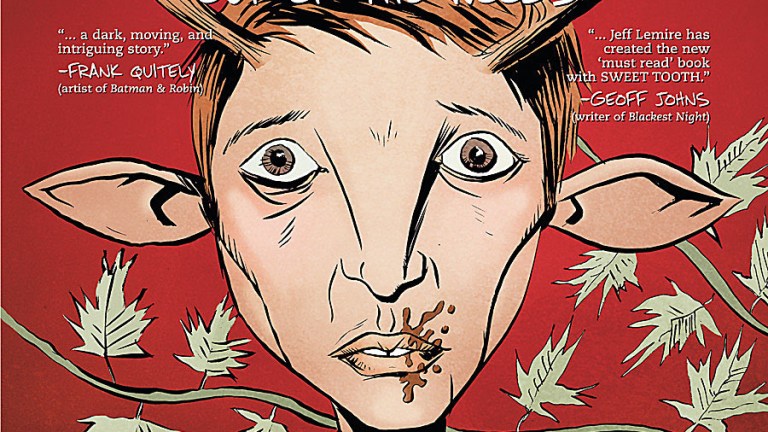 Jeff Lemire's weird, post-apocalyptic coming of age comic Sweet Tooth is coming to television. Sorta. I don't know, is Hulu tv?
Etymological questions aside, the comic series just received a pilot order from Hulu. According to Deadline, Sweet Tooth is being produced by Robert Downey, Jr.'s production company in conjunction with Warner Brothers and Jim Mickle, who brought Joe Lansdale's Hap and Leonard to the screen (which we miss terribly).
The story follows Gus, a 9 year old half boy half deer, as he ventures out into the world following an unknown apocalypse. Gus has been raised by a deeply religious survivalist father. He eventually falls in with a group of humans and hybrids and heads out on a quest that reveals some interesting information about the world they inhabit.
The comic ran for 40 issues and was written and drawn by Lemire, a talented creator who has very particular sensibilities. Some of his work is quiet, personal and weird, like The Underwater Welder or Essex County. And some of his work is quiet, personal, weird and also popular mainstream superhero comics, like The Terrifics or The Sentry or Black Hammer.  Sweet Toothis more of the former, like if Cormac McCarthy had been born in a Toronto suburb. When he draws his own books, Lemire tends towards a looser, cartoony line that looks more like polished sketchwork than traditional superhero art. However, here in Sweet Tooth, it meets those two styles in the middle – you get a ghost of Lemire's hard-indie roots and exaggerated cartooning, with a harder edge to the design work like early Phil Hester. It's really distinctive, and hopefully the television show manages to find a way to translate that sensibility.
Sweet Tooth is the fifth Vertigo property heading to small screens, following iZombie, Preacher, Lucifer and Survivor's Club (and Watchmen depending on how you count Vertigo). For more on Sweet Tooth, Vertigo comics, Vertigo TV shows, or my eventual long and mostly nonsense argument about the definition of TV, stick with Den of Geek!