News
Swamp Thing Ceases Production, Shortens Episode Count
The DC Universe Swamp Thing TV series has ceased production during episode 10, which will now serve as the season finale.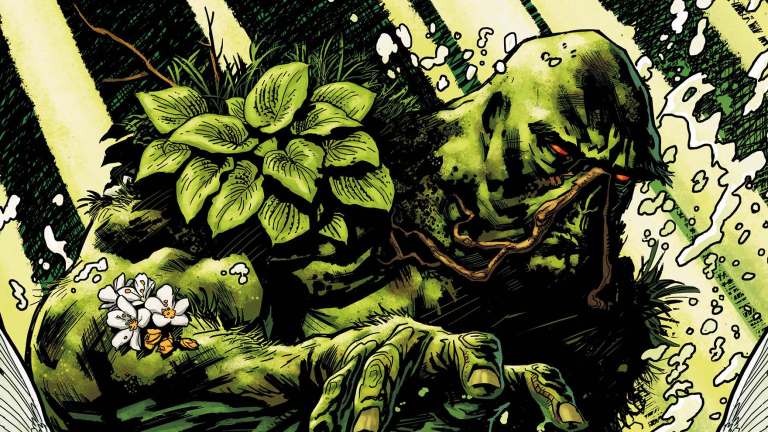 The anticipated Swamp Thing TV series coming to DC Universe later this spring has run into a bog of its own. The Wilmington Star News was the first to report that the North Carolina-based production had shut down on Tuesday night during production of its 10th episode. The series had been expected to continue filming its final episodes through May, as the plan had been for Swamp Thing to run for 13 episodes. Production will resume once they find a way to rewrite episode 10 to allow it to function as a season finale.
"I'm beyond sad," actress Virginia Madsen, who plays Maria Sunderland on the series, wrote in a hastily deleted Instagram post. "What a terrible decision. We have been cut to the core by those who have never set foot into the Swamp. And despite the rule I am going to use the hashtag. #swampthing."
Sources say that "creative decisions" were behind the shortening of the series. Despite that, Swamp Thing will still meet its May 31 premiere date. The series boasts James Wan, Mark Verheiden, Gary Dauberman, and Michael Clear as executive producers, with Len Wiseman directing the first episode.
The move sparked speculation that the abrupt halting of the Swamp Thing production is a symptom of the long term health of the DC Universe streaming service and its place in an increasingly crowded streaming market, one that will also see Warner Media enter the fray with their own wide-ranging streaming library. However, I've been told that plans for the DC Universe and its own superhero focused live-action and animated content are unaffected both in the short term by whatever difficulties Swamp Thing encountered and in the long term with whatever form the Warner Media streaming service takes when it launches later this year.
The DC Universe platform has already launched one season of Titans (to a mixed reception), seen the return of Young Justice, and is currently airing the first season of bizarre critical darling Doom Patrol. It also continues to expand its comics library, which will eventually include everything DC has ever published with a one year lag for new issues, and just launched an XBox app.
In addition to Swamp Thing, 2019 will also see the release of the back half of Young Justice: Outsiders, the second season of Titans, and the premiere of the Harley Quinn animated series. The only confirmed project on the DC Universe calendar for 2020 at the moment is the Stargirl live action series. Live-action Superman prequel, Metropolis, has also been announced, but as of this writing doesn't have a cast or a release window.
I'll update this if more details become available.
Mike Cecchini is the Editor in Chief of Den of Geek. You can read more of his work here. Follow him on Twitter @wayoutstuff.