Features
Survivor Series 2013: Den of Geek Staff Predictions
Our fatal four-way of pro wrestling technicians call who's gonna come out on top at WWE Survivor Series 2013!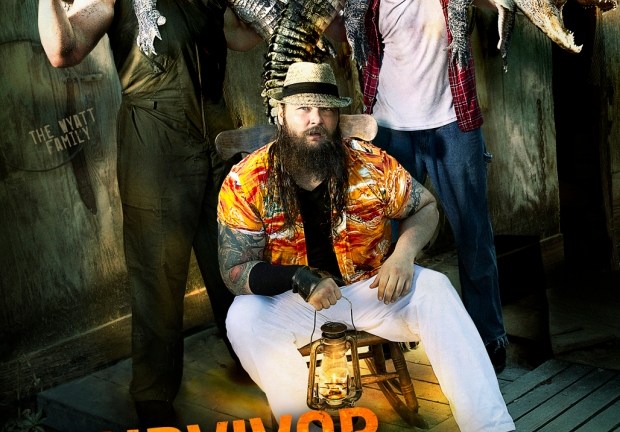 There are a few Thanksgiving traditions that are absolutely sacred. Parades. The Detroit Lions. MST3K's Turkey Day. And Survivor Series. One of WWE's "Big Four" classic pay-per-view events, Survivor Series always promises a good show, even if the original Survivor Series concept isn't really the centerpiece of the PPV anymore. We put four DoG staffers together to pick the winners (and losers) of WWE Survivor Series 2013! Check out their expert commentary and then let us know who you think will come out on top!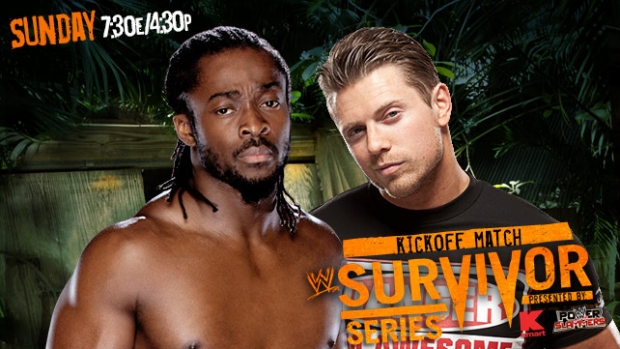 Kofi Kingston VS. The Miz (Survivor Series Kickoff Match)
David Burszan: Whoever wins, we all lose. This is the blandest match on the card, and that's factoring in JoJo and Eva Marie "wrestling." Since The Miz has a movie coming out and actually did something interesting on the most recent Raw, expect him to lose.
Jesse Mateja: From week to week I don't know what they're doing with The Miz. Any day of the week I would easily say Kofi would win this one if he's going in as the face, but with that holiday movie with The Miz coming out, I could see them giving him the win, even as a heel. Your winner: The Miz!
Vinny Murphy: With the Miz' heel turn less than a week before the show, it wouldn't make much sense to kill any heat he may have gained from it. Additionally, the company does not seem to have any long term plans for Kofi at the moment and a loss would do little to hurt his squeaky clean, face persona. I'm going to give this one to The Miz.
Gavin Jasper: This one seems like a no-brainer to me. Kofi Kingston is like the wrestling version of purgatory. He's popular enough, never seems to be on the chopping block for firings and is constantly fed the Intercontinental Championship, but he hasn't done anything of note since he feuded with Randy Orton years ago. He's the ultimate placeholder for "likeable, disposable midcard face," like a modern-day Tito Santana. The Miz, on the other hand, is actually in the middle of doing something, even if it isn't much. He just turned heel, which means that he has more going on than whatever it is Kofi's doing. Starring in a terrible Christmas movie that I'll likely force myself to watch probably can't hurt his chances either. I'm going with the Miz.
Intercontinental Champion Big E Langston VS. Curtis Axel 
Jesse: Big E just won it, it's his first title on WWE TV (not counting NXT), I think they're going to let him run with it a bit. Axel has been stale and needs something other than just holding the IC Title to help get him over. Plus, he no longer has Heyman or Ryback to help ensure he keeps the title. Your Winner: Big E Langston
David: It's an Intercontinental title match. Expect Big E to win, followed by several months' worth of non-title losses. This match could still be good though; the audience has been warming up to Big E and Axel's been on an upswing since he stopped being a Paul Heyman Guy.
Gavin: On paper, this is a pretty straightforward match to fill time. Big E has a rocket strapped to him and is being pushed to the moon while Axel is seemingly being thrown to the wayside. No way are they going to have Big E drop the title only a few days after winning it from a guy we constantly forgot was even champion. The only thing of note I can possibly see happening is if Axel's helped out by Ryback, setting up a feud between Big E and BIG GUY BIG TRAPS BIG PECS BIG CHECKS BIG LEGS EMPTY KEGS BIG ARMS SETTING OFF FIRE ALARMS. Regardless, Big E has this.
Vinny: There isn't much reason to place this match on the card outside of affirming Langston's new place on the roster. This might be a long one, but Langston should triumph in the end.
Natalya, The Bellas, The Funkadactyls, JoJo & Eva Marie VS. Divas Champion AJ Lee, Tamina Snuka, Kaitlyn, Rosa, Summer Rae, Aksana, & Alicia Fox
Gavin: AJ really hasn't been up to much lately outside of messing with Vickie Guerrero. It's probably about time they introduce another contender for her belt and I imagine this is where they'll do it. WWE wants everything Total Divas to be beloved, so they have it in the bag. If anything, the question is which Diva is going to pin AJ at the end of the match? I'd put my money on one of the Funkadactyls, but if God is truly as vengeful as the Old Testament suggests, it'll probably be Eva Marie.
Jesse: The problem with this match is that most of the better workers are the good guys…err girls. The Total Divas crew doesn't need the win, though. Having them lose just gives the anti-Total Divas crew more to work with to keep a feud going. AJ or Kaitlyn is going to get the win for their team.
Vinny: Honestly, this one doesn't really matter. Not in the sense that the Divas division is irrelevant, but because where it falls in the story's arc. As the "Total Divas" face the Non- "Total Divas", a victory on either side would enrich the rivalry that will likely continue through Wrestlemania. These factions are a great opportunity to fuel the growing flame of the division and Survivor Series should be far from the current story's end. Just out of instinct, I'm going to go with the Total Divas, specifically Nattie. Natalya has been built as the biggest threat to AJ's reign, and adding another victory just makes sense.
David: Sure I could be negative (and I have been at points with this card) and focus on how JoJo and Eva Marie rarely actually wrestle on tv (and are shown as being  more interested in flirting with wrestlers then actually being wrestlers) or that Eva Marie is feuding with most of her team on Total Divas or that AJ's team of "real" wrestlers is half made up of people that struggle at being valets, but instead I'm going to be a positive NXT dork and be excited that the Chickbusters are reuniting (even if it doesn't make much sense) and that Summer Rae gets to wrestle on a major ppv. Sometimes it's the small things that get us through the dark times (like Eva Marie winning).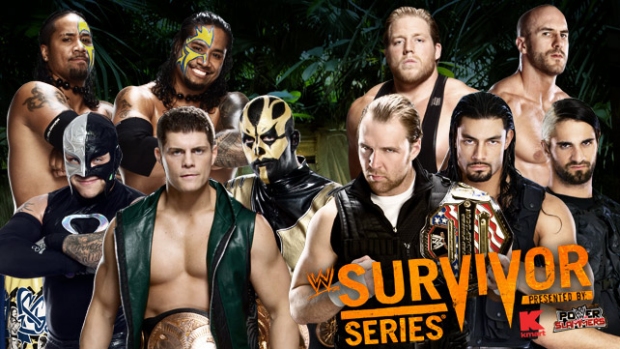 WWE Tag Team Champions Cody Rhodes & Goldust, The Usos & Rey Mysterio VS. The Shield & The Real Americans (Traditional Survivor Series Elimination Tag Team Match)
Vinny: From a broad story perspective, this seems like a difficult choice. Both faces and heels are being built into true superstars (obviously Rey is not subject to that comment) and all competitors frequently get the win on television. But look a little deeper, and a victor does emerge. First off, recent shows have been building a feud between The Wyatt Family and The Shield. Having The Wyatts interfere and cost The Shield the win would be a logical turn. Beyond that, Rey Mysterio has just returned to television and having him take a loss so quickly wouldn't make much sense. I predict another Face victory for this Survivor Series.
David: This is secretly the best match of the night. Rhodes and Goldust are the best tag team (outside of the Young Bucks) in wrestling, The Shield is the best trio, and Cesaro is the best at feats of strength. The Usos have also been great (and finally have a t-shirt!) and Zeb Coulter has become a beloved cartoonish buffoon that people want to root for. Expect lots of chants, cheers, and at least one Giant Swing from Cesaro (and maybe even a UFO!). I really don't care who wins since this match sounds fun and has enough people in it that are great that everyone wins by looking amazing. But if I have to pick, I'll go with The Shield/Real Americans.
Gavin: Unless they plan on suddenly making a big deal out of Antonio Cesaro, I don't see the Real Americans lasting too long in this situation. While I don't think the heel side will win, I'm sure Roman Reigns is going to flatten about half of the opposing side before being taken out. I wouldn't be surprised if he was taken out by a teammate's accidental actions, namely Ambrose. On the other side of things, I've been expecting an Uso heel turn for quite a while and I could almost see it happening here. Then again, this might not be the right time and place for it, since they'll more than likely be used as fodder for Reigns' Spears. I figure the face team has this, ending with the surviving duo of Cody Rhodes and Rey Mysterio. Rey's career is on borrowed time and they need to push him as much as they can while they have him. Cody needs the rub so he can be more than just, "that guy who hangs out with Goldust." He also needs a more developed face persona, but that's for another day.
Jesse: The Rhodes brothers are really over right now, and with the return of Rey Mysterio, I don't think anything is going to stop their team from winning. You don't even have to break anything down to come to that conclusion. Your Winners: WWE Tag Team Champions Cody Rhodes & Goldust, The Uso's, & Rey Mysterio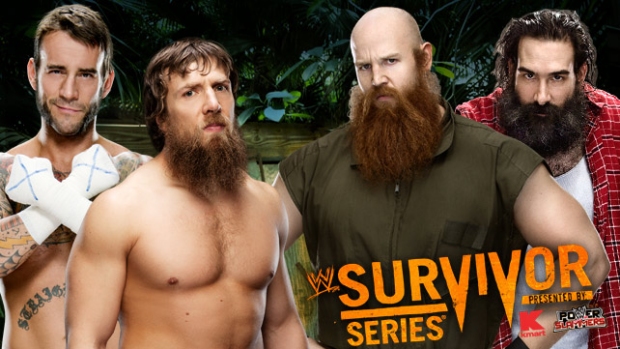 CM Punk & Daniel Bryan VS. Erick Rowan & Luke Harper 
Jesse: We all know how great Punk and Daniel are in the ring, so why is this a tough match to decide? Rowan and Harper need to prove themselves. I wouldn't suggest in the slightest bit that this is going to be a big technical fest of a match, but even with Bray Wyatt as their leader and getting the brunt of any heat The Wyatt Family gets, Rowan and Harper need to show they can hang in the ring. It would actually put Wyatt over more as their leader if they did win. And Punk and Bryan wouldn't lose any face by losing to them right now. I don't see this ending cleanly, but I think The Wyatt Family will win to keep the feud going, especially with the next PPV being TLC. Put the rematch in a TLC match and Punk and Bryan will shine and get the win. Your Winners: Erick Rowan & Luke Harper
Gavin: This is a hard one to predict. I suppose in the end, this is still the beginning of a feud that's supposed to get the Wyatts recognition. So far, despite being a pretty dominant force for the past few months, the hillbilly cultists haven't stood tall since first attacking the indy darlings. Between the desperate need for them to come out strong for once and having Bray Wyatt sitting around ringside, I guess logic dictates that the Wyatt Family has to win this by hook or by crook. Besides, Punk and Bryan each need more of a reason to focus on going after Bray Wyatt himself, who has been more in the background of this feud than anything else. Regardless, people on the internet will complain about burials.
Vinny: Though they have done a decent job building this feud on television, when isolating it from the rest of the card, it sticks out like a sore thumb. Without some serious chicanery, Harper and Rowan don't stand a chance. I would look for either an interference (perhaps the newly heel Kane or Bray himself) or a turn. In such case, I think the more likely candidate would be Punk. He is an incredible heel and Bryan hasn't had his day in the sun yet. I call it Wyatt family with the help of someone devious.
David: After three too many PPV matches involving Paul Heyman, CM Punk is finally moving on to a new opponent. He's been stale lately, but hopefully a feud with former Chikara and Ring of Honor wrestlers will make him step up his game. The Wyatt's have also been in need of a "legitimate" opponent and Punk/Bryan should be able to help elevate them. The Wyatts have been struggling since leaving NXT, and who better to get them back to their NXT levels than Daniel Bryan, the best talent to come out of the first season of NXT? This could go either way, but I expect the Wyatts to win, leading to another exciting match at TLC next month.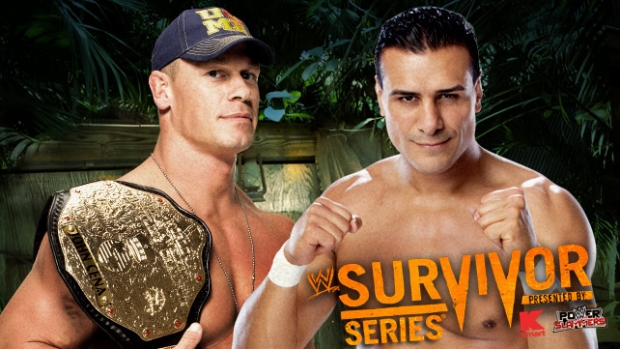 World Heavyweight Champion John Cena VS. Alberto Del Rio
Vinny: I am convinced that John Cena has the World Heavyweight Title for a reason. No, I don't know what that reason is. Perhaps as Wrestlemania draws closer, we'll have a better idea. For this match, I call it Cena, all the way.
Jesse: Del Rio has tried attacking Cena at every chance to hurt him before their match, but to no avail. With Cena back after that arm injury and winning the World Championship in his first match back, the WWE is running with Cena again. Maybe the company sees Del Rio isn't that great of a heel champ and wants to try someone new to throw into a program for the belt with Cena. I would suggest Sandow, but we saw how they killed those dreams. Anyway, as the internet says, "CENA WINS LOL"
David: The main reason Cena has this title is to keep him out of the main event/WWE Title scene. Cena has to win this, partially because it'd look bad if he lost right after winning it, but mostly because he could just Attitude Adjust anyone that messed with Bryan and end that storyline in twenty minutes.
Gavin: Logically, there's no reason Del Rio can or should win this. He just had a match against Cena last month where Cena had a huge target on his arm, which is Del Rio's specialty, and Cena still crushed him. Del Rio has no reason to be champion in this scenario other than giving Cena something to do because the company's so low on heel contenders to take him on and keep him busy. The only way Del Rio can possibly win is if they pull out some kind of ridiculous heel trick that will have everyone shaking their heads, only for Cena to get his win back a day to a month later. The real question is where Cena goes from here? More matches against Sandow? Bring back Wade Barrett? A face vs. face feud with Mysterio? The options are few and far between.
WWE Champion Randy Orton VS. Big Show 
Gavin: Orton really can't afford to lose. Everyone can complain about how WWE dropped the ball on Daniel Bryan via their feud over the past few months, and they'd be right, but Orton got it worse than anyone. He's a pawn who only gets by because of Triple H and his buddies. At the end of the day, Daniel Bryan was still beating him decisively and since then, it's been Big Show consistently hammering him down when the Shield and Kane aren't involved. Big Show as champ isn't impossible. The man is prime for a gold watch title reign, but I can't see it happening here and now. Randy Orton needs legitimacy to give Triple H reasoning to back him up and without that, he really has nothing. Orton has this because he needs it.
Jesse: You would think after all Big Show has gone through in the past few months against The Authority that the pay off would be a run with the WWE Title, but I don't see it. If Orton needs to "prove himself" to HHH and Stephanie, he needs to come out as the WWE Champ after this match. They haven't put any stipulation on the match, so right now any interference by The Shield would cause Randy to lose by DQ but keep the title. If Show lost clean, I don't know where they'd go next with Orton, so it's really hard to say. But for me, I see Orton leaving with the WWE Title after a good back-and-forth match that helps Show come out looking good despite not beating Randy for the belt. Your Winner: Randy Orton
David: Show's secretly been one of the top actors in the WWE the past few years and Orton's improved greatly since he started working with Bryan. The match should be fun, although there may end up being HHH/Steph shenanigans to throw it off course. A few months ago I would have said it was a sure-thing that Orton retains until Wrestlemania for Bryan to win the title and have his WM moment, but with HHH starting to turn on Orton, it's not so certain. Still, Big Show is a face and I think the title's going to stay with a heel, so I'm going with Orton.
Vinny: It is entirely possible that The Big Show will win this match, I just don't think he will get the title. I'm going to predict that one of these two finishes will occur: 1) Show wins via disqualification and beats the hell out of Orton after the match OR 2) Show wins the title, but the decision is reversed somehow on RAW. Either one of these could lead to a Bryan/Orton rematch where Bryan regains the title before Wrestlemania. I don't expect Orton to have the WWE Title at that point, though he will likely be a major player on the card.
So, what do you all think? Sound off with your own Survivor Series predictions in the comments!
Like us on Facebook and follow us on Twitter for all news updates related to the world of geek. And Google+, if that's your thing!