News
Scoobynatural: New Trailer and Official Images Released
Get your first look at "Scoobynatural", the Supernatural Season 13 animated Scooby-Doo crossover episode.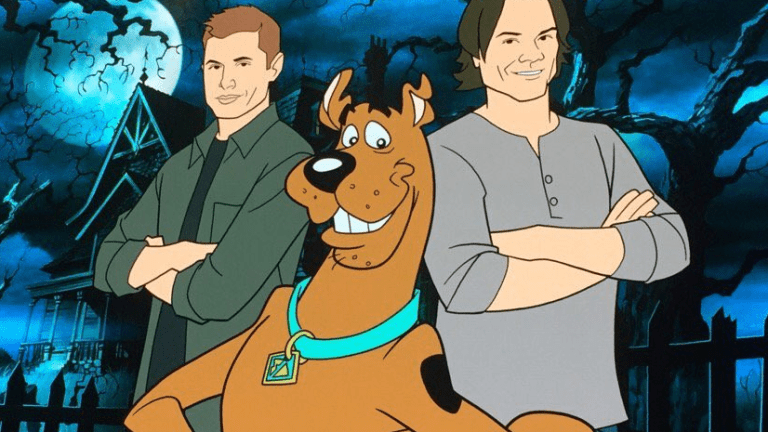 Supernatural Season 13 is about to make fans of animated canine detectives who specialize in paranormal mysteries rejoice! That's because the show's touted Scooby-Doo crossover episode is arriving at the end of March, and new details and images have surfaced about this surreal live-action/animated hybrid chapter.
The initial news about Supernatural's Scooby-Doo crossover episode—"Scoobynatural"—was probably the most exciting takeaway from the May 2017 CW Upfront, where we first learned that a Season 13 episode would team the Winchester Brothers – in an animated setting – with the Scooby-Snack-craving Great Dane and his hippie van-riding young supernatural detectives.
Supernatural Scooby-Doo Crossover Trailers
Watch the newest trailer for Supernatural Season 13 Episode 16, "Scoobynatural" right here:
And check out the initial trailer for this exciting episode:
Here's the official synopsis:
Sam (Jared Padalecki), Dean (Jensen Ackles) and Castiel (Misha Collins) are transported into the animated world of Scooby Doo where they join forces with the Scooby gang to solve a ghostly mystery.
Now, as the airing of the episode draws near, a report by EW has provided the early answer to the pressing question regarding how the hell such a team up takes place.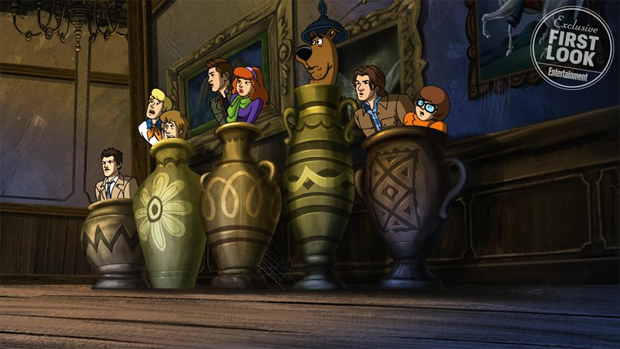 It appears that a magic artifact will facilitate this fateful collision of monster chasers after Dean and Sam save the life of a pawn shop owner in a typical monster-slaying hunter case, for which Dean is awarded – to the chagrin of Sam – a TV. However, once Dean brings it back to the bunker and puts on an episode of Scooby-Doo (revealed to be a childhood favorite of Dean's), it becomes clear that this is no ordinary TV, since it sucks the Winchesters and angel Castiel right into the animated world, where they meet up with the Scooby Gang and help solve a groovy mystery.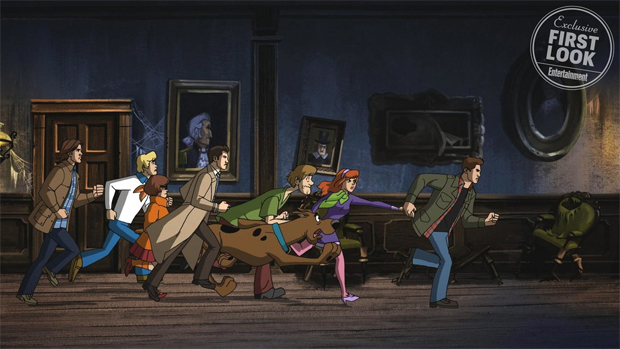 Specifically, the Winchesters are stuck in a 1970 episode of Scooby-Doo, Where Are You!, titled, "A Night of Fright is No Delight," which depicted the gang staying in a haunted mansion, per the condition of an inheritance portion willed to Scooby. Indeed, as the released photos make evident in their own right, Dean is very much fanboying over his interactions with the Scooby Gang.
Moreover, Dean, ever the photogenic beer-and-fast-food-fed lothario, seems to be making moves on Daphne, evidenced by the above image in which he's holding her hand while the gang is chased by an unseen revenant, as well as the Fred-like ascot he's sporting in the live-action image below.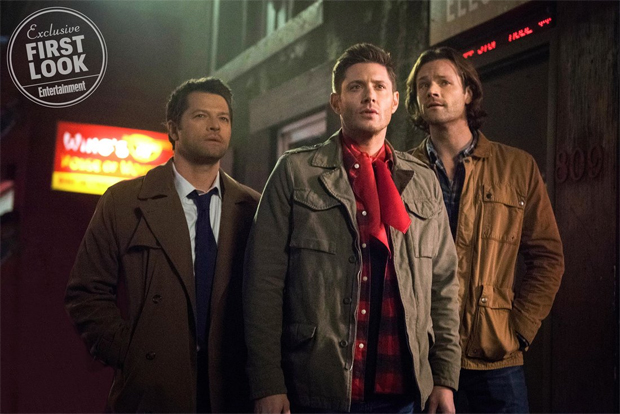 On Dean's prospective romance with his animated childhood crush, co-showrunner Andrew Dabb explains:
"Dean came of age in a time before the Internet when Daphne wasn't so bad. Dean has very strong opinions on all the Scooby characters, but especially Daphne and Fred."
Of course, this being Supernatural, the crossover comes with a crucial caveat regarding the stakes. As co-showrunner Robert Singer explains:
"There are things you wouldn't see in a regular Scooby-Doo cartoon. They walk into an old episode of Scooby-Doo, but it may end up being a new episode of Supernatural."
Consequently, we shouldn't expect the typical Scooby-Doo episode ending with the initially-terrifying monstrous threat revealed to be some miserly landowner under a cheap mask or old-timey SCUBA suit, utilizing special effects trickery.  
Supernatural Scooby-Doo Crossover Official Images
Check out the full, officially released images from "Scoobynatural" right here:
[gallery:0]
Supernatural Scooby-Doo Crossover Air Date
The Supernatural Season 13 Scooby-Doo crossover episode, titled, "ScoobyNatural," will air on Thursday, March 29, at 8 p.m. ET on The CW.