News
Supernatural Episode 300 Trailer, Details on John Winchester's Return
Supernatural has surprises planned for its 300th episode, notably a long-awaited reunion with John Winchester.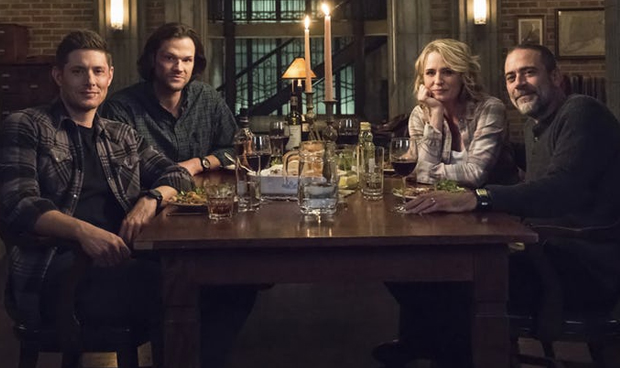 Supernatural, like its signature Chevy Impala, has banked myriad miles; an idea that will be quite evident as The CW mainstay series – currently in Season 14 – rounds its milestone 300th episode, titled "Lebanon."
The episode is set to host the biggest back-from-the-dead return in its long history of back-from-the-dead returns with Jeffrey Dean Morgan reprising his Season 1 role as Sam and Dean's long-departed patriarch, John Winchester. Indeed, early details indicate that the role reprisal contains colossally cathartic moments for the entire Winchester family.
Cast members (past and present) and key personnel from Supernatural celebrated the Episode 300 milestone with a party, which you can see in the video directly below. Of course, contextually, spirits were especially high, since The CW just gave the series another renewal, setting up Supernatural Season 15.
Supernatural Episode 300 Trailer
The initial trailer for the 300th episode of Supernatural seems bizarrely business-as-usual, especially considering the extent of what we know is coming.
Here's a brief scene released by The CW.
Supernatural Episode 300 Story
The CW has been surprisingly covert about the plot of "Lebanon" in the lead-up to its airing. However, sporadic details were revealed in a major cover story treatment by EW, which shed some light on what to expect from the return of Jeffrey Dean Morgan's John Winchester.
The report describes John's return, which comes by way of "an altered reality," as showing up grayer and thinner in the Men of Letters bunker "with a rifle in his hand." Of course, John was killed off very early on in the series, and has not been seen since a Season 2 cameo in which his spirit briefly aided Sam and Dean in the fight against yellow-eyed demon Azazel.
As Morgan explains, "Every scene in this episode that John is in has a lot of weight to it, and it's going to be emotional and it'll be funny at times." He adds, "I think that it's going really to tug on some heartstrings."
Jared Padalecki describes the reunion scenes as "cathartic," not just for him as an actor, but in the sense that it allows Sam and John to "hash things out" in their tumultuous relationship, which was on full display throughout Season 1. It's a notion that Jensen Ackles – whose Winchester son, Dean, always idolized and emulated John, right down to his 8-track-blasting '70s Rock taste in music – reiterates.
However, a moment that could contain even greater emotional resonance is the teased reunion of Morgan's John and the character's wife in Samantha Smith's decades-dead, but miraculously-resurrected Mary Winchester. As Smith – who confesses to crying while reading the script – explains of the reunion, "To get to say the things that weren't said and to have that chance that nobody ever gets once somebody's gone is so huge, it's hard to even articulate.
Interestingly, the "altered reality" that brings John back will also yield a doppelganger Castiel, described as "different though not entirely unfamiliar."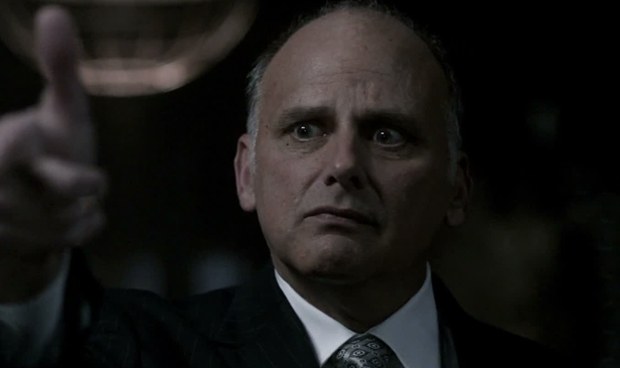 Kurt Fuller reprises his role as angel Zachariah in the Episode 300, according to EW. The actor, who some will fondly remember from genre movies such as Ghostbusters II and The Running Man, recently fielded a TV run on Heathers.
The return of Fuller's Zachariah is another reprisal that picks things up from back when the show's season were still in single digits. Thus, it should be a welcome addition to the 300th episode for loyal viewers with long memories. The character – a middle-management angel of sorts who answered to archangel Michael – debuted in Season 4, serving as a talkative slimy, sneaky bureaucratic antagonist to Dean, Sam and then-newcomer Castiel during the show's crucial mythological overhaul that introduced the angels and the politics of Heaven.
As a servant of Michael, Zachariah's primary mission was to convince Dean to provide the necessary permission for the angry archangel to inhabit his body and carry out a battle with his brother, Lucifer, who was prophesized to inhabit the body of Sam, for the oncoming Apocalypse; an event that, of course, was ultimately averted during the climactic moments of Season 5 (which, surreal as it now seems in Season 14, teased a possible end to the series).
However, Zachariah didn't even make it to that climatic moment, instead dying at the hands of Dean by way of an angel blade in the throat in Season 5, Episode 18, "Point of No Return" on April 15, 2010. Interestingly, an alternate version of the character briefly surfaced in Season 13 in another host body (Chad Rook) on the Apocalypse World.
While details about the return of Fuller's Zachariah were not provided, the character's intrinsic connection to Michael could be a clue. After all, mid-season finale "The Spear" saw the archangel's Apocalypse World doppelganger retake Dean's body after abandoning it earlier in the season. Thus, with this Michael's apocalyptic plans in motion, it's possible that he's powerful enough to will our world's version of his old lackey back to life. However, that would put Michael on the radar of the season's other big bad, the Empty, who undoubtedly is presiding over Zachariah's eternal rest and isn't a fan of interruptions.
Supernatural Episode 300 Release Date
Supernatural Episode 300 is set to air on The CW on Thursday, February 7 at 8/7c. — That's tonight!
Joseph Baxter is a contributor for Den of Geek and Syfy Wire. You can find his work here. Follow him on Twitter @josbaxter.