News
Supergirl: Exclusive Look at Next Episode Shows Anti-Alien Sentiment
Anti-alien sentiment exploded overnight on Supergirl after the world found out the president is an alien.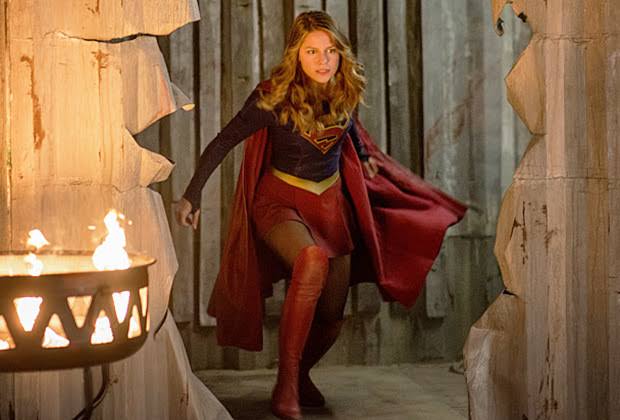 When we first met the DEO in season 1 of Supergirl, it was a hardline anti-alien agency. In the intervening years, however, Supergirl, J'onn J'onzz and Alex Danvers have transformed it into a justice-oriented policing organization (if such a thing can exist) with aims toward tolerance and harmony between all peoples on Earth. 
But according to this exclusive clip from this Sunday's episode, "Fallout," that mission just became infinitely more difficult.
Here's the episode description:
CHAOS IN NATIONAL CITY — A shocking revelation causes chaos in National City. Supergirl (Melissa Benoist) sets out to capture Mercy Graves (guest star Rhona Mitra), while Alex (Chyler Leigh) takes control at the DEO. Back at CatCo, Kara decides to write an investigative story on Mercy and asks Lena (Katie McGrath) if she can interview her as Mercy has ties to the Luthors. Meanwhile, Brainy (Jesse Rath) meets Nia (Nicole Maines) and the two end up in a precarious situation. Harry Jierjian directed the episode with story by Dana Horgan and teleplay by Maria Maggenti & Daniel Beaty (#402). 
If Brainy's data analysis is right, and it always is, anti-alien sentiment exploded nationwide overnight, after the world found out the president is an alien. Check out the clip here:
The brief exchange between the Danvers sisters tells us a lot about the fallout from Mercy and Otis Graves's big play at the end of the season 4 premiere, when they revealed that President Marsdin is an alien. 
A blink and you'll miss it nugget comes right at the top of the clip: Kara says that the president has not taken a pardon – for what? Lying under oath, or perhaps running for president without technically being a "natural-born citizen" of the US, a constitutional requirement? Taking a pardon is an admission of guilt and cannot be issued for cases involving impeachment, so presumably President Marsdin is still in office. But then who would issue this pardon, if not the president herself? This would be a fascinating constitutional crisis, and as a political science nerd, I hope Supergirl takes the whole thing entirely too seriously. 
Kara, of course, is maintaining her typical brand of optimism. She has hope in world and their ability to be compassionate. It's something we all know and love the character for, but as she learned in the last episode, seeing the world with rose colored glasses may impede her ability to be a good hero and reporter to her city.
Last week it was J'onn who taught Kara that lesson, and at least in this clip, Alex takes on the mantle, sharing the disturbing news that she just broke up a fight between two of their own people in the DEO. If the DEO is no longer a united front or a safe place for aliens, how well can they fight back against whatever Mercy and Agent Liberty have planned? And at a time when anti-alien feelings are at an all-time high, will the public even want a Kryptonian hero like Supergirl to help them?
We'll have to tune in Sunday to see. Keep up with all our Supergirl news and reviews right here!
Read and download the Den of Geek NYCC 2018 Special Edition Magazine right here!