News
SummerSlam: Will Super Shane Avenge Bloody Orton?
After Brock Lesnar left Randy Orton laying in his own DNA, WWE teased a Shane McMahon vs. Lesnar match ...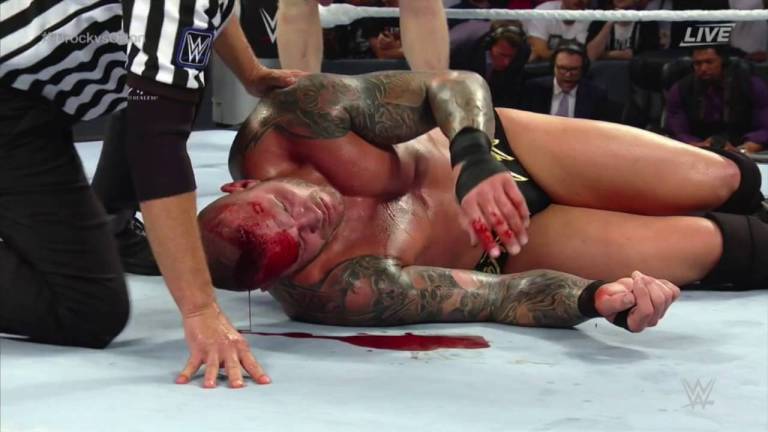 In the famous words of Booker T … "tell me I didn't just see that."
As SummerSlam came to a close on Sunday night, Brock Lesnar had Randy Orton laying in a pool of his own blood. A Lesnar elbow, presumably, opened a gash on the top of Orton's head that required 10 staples, according to WWE, and the match was stopped and awarded to Lesnar after the ringside doctor said that Orton could not continue.
Take the Den of Geek 2016Reader Survey for a Chance to Win a $100 Amazon Voucher Right Here!
Was that the planned finish? It's really hard to say. It looked like, from some camera shots, that Orton was legitimately busted open at the top of his head. The gash looked legitimate, but trying to judge from quick shots on WWE Network is difficult.
(Edit: Upon further review on Monday morning, this photo of Orton's mangled head was circulating Twitter:
— Scotty Slade (@ScottySlade)
August 22, 2016
)
Still, you look at the photo above, and you look right around his hairline on the right side of his head, and it looks like a sizeable gash has opened up.
That's not what's upsetting. The finish to the match was well done. It made Lesnar look sadistic and gets him back on track as an unstoppable monster. Is he a heel? I would assume so. Lesnar is an ass-kicking machine who doesn't care if he's a babyface or a heel. He does what he wants, when he wants, and from that perspective the character of Brock Lesnar had a good night.
What upsets me, as a viewer, is that I saw afterwards. Shane McMahon came running to the ring to check on Orton, a SmackDown talent, and was immediately F5'ed by Lesnar.
Shane, a non-wrestler, didn't sell the move nearly enough. He should have been out cold. Not moving. Instead he rolled around a little bit and was sitting up, looking at Lesnar as he walked up the ramp.
That's right folks, they teased a Brock Lesnar vs. Shane McMahon match. I bet you can't wait for that one!
If WWE is trying to build Lesnar back up as a monster who doesn't care about his carnage, and they want to feed him Shane to beat up and bloody like he did Orton, then that's great. I'm totally fine with that. No offense to Shane, but that's what should happen if a guy in his mid-40s, who isn't a pro wrestler, steps into the ring with a former UFC champion like Lesnar.
But there has to be a legitimate fear that it won't happen that way. Shane is usually booked as Super Shane, and if they put him on a path to "stop Lesnar," it's going to make me throw up. Literally, I'll blow chunks all over my television, because that will be the grossest, sickest and most offensive thing WWE has ever done to its television audience.
Brock Lesnar just beat up Mark Hunt at UFC 200. Brock Lesnar just left a multi-time World Champion, Randy Orton, laying in a puddle of his DNA at SummerSlam.
If Brock Lesnar ever fought a 46-year-old non-wrestler and non-UFC fighter, Brock Lesnar would kill that person. Legitimately. With the wrong referee in there, a murder would occur in the middle of the ring.
But if that happens in WWE's universe, Shane McMahon might lose, but he wouldn't be killed. He would be made, at times, to look like Lesnar's equal. That's what happened at WrestleManiaagainst Undertaker. Granted, at Undertaker's age, I'm more willing to believe that. But here, in this case, no. 
A viewer can suspend their disbelief to an extent. This would be crossing the line.
And while I get I'm complaining about something that hasn't even happened yet, WWE's track record is the reason why. Is it crazy to believe this is the road they're headed down? No.
Don't do it, WWE. Don't do it.
(Pre) 1. American Alpha, The Hype Bros, The Usos beat Breezedango, The Ascension and The Vaudefillains
That is a lot of people in the ring at one time. This match may never be referenced on WWE television because it really had no consequence to it whatsoever.
(Pre) 2. Sami Zayn & Neville beat The Dudley Boyz
Good win here for Zayn and Neville. The Dudley Boyz, if they are going to split soon (and there have been hints) should be putting over some young established tag teams, not two singles wrestlers. Feed them to American Alpha.
(Pre) 3. Sheamus beat Cesaro
Another very good match between these two. This match felt wasted on the kickoff show. This absolutely could have, and should have, been on the pay-per-view main card.
4. Chris Jericho & Kevin Owens beat Enzo & Cass
Definitely a surprising finish here, with Enzo and Cass practically in their backyard. Still, WWE will run Raw tomorrow night in the same building, so the weekend could still end with Enzo and Cass standing tall in front of their hometown crowd.
5. Charlotte beat Sasha Banks to win the Women's Title
This was another shocker. The finish here was great, with Charlotte turning a Banks Statement into a pinning situation, and scoring the win.
Reports filtered out after the match that Banks will be taking some time off to nurse some nagging injuries, which of course makes the title switch necessary. Charlotte will be able to gloat over this win legitimately because it was an actual clean win over Banks. It was a very good match, too.
6. The Miz beat Apollo Crews to retain the Intercontinental Title
Miz retaining here made sense, especially when watching it life and you felt the lifelessness in the crowd in how they react to Crews. That's a shame because Apollo Crews is supremely talented. WWE needs to loosen up the leash a little bit, and just let the guy go out there and be the guy that WWE fell in love with and signed.
7. AJ Styles beat John Cena
This was an amazing wrestling match that, if you have not seen it, you should go out of your way to make sure you watch this. John Cena put AJ Styles over, clean, in the middle of the ring. After the match, Cena took off his "Never Give Up" arm band and kissed it, before leaving it in the ring.
This wasn't Cena's retirement match — at least I'm assuming so, I guess I would have said the same about Shawn Michaels at WrestleMania 26 — but it's likely Cena is taking some more time off for outside television projects, as has been speculated for several weeks.
There was a rumor, however, that Cena would continue to work SmackDown television but would not be appearing at house shows for the foreseeable future. In a way, that's somewhat hypocritical. He wouldn't be the Rock, who went away entirely, but Cena only showing up for TV begins to head down that road.
It's not full-blown hypocrisy, but it's a step towards it.
Aside from all of that … Cena was awesome in this match. The sheep in the Brooklyn crowd, of course, chanted "Cena Sucks!" But there couldn't have been anything farther from the truth. AJ was awesome as well, and Cena haters will tell you that AJ "carried" Cena in this match, but Cena always delivers like this on the big stage. It happens literally all the time. Cena doesn't get the credit or respect he deserves from a segment of the WWE fan base. Period.
What's most funny is that the vocal group who chant "Cena sucks!" Over and over without real reason, still, like sheep, buy that WWE ticket every time the company is in town. So keep it up.
8. Luke Gallows & Karl Anderson beat New Day via DQ (New Day retains Tag Titles
I liked Big E returning here and forcing the DQ. This felt old-school. This now allows them to extend the feud, with Big E in the mix, and that's a good thing. It's better than someone winning clean, only to lose clean in the same manner tomorrow night.
9. Dean Ambrose beat Dolph Ziggler to retain the WWE Title
I know this show was sponsored by Cricket Wireless, but kudos to WWE for bringing in actual crickets to watch this one live.
No one seemed interested in this match, unfortunately, because it was pretty good. I didn't really like the abrupt ending, which felt flat and also the announcers didn't seem to be that enthralled with it either. There was an element missing from that perspective.
10. Natalya, Alexa Bliss, and Nikki Bella beat Becky Lynch, Naomi, and Carmella
It was great to see Nikki Bella back in action; she has missed several months after undergoing neck surgery. Nikki was the start of this match as well, as you might expect as she comes back from injury.
I really felt bad for Carmella here. She really tried to get the crowd behind her as a "Staten Island girl," but they just didn't seem interested in anything that wasn't one of the main events.
I might be in the minority, but I like Naomi's new entrance. They're using her real-life backstory as a professional dancer — I guess they did that when she was with Brodus Clay as well — but this should be something she can comfortably get into.
11. Finn Balor beat Seth Rollins to win the WWE Universal Title
Twitter reaction was that the belt itself was ugly, but I thought it was different and cool. It's a belt for the Raw brand, so it's red. Isn't that the point? What was the alternative? Make it look just like the WWE Title? This makes it stand out and I like that it's tying in the Raw brand as well. To me, it helps differentiate that the shows are different.
As for the match, this was good. The crowd was alive for this match and they weren't going into business for themselves, which was different from most of the night. There were no "CM Punk!" chants during this match.
Which by the way … c'mon. Seriously? CM Punk? The guy up and left pro wrestling and has, in a way, crapped on it (at least WWE) ever since he left. That's your hero? If you hate WWE so much, why did you buy a ticket to SummerSlam? Get over yourselves.
This felt like the first chapter of what is going to be a series between Balor and Rollins, and that's good.
[Right after this match, WWE aired a commercial they taped at SmackDown last week for KFC. It was in front of the live crowd and featured Miz in a chicken suit and Ziggler dressed up as Col. Sanders. It was stupid, and shame on WWE for whoring itself out like this. I'm all for monetizing your product, that's what you have to do, but when it interrupts the narrative of your show, it makes you look foolish and cartoony. Ziggler was just in a WWE Title match earlier on the show, and now you should him dressed as Col. bleeping Sanders?!?! Awful. Just awful.]
12. Roman Reigns vs. Rusev never happened because Reigns attacked Rusev pre-match.
Well, that's why this match happened last Monday, I guess. WWE looked terrified of putting Reigns out in front of the Brooklyn crown for a long period of time. They threw him out there quickly tonight and got him in the back, where the people wouldn't boo him or pepper him with PED chants.
13. Brock Lesnar beat Randy Orton via TKO
The end of a very long night, especially if you watched the kickoff show. Six hours in total.
It's almost like Vince McMahon hates me. "You think three hours is too long for Raw, pal? Well here's a six-hour SummerSlam! And next year a 12-hour WrestleMania!"