News
Styles-Ziggler Steal The Show on SmackDown
After a forgettable match with Dean Ambrose at SummerSlam, Ziggler looked like a superstar ...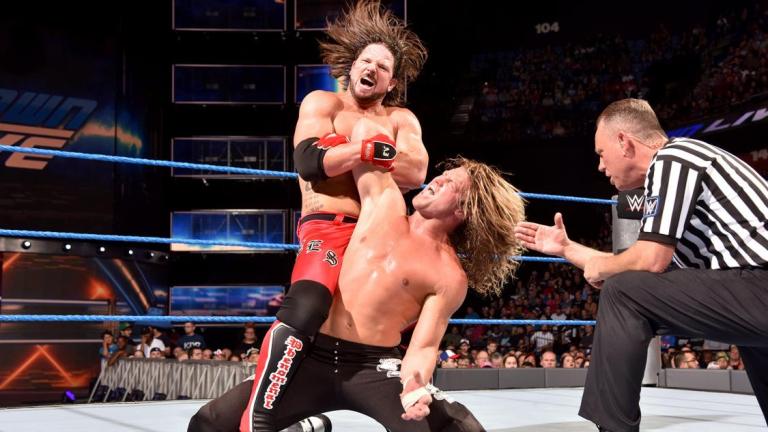 Well, it was good while it lasted, Dolph.
There doesn't seem to be many places for Dolph Ziggler to go now that he lost to A.J. Styles in the main event of tonight's SmackDown and is out of the main event title match at Backlash. That match will now feature Styles challenging Dean Ambrose for the WWE Title. That is, unless WWE finds a way to get Ziggler back in that main event.
Styles kicked the ropes into Ziggler's leg before the Styles Clash – and David Otunga seemed to make a point of asking the other announcers if they saw that – but that's hardly a reason to overturn a match result.
Just looking at the Smackdown roster, there isn't much for Ziggler. Alberto Del Rio is suspended, Baron Corbin has been done before, and Bray Wyatt is headed off with Randy Orton. Putting Ziggler in a feud with Miz, which has also been done before, would absolutely be viewed as a demotion. There just isn't another top guy on the Smackdown roster for him to feud with if he's out of the title picture.
Then there's the Shane-Lesnar bit. For the love of all that is holy in this world, please WWE, do not promote a Shane McMahon vs. Brock Lesnar match. That is one of my biggest fears in wrestling right now. I almost choked when I saw Lesnar give Shane an F5 at Summerslam and here tonight, there was another tease of a Shane-Lesnar match during Shane's backstage segment.
It's pretty clear that WWE is trying to re-brand Lesnar as a monster again. That's fine – in fact, it's necessary – but Lesnar vs. Shane is not a match anyone wants to see. In fact, it shouldn't even be a match. There should be nothing competitive about it. Brock Lesnar, if he were in a one-on-one situation with Shane McMahon, should criminally assault him. That's not hyperbole either. It would result in an actual crime if Lesnar and Shane ever actually fought.
If one of WWE's top stars gets nearly killed by Lesnar, the 46-year-old non-wrestler should be peeing himself at even the thought of confronting Lesnar, not walking around like a man's man ready for a fight.
Lastly, and I might be in the minority, but I don't mind the new WWE belts. The Universal Title being red makes sense if it's a Raw title, and the debuts of the Smackdown Tag Titles and the Smackdown Women's Title I liked as well, especially with the blue elements. There are far more important things to complain about than the color of belts.
1. Becky Lynch beat Alexa Bliss
This was a pretty basic match to start the women's title tournament. It makes sense for Becky to get the win here, and really this title should be on either her or Natalya, no one else.
2. The Usos beat The Ascension
See above. Basic tag match and the Usos needed to win. The tag titles shouldn't be on any team but the Usos or American Alpha.
3. American Alpha beat Breezeango
This match will fly under the radar, but it was a really good tag team match. Both teams are very athletic, and if they scrubbed some of the comedy off of Breezeango — and change that awful name — Tyler Breeze and Johnny Curtis could be a really good, athletic tag team.
4. AJ Styles beat Dolph Ziggler
This was one of the best matches of the entire SummerSlam weekend. Styles, who was made a star against Cena on Sunday, made Ziggler look like a million bucks in this match and vice versa. This match showcases why WWE needs to find a spot near the top of the card for Ziggler. A really fantastic match that, if you didn't watch SmackDown, you should go out of your way to see.
Two days after a ho-hum match with Dean Ambrose for the title, Ziggler and Styles put on a tremendous show.