News
Strike Back Season 6 Trailer, Release Date and More
The espionage exploits of Section 20 will, indeed, continue with Cinemax's order for Strike Back Season 6.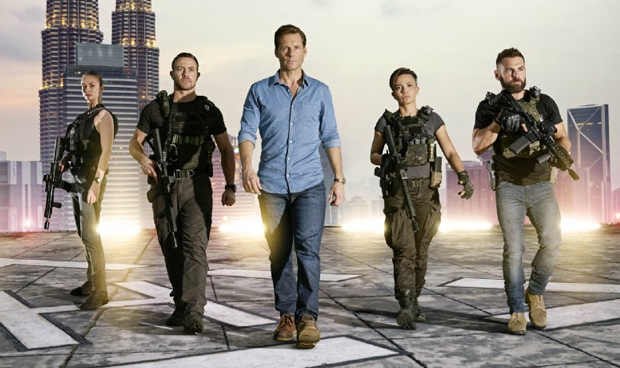 Strike Back Season 6 is coming soon to Cinemax.
The niche-audience nature of the series continues to mirror the clandestine nature of the premise, which depicts British Intelligence secret multinational special ops team Section 20, a deadly-effective, but unacknowledged force. The long-running series, which can name plenty of prominent cast alumni, came back for Season 5 in October 2017 with a soft reboot of sorts, affixed with the subtitle, Retribution, brandishing fresh new cast members and a new mission. Fortunately for the fans, Cinemax gave the order for Strike Back Season 6 in March 2018, even before the Season 5 finale arrived.
Strike Back Season 6 Trailer
The Strike Back Season 6 trailer is here, showing the elite strike force doing what it does best: averting global catastrophe (in this case a nuclear one,) with guns and grit.
Strike Back Season 6 Release Date
Strike Back Season 6 premieres on Friday, January 25 at 10 p.m. (ET/PT) on Cinemax.
As HBO president of miniseries and Cinemax programing Kary Antholis expressed in a March 2018 statement on the Season 6 renewal:
"The rebirth of Strike Back has reestablished Cinemax as a destination for adrenalized, entertaining action series. We are delighted to offer Section 20 the opportunity to continue saving the world from mayhem and destruction."
While Strike Back launched in 2010 in the U.K. on Sky1, American audiences were not exposed to the series until Cinemax started airing (and co-producing,) starting with Season 2, subsequently airing Sky's Season 1 as Strike Back Origins. Thus, in a numeric quandary that fans of the Final Fantasy video game series know all too well, the upcoming Strike Back Season 6 is billed as Season 7 in the U.K.
Strike Back Season 6 Cast
The official Strike Back Season 6 main cast lineup consists of: Warren Brown, Daniel MacPherson, Alin Sumarwata, Jamie Bamber and Yasemin Kay Allen,
After the series saw the exit of primary characters Sgt. Damien Scott (Sullivan Stapleton) and Sgt. Michael Stonebridge (Philip Winchester), Season 5 of Strike Back saw the aforementioned "rebirth" of the series, introducing an array of newcomers consisting of Warren Brown, Roxanne McKee, Daniel MacPherson, Alin Sumarwata, Don Hany, Nina Sosanya, Trevor Eve and Katherine Kelly. Interestingly, exited co-stars Stapleton and Winchester, who had long moved on to other projects, reprised their roles in the final two episodes of Season 5.
The creative lineup of Season 6 consists of executive producers Andy Harries, Sharon Hughff, Jack Lothian and Richard Burrell, along with producer Nuala O'Leary.
(Main image photo credit: Hal Shinnie/Cinemax)
Joseph Baxter is a contributor for Den of Geek and Syfy Wire. You can find his work here. Follow him on Twitter @josbaxter.