News
Stranger Things Aftershow to Debut with Season 2 on Netflix
Netflix will complement Stranger Things Season 2 with aftershow Beyond Stranger Things, filled with cast members and producers.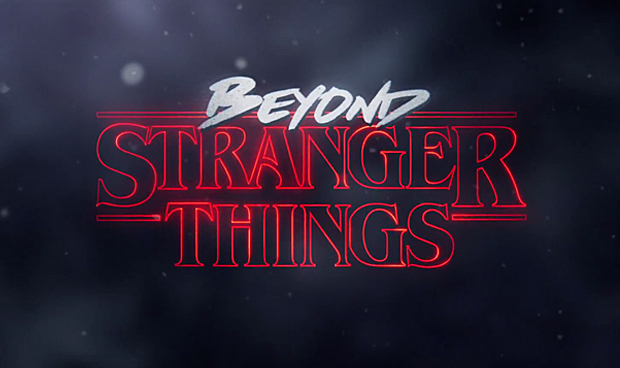 The arrival of Stranger Things Season 2 is obviously a big deal for the proverbial Demogorgon of the streaming world, Netflix, since the summer 2016 debut of the retro-minded sci-fi/horror/adventure hybrid series proved to be one of the most successful of its myriad exclusive television offerings. Consequently, Netflix is giving Stranger Things something that peak television Mount Rushmore residents like The Walking Dead and Game of Thrones have enjoyed: an aftershow.
Netflix has announced (through THR,) that, upon the debut of Stranger Things Season 2 on October 27, it will release an accompanying 7-episode aftershow series, called Beyond Stranger Things. In this fan-servicing talk show series discussing the hit genre drama, actor/writer/producer and declared "super fan" Jim Rash (Community) will serve as host, interviewing a roundtable panel filled with Stranger Things key personnel such as creators Matt and Ross Duffer, as well as the entire main cast, consisting of Millie Bobby Brown, Sean Astin, Linnea Berthelsen, Natalia Dyer, Brett Gelman, David Harbour, Randy Havens, Charlie Heaton, Joe Keery, Gaten Matarazzo, Caleb McLaughlin, Dacre Montgomery, Paul Reiser, Noah Schnapp, Sadie Sink and Finn Wolfhard.
Beyond Stranger Things is clearly an attempt to rope Stranger Things into the "show that talks about a show" success of AMC's Chris Hardwick-hosted The Walking Dead aftershow, Talking Dead, which HBO has also been attempting to do (albeit on a smaller scale), most recently with streaming series Talk the Thrones, for its global television juggernaut, Game of Thrones. However, with Stranger Things being a bingeable series, the Talking Dead-style per-episode post-mortem discussion format is replaced here with something different. Indeed, Netflix is warning viewers to NOT watch Beyond Stranger Things until they've digested the entirety of Stranger Things Season 2, since the format calls for season-encompassing spoilers from the get-go.   
Interestingly enough, despite the necessary change from the successful and enduring Talking Dead formula, Beyond Stranger Things – Netflix's very first aftershow attempt – arrives on the streaming platform as a product of company Embassy Row, which produces the template-setting AMC aftershow. Michael Davies and Jen Kelly Patton serve as executive producers, joined by supervising producer Patrick Doody.
Beyond Stranger Things arrives a Netflix on October 27, serving as the perfect dessert to its Stranger Things Season 2 main course.
Read the full Den of Geek NYCC Special Edition Magazine right here!