News
Strange Angel Season 2 Renewal Confirmed by CBS All Access
CBS All Access has renewed the series, Strange Angel, setting it up for a second season of fact-based scientific/occult drama.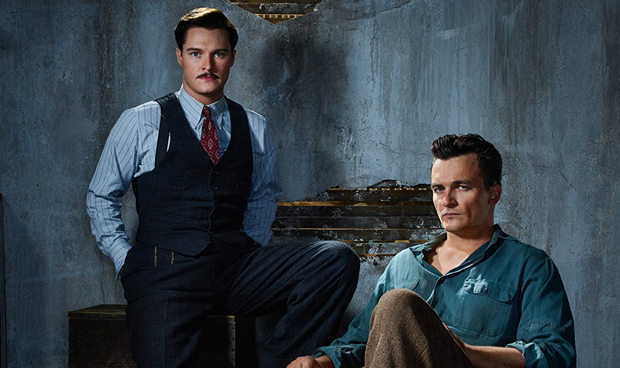 Strange Angel will continue to explore the odd – fact-based – story of Jack Parsons and the intersection of rocket science and the occult, thanks to a Season 2 renewal by network streaming platform CBS All Access.
The Strange Angel Season 2 renewal arrives as welcome validation for the intriguing historical series, which – initially set in the 1930s – follows the exploits of Jack Parsons (Jack Reynor), a crucial figure in the early development of rocket propulsion who is known to have fielded a double life as a disciple of an occult organization, thus making the series – much like Parsons's real life – a bizarre amalgam of science and mysticism.
On the series, Parsons's initial unassuming position as a janitor of a chemical factory proves to be the façade for a brilliant mind whose imagination and unutilized education would soon be put to use when he becomes a co-founder of the (eventually federally-funded and NASA-owned) Jet Propulsion Laboratory and the (2013-merged) engineering corporation, Aerojet. However, Strange Angel's adherence to science is matched by Parsons's double life practicing sex magick rituals as an adherent to the occult; a scene that puts him in the orbit of figures such as Scientology founder L. Ron Hubbard, all while guided by the notorious Aleister Crowley.
The story of Strange Angel Season 2 will move the timeline ahead steadily, focused on the scientific breakthroughs made by Jack and his team at Caltech after the U.S. entered World War II – confirming that the setting will shift to a time after the December 7, 1941 Pearl Harbor attack. Consequently, the government's interest in Jack's technology will entangle him within the burgeoning military industrial complex. Conversely, his relationship with wife Susan (Bella Heathcote) continues to make an unconventional evolution as they become further immersed in their shared occult religion, having invited the disciples into their Pasadena Mansion. Moreover, the couple will enter into a close relationship with the group's founder, Aleister Crowley (played by Michael Balin in Season 1).
Strange Angel is the creation of Mark Heyman, who based it on George Pendle's book of the same name. The series hails from Ridley Scott's Scott Free Productions and CBS Television Studios after a developmental phase that previously saw planned as a cable offering by AMC before ultimately landing on the Eye Network's streaming platform. It premiered on CBS All Access on June 14, which kicked off the weekly release of episodes until the inaugural season wrapped with Episode 10, which dropped on August 16. Thus, the decision on the show's fate took CBS a little over two months to confirm.
As Julie McNamara, EVP, Original Content, CBS All Access expresses in a statement:
"We look forward to exploring the next chapter of Jack Parsons' journey. Strange Angel and its talented cast and crew are the epitome of the type of programming we strive for at CBS All Access – daring, imaginative and unconventional."
Besides co-stars Jack Reynor and Bella Heathcote, the main Strange Angel cast also consists of Rupert Friend, Peter Mark Kendall, Greg Wise, Rade Serbedzija and Michael Gaston.
Strange Angel can be streamed on CBS All Access if you are inclined to play catch up.
Joseph Baxter is a contributor for Den of Geek and Syfy Wire. You can find his work here. Follow him on Twitter @josbaxter.
Read and download the Den of Geek NYCC 2018 Special Edition Magazine right here!