News
Steven Universe: Future Return Date, Cast, Trailer and News
It's official! Steven Universe season 6 is really happening at Cartoon Network. Here is everything we know!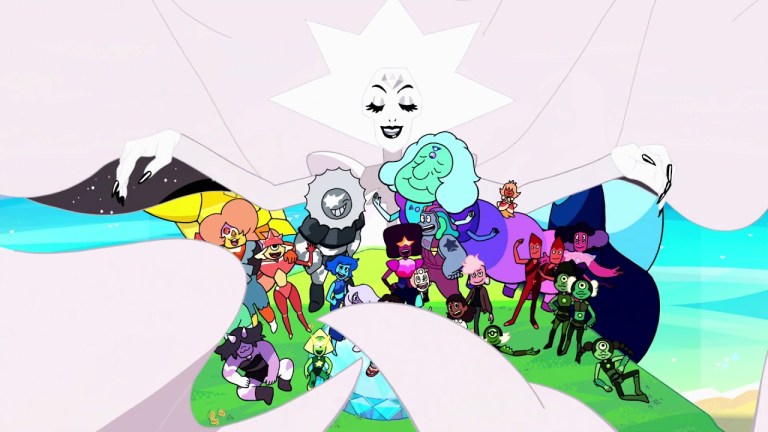 Steven Universe: The Movie seemed like it could have easily been the wrap up to the entire series but there's more to come! We've learned that Steven Universe will continue with Steven Universe season 6, titled Steven Universe: Future, and we've got the new opening theme below.
As you can hear it's an all new song featuring a shortened mix of 'Happily Ever After' from Steven Universe: The Movie! Cartoon Network also revealed this is a "new epilogue limited series." 
Steven Universe: Future Trailer
The first trailer for Steven Universe: Future is here and if you thought things would be chill for Steven this season? You're wrong! Pink Pearl? Jasper? Aqua Marine? We need more right now!
Steven Universe: Future Release Date
Steven Universe: Future is now on hiatus, with Cartoon Network airing a short message that said "The Story Continues on Cartoon Network." We've reached out to Cartoon Network for comment and we'll let you know if we hear anything back!
Steven Universe: Future Story
In a synopsis provided by Cartoon Network, Steven Universe: Future will focus on Steven finally dealing with many of his issues!
After saving the universe, Steven is still at it, tying up every loose end. But as he runs out of other people's problems to solve, he'll finally have to face his own.
read more: Steven Universe: The Essential Episodes
Steven Universe: Future Episodes
Welcome to Little Homeschool, a place on earth where Gems from all over the universe can come learn how to live together peacefully! But there's one Gem who refuses to attend.
Amethyst has been helping Little Homeschool Gems find jobs on the boardwalk, but Steven isn't sure about her approach.
Steven gets a surprise visit from some old friends, and an even more surprising introduction to some new ones. 
Steven is determined to help Pink Diamond's original Pearl heal the scar on her face. 
Steven questions the motives of a mysterious fusion that suddenly shows up at his house. 
Rainbow Quartz 2.0 promised to hang out with Onion the same day Sunstone scheduled a home safety Geminar! How can Steven be in two places, and two fusions, at once? 
Steven and the Crystal Gems get a chance to catch up when they're all snowed in together. 
Steven has heard rumors of a pair of Gems that are still destroying worlds. If he can't stop them, maybe Lapis can.
Steven and the Gems celebrate Little Homeschool's first graduating class. 
After leaving Little Homeschool, Steven has found a new hobby, plants. 
Thanks to the Futon Critic for the names and descriptions of these episodes!
Steven Universe: Future Cast
Thanks to the new opening we can be sure the entire cast of Steven Universe will be returning for Steven Universe: Future!
Steven Universe: Future Villains
From the opening theme we got a brief shot of what seem to be the villains for Steven Universe: Future. There are some things that look like watermelon Steven's, a Jasper, something that looks like an Aquamarine,, a snake-like creature (was Ronaldo right about SNEEPLE?), two Lapis Lazulis, and a White Diamond thing? We can't wait to find out more!
Keep checking back to Den of Geek for all things Steven Universe: Future. We'll update this article as we learn more! Don't forget to check out our list of the essential Steven Universe episodes!
Shamus Kelley is a pop culture/television writer and official Power Rangers expert. Follow him on Twitter! Read more articles by him here!