News
Steven Universe Season 5 Episode Guide
With Steven Universe season 5 finally over, you can catch up on all our reviews right here!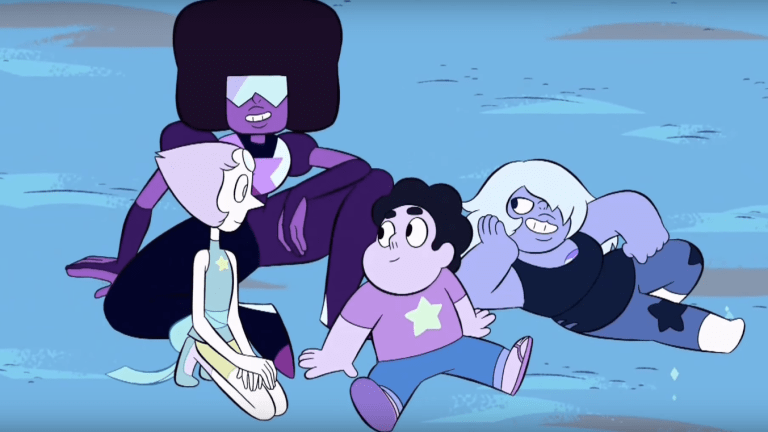 Steven Universe Season 5 is over and we've got all our reviews in one place!
Steven Universe Season 5 Episodes
Steven and Lars are stuck inside Topaz and try to look for a way to escape.
Steven goes to court against Blue and Yellow Diamond to determine his (or rather Rose Quartz's) fate.
After escaping from the Diamonds, Steven and Lars encounter and befriend the "off-colors", a group of "defective" Gems who live in hiding from Gem society. Lars defends them from security robots but is critically injured in the process.
After Steven brings Lars back to life with his healing powers, he discovers that Lars now shares the same powers as Lion.
Steven helps Mayor Dewey run a difficult campaign.
Greg and the Gems take Steven on vacation to help him relax.
Pumpkin goes missing.
Steven, Amethyst, and Peridot try to spruce up the Kindergarten.
Steven and the Cool Kids start a band, but they have trouble finding their sound.
Kevin is throwing a party, and Steven is invited.
Lars rises to the occasion.
Stevonnie finds themself alone on an adventure.
Steven takes Garnet to meet his new friends.
Steven shoots a documentary that follows a local band as they get their first big break.
Steven and Garnet explore the most unlikely timelines in Beach City.
Steven writes letters to Lars about all the latest news in Beach City. 
Ronaldo spots something mysterious on the moon, and Steven goes to investigate. 
Steven helps Pearl find her phone.
After finding out that Rose Quartz was actually Pink Diamond, Garnet unfuses and Sapphire runs off, devastated.
With Ruby missing, Steven and Amethyst go looking for her.
Ruby decides to explore her own life separate from Sapphire, and has a Wild West adventure as a lonesome cowboy with the help of Steven, Amethyst, and Greg. 
As Ruby and Sapphire plan their wedding, Sapphire wishes that their friends from the war could be there to see it.
The wedding of Ruby and Sapphire, with the Gems and several Beach City citizens in attendance, goes without a hitch and Garnet reforms. However, during the reception, Blue and Yellow Diamond arrive and awaken the Cluster.
To try to finish the job and cure all the corrupted Gems, Blue, Yellow, and the Crystal Gems travel to Homeworld to seek White Diamond's help.
With many changes going on in his life, Steven tries to find his place in the world. 
Steven throws a party to bring his family together. 
Steven uses his psychic powers to find help. 
Steven faces his biggest challenge yet. 
Also be sure to check out our guide to the essential episodes of Steven Universe.
Shamus Kelley left his family behind. Follow him on Twitter!