News
Steven Moffat on changing Doctor Who's narrative for the 50th anniversary special
Steven Moffat has been chatting about the 50th anniversary special, 3D, the Comic-Con trailer controversy, Peter Capaldi and more...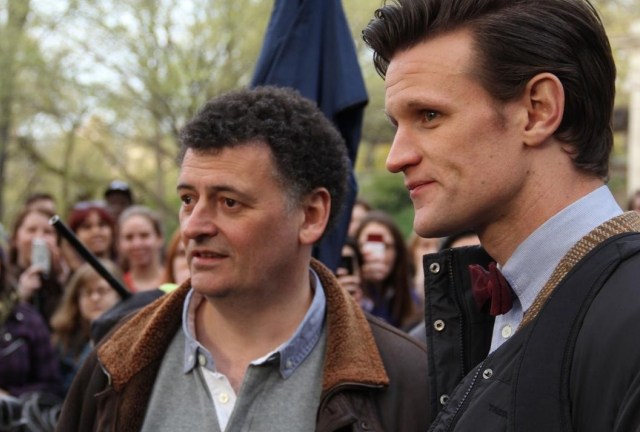 Now we're on the doorstep of November, the Doctor Who 50th anniversary special is almost within reach. Soon, trailer envy and speculation will be a thing of the past. In just over three weeks, we'll be able to finally know the whats, whens, wheres and of course, the whos of The Day of the Doctor.
In an interview with Broadcast magazine, due out tomorrow, Steven Moffat discusses his priority for the 50th anniversary episode. "My main thing was that as much as we celebrate the past, we can change the narrative. You can't tell a story by being frightened about it." Wise words, and no doubt a nod to the role of John Hurt's character in the anniversary special.
As for the episode's use of 3D, Moffat tells Broadcast it will offer fans "the best ever entrance into the TARDIS".
On the subject of the incoming Doctor, Moffat was unsuprisingly full of praise, remembering, "Every time I was at a TV do and Peter was there, he'd come over to talk about Doctor Who and he was the first to congratulate Matt. I started thinking: what if that genius actor might actually say 'yes'?".
The showrunner also addresses the Comic-Con controversy (if that's not too grand a term) in the interview, in which SDCC attendees were shown a glimpse of footage from The Day of the Doctor, which has made no subsequent appearance online. "Comic Con has a history of screening exclusive material" he said, "I understand if people are feeling eager – but don't you think it would have been a little bit early for everyone to see it? We were creating a buzz about it among the people who'd slept out all night for it."
Subscribers can read the full article at Broadcast by following the link below.
Follow our Twitter feed for faster news and bad jokes right here. And be our Facebook chum here.