Features
Steven Moffat Asylum Of The Daleks Q&A
After an Edinburgh TV festival screening of Asylum Of The Daleks, Steven Moffat answered a few questions. Here's Andrew's report...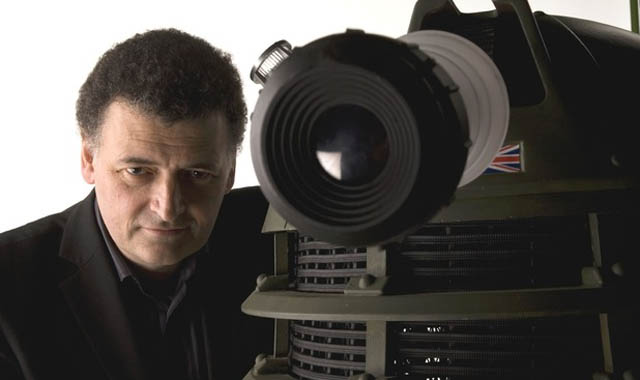 The only thing I'm going to say about Asylum Of The Daleks (already previewed here at Den of Geek) is that the reveal of the second Davros as being a badger in disguise was a bit obvious. The only reason I'm going to say this is because it's a total lie. Davros is not a badger. Repeat: Davros is not a badger.
Or is he?
After host Andrew Collins kicked proceedings off with a few questions of his own for Steven Moffat, he opened things up to the audience. Den of Geek were unable to get any of their many, many questions asked, because many years of typing have left us hunched and tiny-armed like a Tyrannosaurus Rex. Also because the crowd was brilliantly enthusiastic. One person put two hands up, which is technically cheating, but Collins is a maverick, and bade him speak.
Our host asked about the blockbuster movie approach to each episode in the new series. This yielded the response that having no obvious cheap episodes has led to the production team 'robbing banks and people' in an effort to make ends meet, but that they had found a way to make the Ponds' final episodes something other than two people in a box talking.
There was a brief discussion about fandom, where The Moff pointed out that a showrunner should not only shut out other people's fan voices, but his own as well (specifying the inaccurate pronunciation of a planet in Asylum of the Daleks as an example of his inner fan speaking up). While most fans acknowledge that the show should be written for a wider audience, boomed Grand Moff Tarkin, he felt that those moaning on the forums were more than welcome: "What is the point of loving something if you can't incessantly complain about it?"
Regarding complaints, fuss had ensued in the press after the issue of a female Doctor arose at the Cardiff convention. The room was largely fine with the idea (apparently the response varies), but it was revealed that the line about Time Lord gender being flexible in The Doctor's Wife was put in by (A Rolling Stone Gathers No) Moff, who also added that it'd be a lot easier in Doctor Who than it would in a James Bond film (but that it would be worth it for Judi Dench's face).
There have been reports in newspapers about overnight viewing figures for every big Saturday night show, and Doctor Who is no exception. Interestingly, around half of the show's viewers watch on initial broadcast, the rest utilising time-shift options. "Bookcases don't tell you when to read a book", said the Moffington Post, "It's just a more convenient delivery, just a way of watching it. My kids don't know about the experience of being out shopping with their parents on a Saturday, knowing they're going to miss Doctor Who."
Children don't watch the show passively, they "…invent their own elements", which is a big part of the show's National Treasure status. David Tennant and Moff both ended up working on it after being inspired into their respective careers by the show. "It interacts with the rest of its audience", and the idea for the show's demographic is to "aim it at absolutely everyone. Why has it taken so long for TV to do what cinema does?"
A movie remains a possibility for the show, but Moff the Hoople reiterated that it can't interfere with the main show. Star Trek, for example, is now only a movie every few years, whereas Doctor Who has 14 new episodes a year. At any rate, the screening showed that a TV show can look like a movie on a smaller budget ("I'm never going to say we have enough money", spake the Moffter and Commander (sssh, I know it's getting tenuous), "But we are incredibly well looked after by the BBC"), Director Nick Hurran being cited as an example of someone's confidence improving as the show went on.
Regarding the writing process, the main advice David HasselMoff had was "…to write it like you own it" with swagger and confidence. A fan question referencing Neil Gaiman's involvement posited Grant Morrison as a possible writer (to a ripple of applause) of Doctor Who (on TV, as opposed to his comic strips in the eighties). The reply came that it's the hardest show that Moff-ra and Russell T Davies have ever written, so it requires a lot of TV writing experience: "No brand new TV writer should tackle it".
Robert Shearman (a possible exception to the rule) was also present. His script made the Daleks scary, and that's what Moff sought to achieve with Asylum. He admitted some culpability in "…making them cosier every time". Children now take Dalek toys to bed, with To Kill a Moffinbird (sorry) comparing them to everyday objects like buses and taxis. His aim, he admitted gleefully, was to make them "…leave the toys outside their bedroom doors". The temptation to go kitsch has to be ignored: "You have to remember they're insane tanks."
Despite his reputation as a scaremonger, Moffin the Mule admitted being terrified during The Woman in Black ("I wanted to see The Muppets"), but nigh-on-giggled when he thought of pitching Doctor Who now, with its aim of scaring the hell out of seven year olds.
An actual child asked the most difficult question (as ever), putting forward "Do Cybermen go rusty in the rain?"
"No", came the prompt reply, followed by "They're made of plastic. No, they're rain proof. Everything has to be in Wales. But there was a rusty one in The Pandorica Opens, which I wrote…um. Yes, eventually."
So this is now official canon. Seismic.
After failing to keep David Tennant on for his first season ("I told him my ideas and he ran"), The Eleventh Hour was something of a reboot, and posed the problem of how to prove the new incarnation's 'Doctor-ness' to the new companion, hence the introduction of young Amelia Pond. New cast, new crew. The show keeps evolving in different styles (last year's arc, this year's Movie Poster episodes) because "…even the new series is getting old". Seven series is a lot for a contemporary drama series, even without the prior twenty six getting involved.
After Richard Bacon's multi-Doctor question during yesterday's Sherlock Masterclass resulted in the response of "There won't be any Doctors in the 50th anniversary series, because of you, Bacon", the only question relating to the big 5-0 is how excited we should be on a scale of 1 – 11.
"Fifty", said the BeheMoff.
I think, based on this evidence, we should act accordingly.
Follow our Twitter feed for faster news and bad jokes right here. And be our Facebook chum here