News
Stephanie's Promo, Ambrose's Booking, Problems For Raw
WWE continues to lack continuity or smart storytelling by some of its top acts ...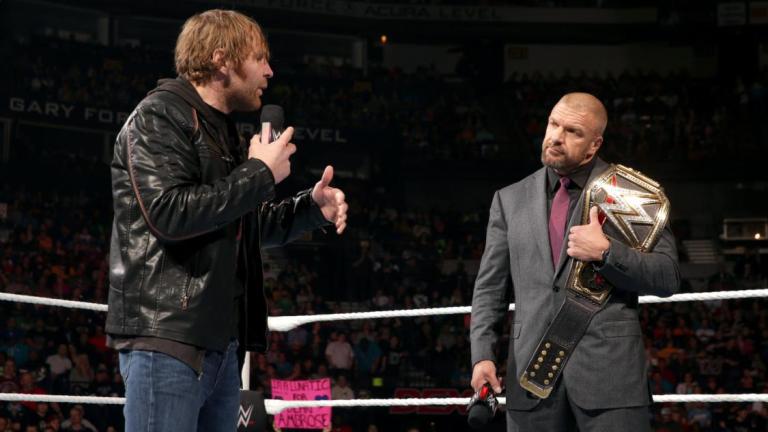 Where do we start …
OK, let's first start with the news that Dean Ambrose is going to challenge Triple H for the WWE World Hvt. Title at the upcoming special on WWE Network, now titled WWE Roadblock. That's coming up on March 12 from Toronto.
That's all well and good. The crowd is genuinely behind Ambrose — the same can't be said for Roman Reigns — and that match should be a good tuneup for Triple H as well as giving Ambrose a big match on his path to Brock Lesnar at WrestleMania 32, assuming nothing changes that night to muck up the WrestleMania plans.
The problem with this main event is that Ambrose had the change to earn a WWE Title shot … at Fastlane literally one week ago … and he failed to do it. But not to worry! In WWE, what happened one week, one day or in some cases, even one hour ago does not matter. Why? Because WWE shows no interest whatsoever in adhering to continuity within the structure of its storytelling.
Vince McMahon has had a long reputation for changing his mind on a whim. Who really knows why? We're talking about the creative genius that had a bad dentist one time and comes up with Isaac Yankem, or maybe he was friendly with his garbage man, and decided that everyone would love the smiling Duke "The Dumpster" Droese.
But last-minute rewrites and hectic schedules are common stories among former WWE creative team members when they do the interview rounds on podcasts.
I'm sure that last week, when Ambrose wrestled Reigns and Lesnar in a three-way main event to determine the WrestleMania main event, the possibility of Ambrose-Triple H at Roadblock wasn't even on the table. At least, I hope it wasn't. Because if it was, that makes this head-scratching decision even worse.
Ambrose just lost the opportunity for a title shot. He shouldn't be granted one the very next week, just for interrupting a Triple H promo.
WWE needs to make its stipulations mean something. Yes, it's pro wrestling, and yes, stipulations don't always stick. But can we adhere to them for more than eight days? Please?
Deep down, I hope this is WWE's way of changing the WrestleMania main event. I doubt it, but the hope is there. People cheered Triple H smashing Roman Reigns' face into the announce table last week. If Reigns beats Triple H for the World Title at WrestleMania, it could be the straw that breaks the camel's back with many of the hardcore fans.
They didn't walk away last year because Seth Rollins saved their night. 
The right play could be to have Ambrose shock the world and win. Then Roman Reigns returns, as a heel, and beats up his former friend for "stealing" his title shot. A main event that features a babyface Dean Ambrose and a heel Roman Reigns would be much more intriguing.
The problem, however, becomes what do you do with Brock Lesnar? There is unfinished business there between Lesnar and Ambrose, and I'm not sure people are clamoring for another Lesnar-Triple H match. 
But this isn't going to happen because it would have to involved Triple H removing himself from the main event. Perhaps I'm wrong, but I'd be willing to eat my keyboard if he's not in one of WrestleMania's top matches.
OK, now on to my second issue with last night's show. Stephanie McMahon.
The delivery in her promo was excellent, but the content? It wasn't smart.
Stephanie actually made valid points about her brother, Shane, pointing out that he left the company for seven years and was nowhere to be found, so how could be actually care about the fans?
That's a valid point. And that's the problem.
The heel shouldn't be making a valid point as to why the fans shouldn't cheer the babyface. She danced around it a little at the end, building up herself and Triple H (there's that name again), and how they are the king and queen of WWE. 
The better promo would have focused on Stephanie being upset that her brother took away her shining moment. Stick with the award talk. Point out that Shane was gone and come up with a good heel reason why. Claim that it was because she forced him out of the company. 
Y'know … act like a heel.
But don't give the audience that wants to cheer Shane a completely legitimate reason to dislike him. That's not smart writing. Also, why tell the audience the guy they want to see isn't even at the building? Ugh.
WWE has control over the narrative. The good guys should be referenced as the good guys. Always.
Match Results
Becky Lynch fought Sasha Banks to a draw
The Miz beat Dolph Ziggler
Sheamus & Rusev beat Kalisto & Sin Cara
Ryback beat Adam Rose
AJ Styles & Chris Jericho beat Big E and Kofi Kingston
Bubba Ray Dudley beat Jey Uso
Big Show beat Kevin Owens via DQ
Naomi beat Brie Bella
Dean Ambrose beat Alberto Del Rio via DQ
Quick Strikes
The Lynch-Sasha draw is going to setup a three-way match at 'Mania between the two and Charlotte for the Divas Title. That should be great. 
(See above) I feel so bad for Dolph Ziggler.
WWE has literally turned Ryback into Goldberg. I'm not sure, at this point, that they're not the same person. Same trunks. Same (chemically enhanced) body. Same (limited) set of moves. Same bald head. Same neanderthal promos. 
The Undertaker showed up, for about 40 seconds, and told Vince McMahon that when the door shuts, he knows that he will do to Shane. And that was about it.