News
Stephanie McMahon Teeters Well on Raw
Stephanie McMahon seemed to go back and forth between babyface and heel on an interesting Raw ...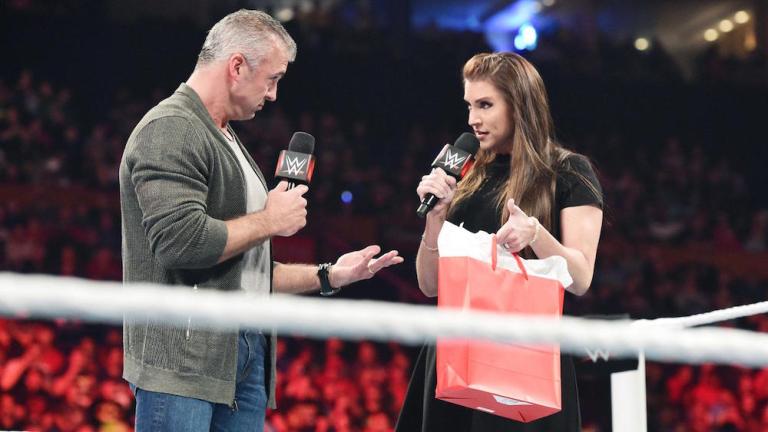 There was more of the same when it came to Stephanie McMahon "the authority figure" in WWE on Monday's Raw, with some interesting twists and turns.
Stephanie was teetering on the edge of babyface and heel on Monday, thought there was serious foreshadowing that her attempts at sincerity are likely setting up an eventual turn back down the heel aisle sooner or later.
She seemed to get along well with her brother, Shane McMahon, as they ran Rawas a tandem for the first time. She opened the show presenting Shane with a gift — a framed picture that Vince had smashed in the weeks prior to WrestleMania— and even made some babyface decisions, such as her call to ban Ric Flair from Natalya's WWE Women's Title rematch coming up at Extreme Rulesin three weeks.
But there was still some more of the same, which made the flow of the show very frustrating.
Stephanie alone was involved in two major talking segments, which totaled about 30 minutes, and that didn't include backstage segments. There was way too much focus on the McMahon family drama.
The opening video package was more about the McMahons than it was the WWE Title. That's a mistake.
WWE wonders why house show business is down, among other things, and it's because the things that sell house shows — wrestlers, matches and titles — aren't positioned as the primary focus of the company. That's poor business. 
Less McMahons and more wrestlerse, with more focus on winning and losing as well as titles, and the show will really feel fresh. Then, WWE might live up to this "new era" dish they're the audience.
1. Cesaro fought Kevin Owens to a no-contest
WWE has done a really nice job welding these feuds together, as Miz and Sami Zayn also had involvement in this finish, just as the four were together at Paybackon Sunday as well. This should be a very good match heading into Extreme Rulesin three weeks, with Owens and Zayn providing a lot of emotion in a 1-on-1 feud, Miz the WWE character type and Cesaro someone the fans are definitely behind.
2. Tyler Breeze beat Goldust
More comedy that wasn't funny from WWE … not that it's anythign new. R-Truth and Fandango were also involved. Wrestling comedy acts usually aren't funny and this is unfortunately a trend that is continuing with Goldust and Truth. It's something for them to do, which is better than each man getting fired, but I wish they found something more constructive for them to be doing.
3. New Day & Big Cass beat The Dudley Boyz & The Vaudevillains
This was an excellent match and a really good feel-good ending with Cass getting the victory. Prior to the match, it was announced that the Vaudevillains will face New Day for the WWE Tag Titles at Extreme Rulesfollowing Enzo Amore's injury on Sunday at Payback. Also, it was revealed that Enzo is going to be OK after a scary incident on Sunday night, but he did suffer a concussion.
4. Emma beat Becky Lynch
Definitely an upset here, but well done in execution. The commentary here from Cole was also very good, with him drawing attention to Emma's eye poke on Becky, especially pointing out that it was to Becky's bad eye. Considering WWE hasn't done much with Becky since WrestleManiaand we've barely heard from Emma — if you're not watching NXT — this was a good match and could have some legs moving forward.
Stephanie Cancels The Ambrose Asylum
This was Stephanie's second promo segment of the night, after she opened the show with Shane for about 15-20 minutes. Just another long, drawn-out talking segment that seemed to suck the life out of the live crowd until Chris Jericho showed up and attacked Ambrose, including smashing Mitch — his potted plant — over Ambrose's back to close the segment and send the show to break. It continued the back-and-forth ride Stephanie was on throughout this episode, sometimes playing a heel and sometimes playing a babyface, all within the same episode.
5. Rusev won a Battle Royal to become the No. 1 contender for the U.S. Title
Kalisto was on commentary for this match but he didn't add much, in part because the announce team didn't really put him in position to. Rusev looked good in the win, and it certainly looks like they'll give him another run with the U.S. Title in an attempt to get him back on track. Kalisto can survive the loss, especially if he soon transitions back into the tag-team scene.
Natalya and Charlotte will have a rematch at Extreme Rules
Another talking segment … but here we learned that Ric Flair paid off Charles Robinson, the referee for the Paybackmatch between Natalya and Charlotte. Neither Stephanie or Shane, the "new era" in management, seemed to mind this, as no disciplinary action was taken on Robinson. Imagine an NBA ref being on the take and not even getting fined? Let alone fired …
Babyface Stephanie revealed that Natalya and Charlotte will wrestle in a submissions match at Extreme Rulesand Ric Flair will be banned from ringside.
6. AJ Styles, Luke Gallows and Karl Anderson beat Roman Reigns & The Usos
There is some intrigue coming out Paybackand while it would have done more for the Extreme Rules match if Styles got the win here over Reigns — he pinned an Uso — this was still a good build-up to a future match with the fight afterwards.
Gallows and Anderson tried to convince Styles to use a chair on an prone Reigns, but he refused. After, the Usos took out Styles with a chair. By the time Reigns came to, he saw Styles getting revenge on the Usos, with a chair, and went crazy on Styles, tossing him around ringside and beating him up as the show went off the air.