News
Stargirl adds Joel McHale as Starman
Joel McHale will play Sylvester Pemberton, Starman, on the DC Universe Starman series.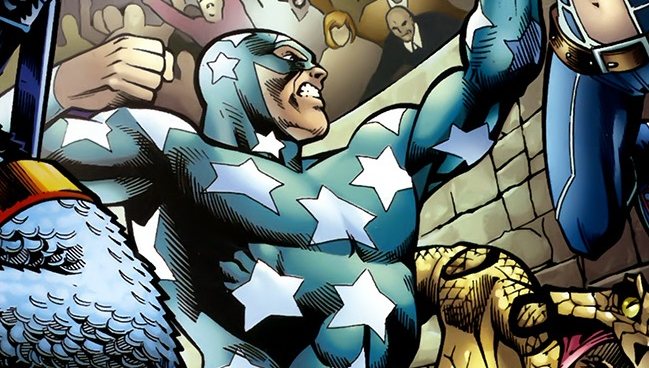 The DC Universe Stargirl series continues to take shape. The show, which tells the story of how a teenager learns that her step-father was once a superhero's sidekick, ties heavily into DC Comics mythology, specifically surrounding the classic golden age heroes, the Justice Society of America.
The show has just added a key piece of Justice Society history, in the form of Joel McHale as Sylvester Pemberton. In the comics, Pemberton was known as the Star-Spangled Kid (and later Skyman), a young hero who had an adult sidekick (with the unfortunate name of Stripesy). It's Stripesy who is the young Stargirl's stepfather, so you can see how Pemberton is an important factor in Stargirl.
What's interesting is that here, McHale's Pemberton will have a different (but familiar) superhero codename: Starman. The character has ties to the Starman legacy in the comics, wielding the cosmic rod that was invented by the original Starman, Ted Knight. It's not clear if they'll get into Knight's role in the creation of that rod, or if he was ever Starman before Pemberton, but the "Starman" name carries a lot of weight in DC history, and legacy is a key factor.
The character previously appeared in live action in a Smallville episode dedicated to the Justice Society.
The cast already includes Brec Bassinger as Courtney "Stargirl" Whitmore, as well as Christopher James Baker (True Detective), Yvette Monreal (Matador), and Anjelika Washington (The Legend of Master Legend, Shameless) in roles we have been assured are DC Comics based ones. Are they, like McHale's Starman, all going to turn out to be Justice Society members?
Stargirl is expected to arrive on DC Universe around September or October 2019. We have more information on it right here.
Mike Cecchini is the Editor in Chief of Den of Geek. You can read more of his work here. Follow him on Twitter @wayoutstuff.