News
Stargirl Adds Luke Wilson in Key Role
Luke Wilson will play Pat Dugan on the DC Universe Stargirl TV series.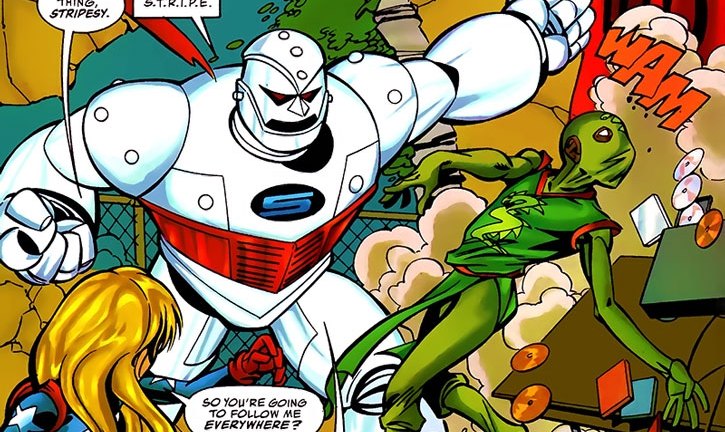 The DC Universe Stargirl TV series has been assembling its cast pretty quickly, including a full blown Justice Society. But one key piece of the Stargirl legend has been missing, Pat Dugan, the former sidekick with the unfortunate name of Stripesy, who becomes the pilot of a 15 foot tall robot called STRIPE and the partner of his stepdaughter, Courtney "Stargirl" Whitmore. And it's none other than Luke Wilson who has joined the cast as Pat Dugan.
"When I first moved to Los Angeles in 1996 and saw Bottle Rocket, I became a huge fan and admirer of Luke's," Stargirl creator and executive producer Geoff Johns offered in a statement (via Deadline), "And I literally wrote this part for Luke, hoping that someday and somehow he'd play Pat Dugan. I only envisioned him. And now I feel like I won the lottery! Luke's talent, humor, compassion — his presence and professionalism — and his creative collaboration, his ideas — we're so lucky to have him alongside Brec in Stargirl."
Here's the official character description for Pat Dugan…
"Pat Dugan once went by the less-than-inspired superhero name of Stripesy, sidekick to a young hero known as the Star-Spangled-Kid and later Starman of the legendary Justice Society of America. Today, Pat has left his sidekick life behind him. But when his new step-daughter, Courtney Whitmore, discovers Pat's secret past and takes on Starman's legacy to become Stargirl, Pat is forced to come out of retirement and once again become a sidekick — to his step-daughter — this time piloting a 15-foot robot called Stripe."
So one thing this clears up is that Joel McHale's character, despite being Sylvester Pemberton, is indeed going to be called Starman on this show, not the Star-Spangled Kid. And while this makes sense from a simplicity standpoint, it does make me wonder how other elements of the Starman legacy will be handled. It's not all that important, though. What matters is the connection between Pemberton, Dugan, and Stargirl, and all of that appears to be in place.
The character of Pat Dugan has actually been around since 1940, which is when he was the adult sidekick to Sylvester Pemberton's Star-Spangled Kid (Stripesy, good lord). But the whole thing with him being Courtney Whitmore's stepdad and the creation of the STRIPE robot all come down to Geoff Johns' Stars and STRIPE series which launched in 1999.
Stargirl is expected to arrive on DC Universe in August 2019. We have everything you need to know about the series here.
Mike Cecchini is the Editor in Chief of Den of Geek. You can read more of his work here. Follow him on Twitter @wayoutstuff.