News
Stargate: Origins Trailer and Release Date
Stargate is making a comeback! Ten episodes of Stargate: Origins are heading through the wormhole.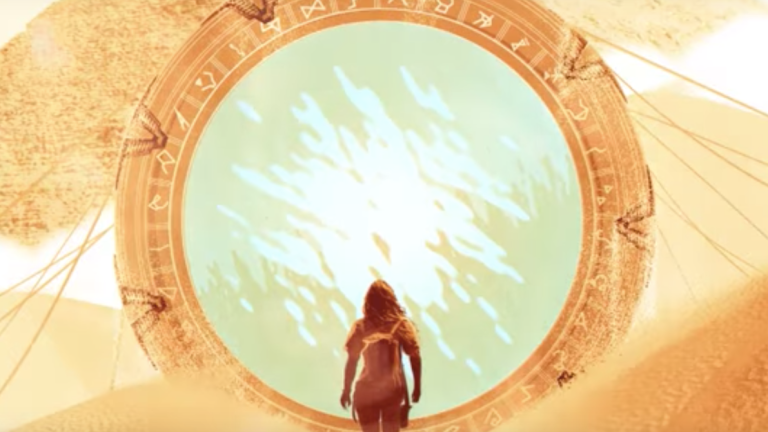 Encode the chevrons! Stargate is returning in the form of a new digital series entitled Stargate: Origins. Part of MGM's own streaming service, Stargate Command, the series is now in production and we've got a brand new trailer!
While not much of the plot is given away here, longtime fans will notice some nods to the Goa'uld. Particuarly that jewelry at the end. Anytime we can see more of those over the top snakes the better. 
There was also a teaser trailer posted which gives us some unique looks at the series.
Stargate: Origins Release Date
Accroding to the trailer the series will be exclusively released February 15, 2018 on Stargate Command All Access.
We've also got some details on the series as well.
First off, it will focus on Catherine Langford, daughter of archaeologist Paul Langford, who discovered the Stargate. In the established canon, she was a young girl when the Stargate was first discovered. It has been revealed that Ellie Gall will play Catherine. Speaking to Stargate Command she described just how much the part means to her.
"The opportunity to portray this iconic character is once in a lifetime," said Gall, "I'm thrilled to be a part of the Stargate family and I hope Stargate fans are as equally excited as I am about Catherine Langford's new adventure."
Joining Gall is Stargate: Atlantis and Star Trek: Enterpirse actor Connor Trinner. Known for playing fan-favorite human/Wraith Michael, Trinner will now be playing Professor Paul Langford, the man whose archaeological dig uncovered the stargate back in 1929.
Rounding out the cast are Salome Azizi, Philip Alexander, Michelle Jubilee Gonzalez, Daniel Rashid, Sarah Navratil, Shvan Aladdin, Tonatiuh Elizarraraz, Derek Chariton, Justin Michael Terry and Lincoln Werner Hoppe. 
There's also a look behind the scenes featuring the cast and crew.
We've also got a new series synopsis as well.
In 1939, Professor Paul Langford and his daughter Catherine are still grappling with the mysteries of the ancient relic they discovered in the Egyptian desert more than ten years ago. With war looming in Europe and funding running out, these brilliant minds are approaching their lowest ebb. Little do they know, answers are about to present themselves in a dangerous form, when the Nazi Occultist Dr. Wilhelm Brücke approaches their facility with a sinister motive. Enlisting the help of two young soldiers, Catherine must use all of her wit and nous as she and her new allies embark on an adventure into the unknown to rescue her father, and save the Earth from an unimaginable darkness. 
The original series synopsis is below.
Catherine Langford is a character whose life remains somewhat shrouded in mystery. Stargate Origins will dive deep into the adventures that provide additional context to Catherine's lifelong fascination with the ancient artifact her father uncovered in the Egyptian desert, revealing a story that sits at the heart of the entire Stargate saga.
This teaser trailer came with the initial announcement.
More on Stargate: Origins as we hear it.