News
Star Wars Rebels Season 3 DVD & Blu-ray Release Date & Episode Guide
Everything you need to know about Star Wars Rebels season 3 DVD & Blu-ray release, plus a guide to every episode of the season.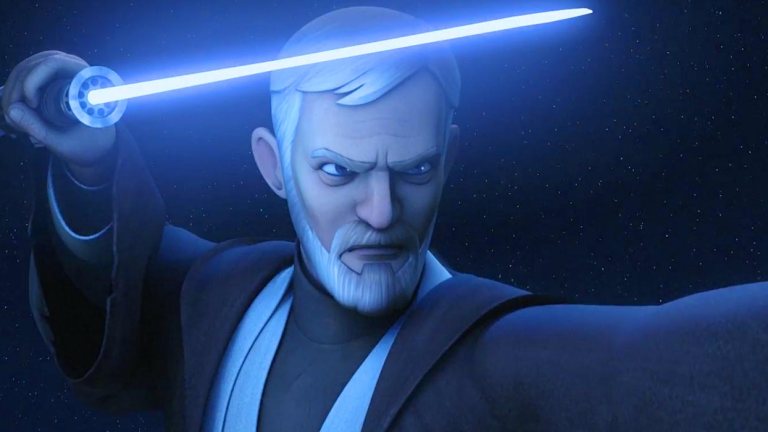 Star Wars Season 3 DVD & Blu-ray Release Date
The Star Wars Rebels: Complete Season Three boxset arrives on August 29, 2017 on Blu-ray and DVD.
Star Wars Season 3 DVD & Blu-ray Special Features
Blu-ray:· Return To MandaloreExplore where Mandalore fits within the Empire's regime – and whether Sabine can unite her people against the Imperial forces.
· Thrawn: A Legend RebornLearn Thrawn's significance in Star Wars lore, and what the future may hold for this memorable villain.
· Apprentices to Outcasts: Kenobi And MaulTrack two adversaries who've clashed throughout Star Wars history, and find out why the time was right to conclude their story.
· The Original Rebel: Saw Gerrera Returns – ExtendedMeet the Original Rebel. This exclusive extended version features Forest Whitaker discussing the character he brings to life in both Rebels and Rogue One.
· Five Audio CommentariesFeaturing Dave Filoni (Executive Producer), Justin Ridge (Supervising Director), Kilian Plunkett (Art Director), Keith Kellogg (Animation Supervisor) and Joel Aron (CG Supervisor: Lighting & FX)
· All DVD Bonus (see below)
DVD:· A Rebel AllianceDiscover how the formation of the Rebel Alliance in Rebels ties into the Rogue One timeline – and the exciting story possibilities that lie ahead for season 4.
· Rebels ReconGo behind the scenes with the cast and crew in 19 entertaining and information-packed episode recaps!
Don't forget to listen to Den of Geek's Star Wars podcast, Blaster Canon!
Star Wars Rebels Season 3 Episodes
Ezra, having grown in power, leads a mission to break the crew's old friend Hondo Ohnaka out of prison. Meanwhile, Grand Admiral Thrawn — a master Imperial strategist — has vowed to dismantle and destroy the growing rebellion.

Bosco Ng and Mel Zwyer directed the episode written by Steven Melching & Matt Michnovetz.

Original airdate: 9/24/16
When Maul takes the crew of the Ghost hostage, Ezra and Kanan must pass a trial in order to recover an ancient Sith artifact to save them.

Steward Lee directed the episode written by Henry Gilroy.

Original airdate: 10/1/16
Sabine goes undercover as a cadet in the Empire's elite flight academy to help free several young pilots who want to defect to the rebellion.

Saul Ruiz directed the episode written by Gary Whitta.

Original airdate: 10/8/16
Hera's rebel supply mission to Ryloth becomes personal when she and the Ghost crew brave overwhelming Imperial forces to recover a memento from her ancestral home.

Mel Zwyer directed the episode written by Nicole Dubuc.

Original airdate: 10/15/16
On a salvage mission led by Captain Rex, the Ghost crew is captured by a unit of old battle droids determined to fight "one last battle" to end the Clone Wars.

Bosco Ng directed the episode written by Brent Friedman.

Original airdate: 10/22/16
Having lost contact with the Protectors of Concord Dawn, Sabine, Ezra and their captured leader Fenn Rau investigate, but find the base has been taken over by Imperial Mandalorians.

Steward Lee directed the episode written by Christopher Yost.

Original airdate: 11/5/16
Ezra and Sabine join forces to subdue a young pilot and his crew, who are foolishly risking their lives. That is the only way they can defend their home.

Saul Ruiz directed the episode written by Matt Michnovetz.

Original airdate: 11/19/16
The Rebels join forces with ruthless pirates to salvage a freighter full of weapons the Rebellion needs. However, the mission turns out way more dangerous than they expected.

Mel Zwyer directed the episode written by Gary Whitta.

Original airdate: 11/26/16
Looking for information on a new Imperial weapon, Ezra and Kanan break into an Imperial factory on Lothal. However, they have to trust an enemy to escape from a building that is about to be locked down.

Steward Lee directed the episode written by Nicole Dubuc.

Original airdate: 12/3/16
Haunted by visions of Maul, Ezra has to journey across the galaxy. Upon arriving at his destination, he has to participate in a strange ritual to sever his connection to Maul.

Bosco Ng directed the episode written by Brent Friedman.

Original airdate: 12/10/16
The crew returns to Geonosis in search of a missing rebel team sent to investigate suspicious activity there, and are surprised by what they find.

Saul Ruiz directed the episode written by Dave Filoni & Steven Melching.

Original airdate: 1/7/17
After finding a missing rebel team member, the Ghost crew discovers another surprise on Geonosis, and work to conceal it from Imperial forces.

Mel Zwyer directed the episode written by Dave Filoni & Matthew Michnovetz.

Original airdate: 1/7/17
Zeb and Chopper bring a damaged droid found in the Atollon wilderness back to base, only to discover that the droid is a new Imperial probe programmed to spy on and destroy rebels.

Bosco Ng directed the episode written by Gary Whitta.

Original airdate: 1/14/17
To help recruit her people to join the rebels, Sabine reluctantly agrees to learn to wield an ancient Mandalorian weapon but finds the challenge more difficult than expected.

Steward Lee directed the episode written by Dave Filoni.

Original airdate: 1/21/17
Hoping to get her family to help the rebels, Sabine returns home with Kanan and Ezra, and finds herself embroiled in her family's power struggle for Mandalore.

Mel Zwyer directed the episode written by Christopher Yost.

Original airdate: 2/18/17
Fearing that the identity of a rebel spy will soon be discovered by the Empire, the Rebels launch a plan to rescue him before he is caught.

Saul Ruiz directed the episode written by Nicole Dubuc.

Original airdate: 2/25/17
When a routine refueling mission goes wrong, the Ghost crew find themselves transporting an important rebel leader across the galaxy, pursued by Imperial warships.

Bosco Ng directed the episode written by Matt Michnovetz.

Original airdate: 3/4/17
Chopper and AP-5 team up to infiltrate an Imperial station to steal needed codes, but an Imperial specialist turns the droids against the crew to cause chaos.

Steward Lee directed the episode written by Brent Friedman.

Original airdate: 3/11/17
Reacting to a vision of Maul, Ezra defies Hera and Kanan to travel to a remote planet in hopes of stopping the former Sith lord from carrying out his plans.

Dave Filoni directed the episode written by Dave Filoni and Henry Gilroy.

Original airdate: 3/18/17
In final preparations for their attack on Lothal, Phoenix Squadron's plans are disrupted when Grand Admiral Thrawn discovers their location.

Original airdate: 3/25/17
Trapped on Atollon with the rebel base under siege, Hera and Kanan fight to keep the squadron alive, as Ezra attempts to rally help from an unexpected source.

Original airdate: 3/25/17