News
Star Trek Parody Film Unbelievable!!!!! Debuts At Sneak Preview
Unbelievable!!!!! puppet parody stars 40 actors who starred or guest-starred on one of the Star Trek series.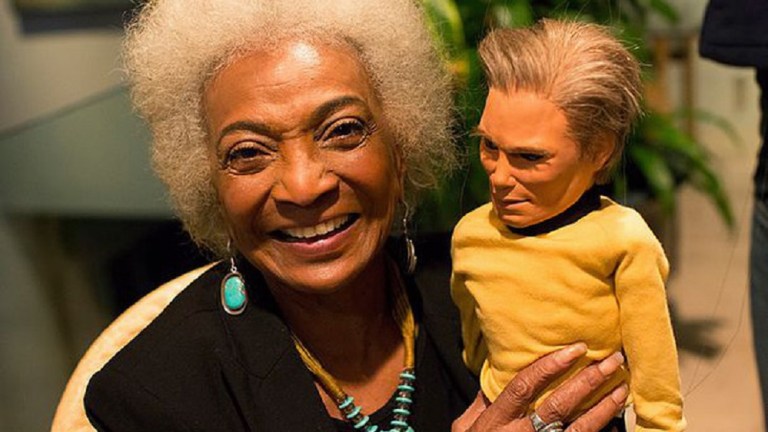 Star Trek is hitting the half century mark. The series that couldn't keep the warp drive functional beyond three seasons of prime-time television has become a science fiction institution. That means the show has gathered an immense amount of respect. It also means it is ripe for farce.
The new feature-length sci-fi parody adventure Unbelievable will have its World Premiere at a sneak peek industry at 7:30pm Wednesday, September 7, at TCL Chinese 6 Theatres at Hollywood & Highland, in Hollywood, following a Red Carpet opening.
Unbelievable!!!!!"  stars 40 former Star Trek actors including Nichelle Nichols, who is a co-producer of the film, Walter Koenig, BarBara Luna and Gary Lockwood, who also starred in the science fiction masterpiece 2001: A Space Odyssey. 
The music was composed by Gerald Fried, was a composer for the original Star Trek. He also wrote the fight music for the "Amok Time" episode and won his Emmy for work on the 1970's TV Series Roots.Tommy Morgan, the lead bass harmonia player on the film's score, worked on the western-themed, Gunfight at OK Corral-inspired episode "Spectre of the Gun." 
"Unbelievable!!!!!" is a sci-fi parody adventure," reads the official synopsis.
"The movie follows the exploits of four astronauts (one of which is an animatronic marionette which resembles Captain Kirk from the 1960's TV show Star Trek) who travel to the Moon on a rescue mission to determine the fate of two NASA comrades who have not been heard from in several days. The individuals they find at the Lunar Base are not whom they appear to be and, through acts of trickery and deception, nearly succeed in killing our heroes. The four return to find that everyone on the planet has been transformed into a variant life-form. Aliens from Mars have conquered Earth and now seek to destroy the last remnants of humanity. The astronauts fight back and soon discover how to rid themselves of the alien threat."
Unbelievable!!!!! was written by husband and wife team Steven L. Fawcette and Angelique Fawcett. The film was directed by Steven and produced by Angelique under their Archangel Films banner.
"We wanted to create a unique and original film that sci-fi fans can watch again and again, celebrating their love for this iconic TV show," said Steven L. Fawcette. "It is a Sci-Fi Parody Adventure, which uses none of Star Trek's intellectual property, with a cast of over forty former stars of the shows in a zany parody, along the lines of Airplane! and Mars Attacks!. "I hope the five exclamation points in the title Unbelievable!!!!! convey the film's comedic sensibilities," he added.
The main character Kirk Stillwood is a puppet created by the Chiodo Brothers, who created all of the Team America: World Police puppets, will be in attendance at the screening and will do interviews on the Red Carpet. Kirk Stillwood is voiced by Kevin Carlson.
Gilbert Gottfried and Michael Madsen are joined by actors from all Star Trek series and movies including Chase Masterson, Garrett Wang, Tim Russ, Nichelle Nichols, Robert Picardo, Marina Sirtis, Michael Dorn, Nana Visitor, Walter Koenig, Linda Park, Connor Trinneer, Manu Intiraymi, Dina Meyer, Olivia d'Abo, Julie Warner, Armin Shimerman, Jeffrey Combs, John Billingsley, Dominic Keating, Max Grodenchik, Casey Biggs, Brenda Bakke, Patti Yasutake, McKenzie Westmore, Anthony Montgomery, Vaughn Armstrong, Gary Graham, Steve Rankin, Michael Dante, Jack Donner, Michael Forest, Sean Kenney, Gary Lockwood, BarBara Luna, Beverly Washburn, Celeste Yarnall, Bobby Clark, Jasmine Anthony, Crystal Allen and Menina Fortunato.
Unbelievable!!!!! also introduces Katarina Van Derham, Producer/Actress Angelique Fawcette, and singer/songwriter Emily L. Stanton.
"Working with the talented cast of 40 Trek stars as well as two Star Trek The Original Series iconic musical talents was an amazing experience," Angelique Fawcette said in a statement.  "I hope that fans, who are used to seeing these actors in more dramatic roles, will have some fun and laughs watching the exploits of a Puppet hero and dozens of their favorite stars in our slapstick parody adventure."